NBA Handicapping: Why the Los Angeles Lakers have Floundered after Hot Start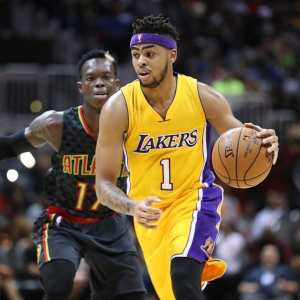 The last time I wrote about the Lakers was early in the season, and it was a surprisingly rosy portrait. They were playing surprisingly well, they were in playoff position early on, and it seemed like they were on strong path under the guidance of new coach Luke Walton. Soon after, though, the wheels fell off. They were 10-10 on Nov. 30. They have gone just 8-27 since. The struggles have led to some 'creative' decision making - like bringing Magic Johnson into the front office to fix everything. And rumors are floating around that Jerry West is flirting with the idea of a return, too.
So, is this team on the right path, or are they just a mess? Here are six factors to consider when pondering that question:
Not playing young: There is a perception that this is a very young team. There certainly is a big core of youngsters, but the truth is that they haven't been playing young for much of this year. They split their minutes pretty evenly, so they have nine guys who have played between 20 and 29 minutes - and no one who has played more. Of those, four guys are 30 or older - Timofey Mozgov, Lou Williams, Nick Young and Luol Deng. Deng, Mozgov and Young have started for most of the year, Williams leads the team in scoring off the bench, and Young is third in scoring. There are a lot of young players on this roster, but the reality is that there are several teams that have been functionally playing younger this season.
Roster changes: There has been an interesting shift over the last two games, and all indications are that they are committed to this. Deng and Mozgov have been taken out of the starting lineup in favor of rookie Brandon Ingram and third-year player Tarik Black. By getting much younger they are also less likely to win, but they are also more effectively building towards the future as the youngsters will get more time playing against the starters for other teams. It's both an investment in the future and a concession that this year is completely lost.
D'Angelo Russell: The Lakers are a somewhat respectable, at least relatively, 15-24 when Russell is in the lineup. That leaves them at 3-13 when he has been injured. He's a driving force on this team. He leads the squad in assists and is second in points. What is interesting, though, is that he might not have a long future in L.A.. The Top 2 likely picks in this upcoming draft are point guards - Markelle Fultz and Lonzo Ball. If they were to land a Top 2 pick they would be hard pressed not to take one of them. In a flash, then, Russell could go from core player to major asset on the trade market.
Luke Walton: The record isn't good, but Walton gets a solid passing grade in his first year as a head coach. He is juggling a lot of competing interests on this team, yet he has been able to keep people happy, and the youngsters aren't regressing despite the crushing string of losses. No coach is going to win consistently with this group, but it really doesn't feel in any way like the Lakers made a bad decision giving the young former player his head coaching gig.
Draft: The draft isn't a particular incentive for this team to shine right now. If they land a Top 3 pick in the lottery this year, they get to make the pick. Otherwise, they lose the pick to Philadelphia. If they make the pick this year they lose their first rounder next year, but this is a good draft, and they are better off adding players sooner rather than later. The worse the rest of their games are, the better their chances of landing a Top 3 pick. It only makes sense, then, that they would look towards building for the future the rest of the way this season instead of fielding a team that has a chance to win a lot now. They are currently third from the bottom of the league, but Phoenix is close below them, so they could quite easily have the second most balls i the lottery.
Betting performance: At 26-28-1 ATS, they are not a profitable team, but they are close to it. Given their struggles, that is impressive. Their rivals in the Staples Centre, the Clippers, are at essentially the same point at 26-27 ATS, and they have a dramatically better record. That's a little deceptive, though, because the Lakers jumped out of the gate at a stellar 8-2 ATS. Since then they have been 18-26-1 ATS, which means that betting against them has been nicely profitable. They have been wildly streaky, though, and betting against them has again been a lousy decision lately - they are a nice 7-2 ATS in their last nine.
We would like to offer you $60 of member's predictions free - no obligation, no sales people - you don't even have to enter credit card information. Click Here for $60 in free NBA predictions. Also, for a limited time only, you can get three handicappers NBA picks for the price of one! Click Here for more details !
Read more articles by Trevor Whenham