NBA MVP Betting Predictions with Futures Odds and Analysis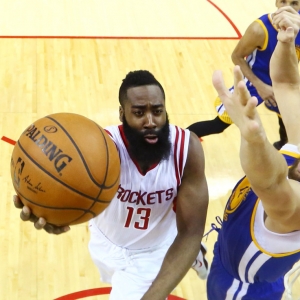 This year's edition of the NBA MVP race is an interesting one. We seem to be well on our way to a first-time MVP, and it should be a great race down the stretch. It's a two-way race for supremacy right now, with at least one long shot that's a little bit interesting. It has been a great season so far, and the excitement of this race surely reflects that. Here's a look at how the race breaks down ( futures odds are from BetOnline ):
James Harden, Houston (-130): The Rockets are the most surprisingly strong team in the league right now, and Harden undoubtedly gets the bulk of the credit. Dwight Howard took his whining act out of town, and Harden has flourished as the sole owner of the team on the court. He's playing point guard, scoring like a machine, and doing pretty much anything he wants. There are nice pieces around him - Eric Gordon is going to be tough to beat in the Sixth Man award, for example - but Harden is the lone star, and he carries a massive share of the weight for his team. He's in the driver's seat to win right now, and as long as the Rockets don't fade and his numbers stay strong I think he'll be tough to beat.
Russell Westbrook, Oklahoma City (+135): Right now Russell Westbrook is averaging a triple-double. If that's still the case at the end of the season then his candidacy will get a big boost. The big issue he has, though, is that his team just isn't very good. We knew they would be significantly worse without Kevin Durant, and the current status - sitting in seventh in the West and likely to stay about there - is very much in line with what was expected for the team by most. Westbrook, with his numbers, would be very tough to beat if his team was also exceeding expectations. Now they look like an easy first round out, and that's a problem.
Kevin Durant, Golden State (+900): There are two big problems here with this candidacy - aside from the fact that his numbers aren't as good as the two favorites. First, while he is a key member of the best team in the NBA right now, the team was also the best team in the NBA last year when he was in Oklahoma City. So, they were very good, and now they are very good. Hard to get excited about him in this race given that. Second, when Durant chose the Warriors he turned them from popular to an evil empire in the time it took him to sign on the dotted line. He's popular, and so are the Warriors, but people lost their joy when they were combined. That would be hard to overcome. Durant - and Curry - will have a much better chance next year if they win themselves a title this year, because they are both suffering from the frustration of falling short last year and the perception that left in the minds of the public and voters.
LeBron James, Cleveland (+900): The gap between the Cavs and the rest of the East is so big that it's embarrassing at this point. James is obviously the biggest reason for that. The problem, though, is that his season looks just like the season we expect from him, and we take that for granted. What he's doing isn't exceptional enough to excite us - when compared to his best - and the team is seemingly playing with only enough intensity to secure home court and set themselves up for the playoffs. In a field like we have this year, the King would need to show more urgency to break through. He would also need to whine less than he has this year - moaning about his team and how it is managed isn't endearing himself to some people.
Isaiah Thomas, Boston (+1600): He's scoring like crazy, and he owns the fourth quarter. You can't guard him on the pick-and-roll. Boston has moved into second in the East, and it really feels like they would barely be in the playoffs if it weren't for Thomas. He's a machine. I'd be tempted to throw a couple of bucks on him at this price. He's not likely to win at all, but if he keeps it up and Westbrook or Harden falter or get hurt then he could get into this race.
Kawhi Leonard, San Antonio (+1600): It's tough to be both a Spur and an MVP. They just so matter-of-factly go about their jobs that no one player shines above the group. Since 1999 they have won five titles and lost in the finals a sixth time. Despite that impressive success, they have only two MVP winners in that time - Tim Duncan won back-to-back awards in 2002 and 2003. We should note, to be fair, that the Spurs aren't unique in this - the Lakers won five and lost two titles in the same time frame, and they also have only two, with Shaq and Kobe each winning once. Regardless, Leonard would be hard-pressed to shine in San Antonio in the best of cases, and against this field he has basically no chance.
We would like to offer you $60 of member's predictions free - no obligation, no sales people - you don't even have to enter credit card information. Click Here for $60 in free NBA predictions. Also, for a limited time only, you can get three handicappers NBA picks for the price of one! Click Here for more details !
Read more articles by Trevor Whenham