NBA Trade Deadline: Sellers May be Teams to Bet Against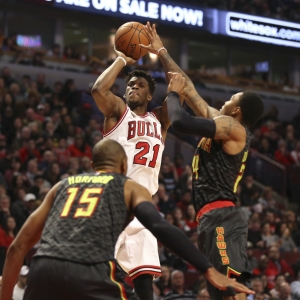 The Feb. 23 NBA trade deadline is drawing near. As we get closer we can't help but look for teams that are likely to be, or at least have the potential to be, sellers. The fate of those teams are not always easy to predict - a few years back the Raptors were clear sellers when they got rid of Rudy Gay and have played the franchise's best basketball ever since. At the very least, though, teams that are selling off attractive assets aren't typically signaling an intent to compete this season, and that can have a big impact on how their remaining players perform down the stretch. Here, then, are six teams to keep an eye on because they could be open for business, and looking to do deals that don't make them better today:
Orlando: The Magic were aggressive in their acquisition of Serge Ibaka this past year, and they already seem like they regret it to some extent. Ibaka hasn't been horrible by any means, but he also hasn't been a quick fix, and this team needs much more than just one guy like Ibaka to be good. He is a free agent after the season, and it seems unlikely he will stay with the Magic. So Orlando really has no alternative but to trade him if they can get a deal. And they should be able to. Plenty of teams have expressed interest, with Toronto and Miami among them. Besides Ibaka, non-core guys like Jeff Green and Nikola Vucevic would likely be available for the right price, too.
Chicago: The Bulls are going nowhere. They could easily be a playoff team but not one with much of a hope of winning more than a game in the first round. Jimmy Butler is a hot commodity - with the Celtics leading the charge of teams that would love to add him. It only makes sense, then, for the Bulls to move him and add pieces for a rebuild. They have to be careful about not being too greedy if they do want a deal to happen, though - Boston has also looked at Paul George and others, so they aren't going to pay a massive ransom for Butler.
Atlanta: The Hawks are an interesting situation. They traded Kyle Korver earlier and it seemed like the dismantling was underway. They have played fairly well since, though, and they insist that they aren't looking to sell - especially not Paul Millsap. The thing is, though, that no one believes them. They lost Al Horford last offseason and got nothing back in return. They risk having the same thing happen with the impending free agent Millsap this summer, and they just can't rationally risk that. Toronto has long been talked about as a destination for Millsap, and several other teams would be interested. What makes it particularly interesting, though, is that the Hawks are actually just a half game behind Toronto in the standings and could easily wind up with home-court advantage in the first round. Atlanta needs to decide what matters more - making the playoffs but likely winning one round at best or getting assets in return for your best player. To me the answer is obvious. If they decided to be full sellers they have other pieces people would want as well.
Sacramento: They say they aren't going to trade DeMarcus Cousins no matter what. That is insane - they aren't going to win with him and the other pieces they have, and they could add a ton in a deal for him. If they insist on keeping him, though, then they are left with about 48 other bigs on the roster that they could trade, and they certainly don't need any of them. There is no star - or even remotely close to it besides, arguably, Willie Cauley-Stein - behind Cousins, so they could just open themselves to all offers and take the best deal for any of the big guys. Heck, they could even deal away two or three if the price was right without missing a beat. They have five guys on the roster that would pick center as their first choice of positions. Some teams are just so darned incompetent.
Lakers: Since crumbling noticeably, the team has recently signaled their clear intention to focus on youth. Their starting lineup has gotten younger - which doesn't, in the short term, mean better. With a little lottery luck this year they will add another big-time youngster in the offseason. The youth movement means guys like Luol Deng, Jose Calderon, Nick Young, and even scoring machine Lou Williams are more luxuries than necessities at this point. The Lakers only keep their pick this year if it is a Top 3 pick, and guys like Deng, Young and Williams only make it more likely they win games, which makes it less likely they keep their picks. Gaining assets would definitely be preferable right now.
Dallas: The Mavs have been playing much better lately than they were early in the season, but it would be a terrible mistake to assume that this team is anything close to legitimate. I'm not at all convinced that the team will be self-aware enough to be sellers, but they should be. They have players, or deals, that teams would absolutely want - Andrew Bogut's expiring contract tops the list, with Deron Williams and his short-term deal, and cheaper bargains like Justin Anderson and Dwight Powell, also being attractive. The Mavs could add a piece or two or some picks in a very strong draft. Or they could keep wading through their own mediocrity forever. One is correct, the other is likely.
Read more articles by Trevor Whenham