NHL Betting Advice: Chicago Blackhawks Surging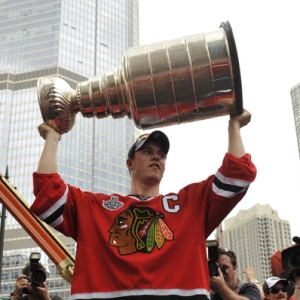 Much to the horror of the rest of the NHL, the Chicago Blackhawks are getting hot right now. Red hot. No team has been better when it matters in the postseason over the last decade. And with a Western Conference that is open for a team to dominate this year, they have their eyes on the prize again.
They have been reasonably sound most of the year, but now they have won nine of their last 10 to move within one point of conference-leading Minnesota - though the Wild have three games in hand. Those two teams are distancing themselves from the rest of the conference crowd and setting up the prospect of a very exciting battle for divisional supremacy.
So, is this current, virtually unbeatable version of the Blackhawks what we can expect going forward? Or is this just a blip - a hot streak that even quite ordinary teams can have - I'm looking at you Columbus? Is this team going to win their fourth Stanley Cup since 2010? Here are six factors to consider when pondering those questions:
Minnesota: Teams in the same division play four games in this version of the NHL, and oddly Chicago and Minnesota didn't meet until January 15 - after Chicago had played 45 games. Playing at home, oddly, has not gone well for either team. Chicago lost that first game 3-2. The Blackhawks won 4-3 in OT and 5-3 in regulation - both in Minnesota and both during this current red-hot streak. They have one game remaining on March 12 in Chicago.
What stands out when you watch the games, though, is that Chicago matches up pretty well against the Wild. Minnesota obviously knows that as they spent aggressively to plug a hole and grab Martin Hanzal from Phoenix. Minnesota was deep enough to beat most Western teams already, but they clearly acted to match up to Chicago better. And it makes sense, too - Chicago has knocked Minnesota out of the playoffs in three of the last four seasons.
Kane and Toews: When you think of this team you think of these two players above all else - with the possible exception of Duncan Keith, who has been typically dominant from his defensive post. Patrick Kane is again having an excellent offensive season with 65 points in his 62 games. He's a machine. Jonathan Toews has great numbers, too, with 46 points in 53 games. Unlike Kane, though, it took Toews a long time to get rolling this year. He has seven goals and 18 points in February so far - which is as many points as he scored in October, November and December combined. Toews is at his best when games matter most, and he's finally completely healthy, so the emergence of him coinciding with the explosion of this team's performance is no surprise.
Goaltending: For a long time the perception of this team is that they have been a truly elite team with a game manager in net. That has never been really fair to Corey Crawford. This year Crawford has been strong, and Scott Darling, who has played 25 games, is even better. They still don't have the best goaltending situation - and their starter isn't as good as Minnesota's - but what they have remains more than enough to make a deep run.
Offensive depth: The Blackhawks have seven players with at least 15 goals. That's impressive. On the other hand, though, beyond that point things drop off quickly - their eighth-best goal scorer has just six goals. This team doesn't struggle to score - only Minnesota has more goals in the West - but they are quite top heavy. By contrast, Minnesota has only five guys with 15 or more goals, but they are tied with Washington and Calgary for the league lead with 10 guys with 10 or more goals. They also have two guys with eight goals and one with seven, so they have 13 guys outscoring the eighth-leading scorer for the Blackhawks.
The more depth you have the more stable your offensive scoring is - especially if you are facing an outstanding goalie. This looms as a pretty serious concern for the team, then.
Betting performance: Despite having 39 wins and 18 regulation losses, the team is not a pleasure to bet on the moneyline. They have been slightly below profitability on the season. It's not a surprise given how public this team is that they struggle to deliver profits - casual bettors bet them hard based on their name and reputation regardless of the odds.
They have been better on the total, going "over" 28 times and "under" 23, which means the over has shown a decent profit.
Get free picks from any of Doc's Sports Advisory Board of expert handicappers - and with no obligation or credit card. You can use these free picks for any sport, and you will never deal with a salesman. Click here for your free Doc's Sports picks .
Read more articles by Trevor Whenham