NHL Betting and Handicapping: Early-Season Surprises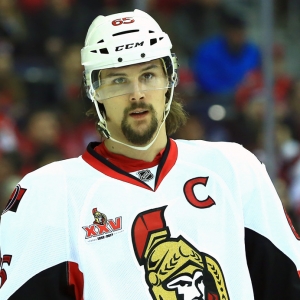 The NHL season is only a couple of weeks old, but already it has been interesting and exciting. As usual, some teams have been real disappointments - Minnesota, Edmonton, the Rangers and Montreal would all fit in that category. A lot of teams have been more or less as you would guess. And then there are a few - about five by my count - that have done more out of the gate than it would have been reasonable to expect. In some cases much more. At least two of these five hot starts probably aren't sustainable, but at this point they are playing great in a way that is working for them, and they are worth a whole lot of attention from bettors:
Ottawa: The Senators have been far from perfect and have actually lost their last two. What got the attention, though, was that the team not only swept their standard three-game trip through western Canada (Calgary, Edmonton, Vancouver) for the first time in franchise history, and they did it with Erik Karlsson, who is truly everything for this team, on the sidelines after an offseason foot injury. Karlsson has returned for the last two games and they have lost both despite solid performance from him because it takes a while to adjust to a guy like that. There is no real reason to be concerned about these losses. What stands out more is that after their playoff success last year they could have been too impressed with themselves and unfocused, but instead they showed determination in the face of adversity. I frankly didn't expect it.
New Jersey: You don't often see a team that had the first overall draft pick one year start 6-1 the next year. That top pick, Nico Hischier, is off to a great start and really looks like a player. Rookie defenseman Will Butcher has been incredible, too, and Taylor Hall is playing as well as he ever has. The pace of this offense is sure to slow, and the playoffs are still a real long shot, but after several years of pathetic nothingness it is finally possible to see the path forward for this team. And, as significantly, this is the first time in years that watching the Devils hasn't been less desirable than enduring mild to moderate torture. And they have won a league best four games on the road without a loss, which just shows how much self-belief there is here and now.
Carolina: On Thursday night I was at the Saddledome watching my hometown Flames play against Carolina. I simultaneously hated much of what Calgary did and was very impressed by Carolina. The Hurricanes are fast, they have a strong goaltending duo, and their young defensemen are more than competent. Calgary was being chippy and undisciplined, but instead of reacting the Hurricanes just got out of the way and let the Flames head to the penalty box again and again. It seems hard to believe given how bad they have been for so long, but it says here that this is a sure playoff team that is going to be very tough to play against.
Vegas: Expansion teams are not supposed to get off to 5-1 starts. But then this is not like past expansion teams. The league's expansion draft rules were much more generous than in the past, so the Golden Knights were able to get players like James Neal, Alex Tuch or David Perron that wouldn't have been available in past drafts. They have all been excellent, and high-profile KHL free agent Vadim Shipachyov has been strong as well in his two games. There has been some luck involved - like when they claimed Malcolm Subban as a reclamation project, but were forced to play him in net earlier than they wanted to and he was excellent twice - and they are surely riding a wave of early emotion and excitement that will fade, but this team has shown much more than anyone could reasonably have expected.
L.A.: Darryl Sutter is a good coach with a record of success, but after a time in every job he gets stale. His style of play becomes predictable, players fail to respond, and a team that was unbeatable earlier becomes lost and mostly hopeless. That's what happened to the Kings last year. Instead of a whole new vision, though, the team fired both coach and GM but elevated their assistants. I was skeptical, but early returns have been excellent. Several players are far outperforming rough seasons last year, there is a jump to the team that was absent, and they are leading the Pacific Division without a regulation loss yet. The talent hasn't been a real question in L.A. for a couple of years, but now it feels like they are achieving their potential again.
Doc's Sports is offering free NHL picks to new clients. You can get free hockey picks by clicking the following link. No credit card is needed and there is no salesman to deal with. You try the picks, and if you like what we offer then you will be able to purchase one of our fairly-priced hockey betting packages. Click here to get your $60 in free picks . Also, for a limited time get three hockey handicappers for the price of one! Click here for our 3-for-1 NHL picks offer .
Read more articles by Trevor Whenham