NHL Betting and Handicapping: Looks Like Red Wings Will Miss Playoffs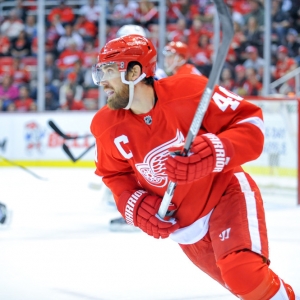 The Detroit Red WIngs have 39 points, which ties them for last in the Atlantic Division with Buffalo, just one point ahead of the Islanders for the conference basement. If the playoffs started today the Red Wings would not be in, and since they sit seven points out of a playoff spot with several other chasing teams ahead of them it seems unrealistic to think that they will be playing beyond 82 games this year.
That is remarkable to think of. Almost impossible, really. This is a team that has been in the postseason every season since 1991 - a streak of 25 straight playoffs. That is the longest current streak in sports. They have won four Stanley Cups in that time, too, so it's not like they have just been showing up and earning participation ribbons.
So, what is going on in Detroit to bring this streak to an end? And what does it mean for bettors? Here are six factors to ponder:
Power play: The reason the Red Wings are so underwhelming isn't entirely because of the power play, but it sure doesn't help. Two seasons ago this tem was second best in the NHL with the man advantage. Now they rank dead last, scoring just 11.2 percent of the time they are 5-on-4 or better. In contrast, Columbus leads with a 26.7 percent success rate, and even the second-best team is almost 2.5 percent better. They are just awful. The problem with a bad power play is that teams don't fear taking risks against you, because they know that a penalty won't likely be costly. What is so mystifying is that the team shouldn't be so bad. They have personnel around that can score and that has been much better on the power play in the past. We don't know if they can get significantly better because we can't truly explain why they are so darned bad.
Age: This team has a serious age issue right now. Core guys - the heart and soul - like Henrik Zetterberg (36), Niklas Kronwall (35), Thomas Vanek (32) and others are either well outside of the typical NHL prime this days or really pushing the upper edge. On the other end they are relying heavily on guys like Dylan Larkin (20) and Anthony Mantha (22 but a rookie), who are very good but could use more time to grow into their current roles. Overall it's not the mix of a team that is built to compete right now - and that's why they really aren't.
Coaching: Jeff Blashill is a good coach doing a solid job here, and he is going to have success in this league. He is young in coaching terms at just 43, though, and he faced an almost impossible task in replacing Mike Babcock for his first NHL experience. That would be like asking a guy currently in the FCS somewhere to take over for Nick Saban at Alabama. There is going to be an inevitable letdown - the team refused to be mediocre for Babcock, but that is tough to maintain. We can't blame Blashill for what is happening, but we also can't be that surprised. The only way they could have avoided a short-term letdown was replacing Babcock with someone of his stature, but this investment in the future likely makes more sense in the long term.
Goaltending: The Red Wings are not getting great goaltending right now from their stable. Their goalies aren't necessarily costing them games, but they aren't stealing them, either, and that's a problem for a fringe team like this. Now, the Red Wings have long made a habit of getting by with only okay goaltending - outside of Dominik Hasek they haven't had a superstar during this run, and Chris Osgood had a whole lot of success despite some pretty ordinary stats. In this NHL, though, goaltending is so important, and the current struggles of expected goalie of the future Petr Mrazek and the injury of Jimmy Howard are twin causes for real concern.
Defense: Every single defenseman on this team is in a bigger role than they should be. The team has never recovered from the loss of lockdown megastar Nicklas Lidstrom, and they certainly haven't developed his replacement. Everyone is out of position and being asked to do too much, and the results aren't great. This is a problem, too, because there is no quick fix. They can't afford to bring guys in, and the kind of guys they need aren't available anyway.
Betting performance: There really isn't much to report here - the team has been as underwhelming to bet on as to watch. They are in the middle of the pack on the moneyline, posting just a small loss on the season - consistent with a record just below .500. They are exactly even on the "over/under" - they have 17 of each so far this year. No real money to be made on this team, and no more reason to bet on them than to watch them right now.
Doc's Sports has a great offer for new clients. You can get $60 worth of picks from any Advisory Board handicapper for any sport he handicaps. All with no obligation and no credit card needed. Claim your free picks today .
Read more articles by Trevor Whenham