NHL Handicapping: Pittsburgh Penguins Going for Rare Championship Repeat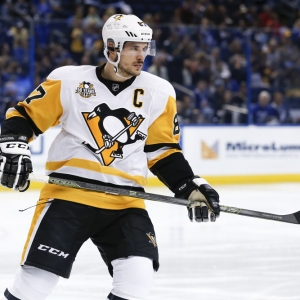 The Pittsburgh Penguins are looking to do something that no team has managed since the Detroit Red Wings in 1997 and 1998 - win back-to-back Stanley Cup championships. They are probably the best franchise outside of Detroit to do so - they were the last to do it before the Red Wings in 1991 and 1992. Since 1998 we have seen some really excellent champions, but none have managed to pull this feat off.
So, will this year be different? Is Pittsburgh good enough to repeat? Should we be betting them to do so? Here are six factors to consider when pondering those questions:
Sid the no-longer-a-kid: There is a stunning amount of incredible young talent in this league - Connor McDavid, Auston Matthews, Patrik Laine and on and on. They all have to accept, though, that Sidney Crosby, who will be 30 this summer, is still the best player on the planet. Pittsburgh's captain leads the league in goals and is third in points. More than that, though, he's just an absolute force on the ice at all times. He's always been great, but he has never been any better all-around than he is right now. And, most significantly, he's healthy. He's dealt with concussion, knee and jaw injuries in the past among other things, but so far this year he has been at close to full strength - just as he was last year. He's missed six games this year, but there are no red flags. And it needs to stay that way if this team does want to go all the way again.
And the rest: Crosby is what makes this team work, but he is far from alone. Evgeni Malkin is tied with Crosby with 70 points and has played one fewer game. Phil Kessel has played all 65 games and has 60 points. Defenseman Justin Schultz, who was a complete disaster in Edmonton, continues his remarkable renaissance in Pittsburgh, and he has 45 points in 62 games. They have nine players with double-digit goals and two more with nine, so they share the load nicely. Defensively they are sound and were aggressive at the trade deadline to fill in the gaps they had by adding Ron Hainsey and Mark Streit at the deadline. This is largely the same roster they had last year, and thanks to the tweaks they have made they feel like they are as good or better this year. This is a well-constructed team without too many real holes.
Goaltending: It has to be tough to be Marc-Andre Fleury. Long the foundation of this team in net, he has been rumored as a trade target for about two years now, yet he hasn't been moved yet. He almost certainly will be soon after the season - the team won't want to risk losing him in the expansion draft for nothing. While he sticks around, though, he has basically split the load in net - he has 32 appearances to 39 for Matt Murray. Fleury hasn't been spectacular, but he has been very solid. New starter Matt Murray, who seems like he has been around for quite a while but is still technically eligible to be rookie of the year, has been even better. His 2.39 goals against average and .923 save percentage are not among the very best in the league, but they are more than acceptable. They are middle of the pack in the Eastern Conference in goals allowed - seven of the 16 teams have allowed more. With the offense they have, though, that is more than adequate - they have scored the most goals in the league, and it's not even close. To go into the playoffs with two guys who could be trusted to take the ball and run with it if they had to is a nice luxury.
Coaching: Mike Sullivan got his first chance to be a head coach in the NHL in Boston in 2003, just two years after retiring from his playing career, which included nine years in the league. It was too soon for him, and he lasted only two seasons. He learned his craft further as an assistant for several years before taking over the head coaching job for Pittsburgh's AHL team In June of 2015. He didn't even last until Christmas - on Dec. 12 Mike Johnston was fired as head coach of the Penguins, and Sullivan was elevated to the big show. All he did was turn a frustrating season around and win a Cup. And now he has them poised to make a run for it again. Needless to say, he's a better coach than he was for Boston. He's an asset.
The Capitals: Hockey is a great sport, and the NHL is by far the best league in the world for it. Unfortunately, the league is run by total morons. There are countless examples, but the current playoff format is a prime one. Currently, Washington leads the Metropolitan Division, and their five-point lead is reasonably comfortable given their play, their talent, and their trade deadline approach. Pittsburgh and Columbus are tied with 90 points, and the Rangers have 88. Those three teams are all playoff locks, and the one of those with the fewest points will be the top wild-card team. The Penguins seem well positioned to finish second or third in the division. Pittsburgh and Washington are probably the two best teams in the conference, and certainly the two highest-profile ones. If Pittsburgh finishes second or third then they will run right into the Capitals in the second round - when they absolutely should be meeting in the Eastern Final. Instead, the winner of that showdown - which will be epic - will meet the vastly-inferior winner of the Atlantic Division. Just moronic.
Betting performance: Pittsburgh currently sits at +700 at BetOnline to win the Stanley Cup. That makes them the fourth choice behind Washington (+400) and Chicago and Minnesota in the East, who are both +550. That seems about right. No other team is below +1100, which is also accurate - the gap between the top four and the rest is significant. Pittsburgh obviously is a very public team, so despite their large amount of success this year they have not been a great team to bet on - they are essentially a break-even team on the moneyline. Given their offensive prowess, though, they are dramatically better against the total - they have gone "over" 40 times and "under" 21.
Want free sports betting picks? Doc's Sports has you covered - get $60 worth of picks free from any of Doc's Sports expert handicappers. Click here for free picks (new clients only) .
Read more articles by Trevor Whenham