2017 NL West Picks and Expert MLB Betting Predictions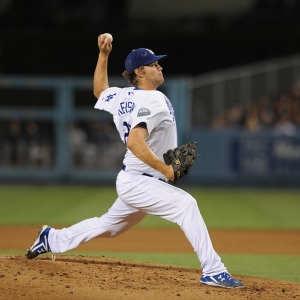 For my money the National League West is the best division in baseball. There will be other divisions with more heated races for the crown - the A.L. East and A.L. West come to mind - but top to bottom I think that the N.L. West is overall the most talented group of teams in the league.
The Dodgers are absolutely loaded and one of the favorites to win the World Series , finally. The Giants have to be respected for the fact that they've won three championships already this decade, and they are always a threat. Arizona has a pitching staff that, with a break or two, could be one of the best in the N.L. and Colorado has a lineup that is among the best in all of baseball. The Padres, well, they are pathetic. But the West has four teams that I expect to be competing for postseason opportunities.
Here is Doc's Sports 2017 National League West preview:
Los Angeles Dodgers
2016 Record: 91-71 (-640)
2017 Wins Over/Under: 94.5
Odds To Win 2017 NL West: -200
Odds To Win 2017 NL Pennant: +500
2017Los Angeles Dodgers Odds To Win World Series: +900
Outlook: The Dodgers are one of the best teams that money an buy. And they should be. With a payroll among the highest in sports, the Dodgers have no excuses. A large payroll doesn't guarantee success, though, and Los Angeles should be given credit for turning their money into something worthwhile. The Dodgers have made the playoffs four straight years and eight of the last 13 seasons.
Making the playoffs again won't be enough for this squad. Los Angeles has made the NLCS twice in the last four years. But they haven't been back to the World Series since 1988, and they are expecting that drought to end.
Clayton Kershaw is the foundation on which this team is built. He is one of the top lefties of this generation and the linchpin for an outstanding pitching staff. The key for the Dodgers this year will be getting a repeat effort from resurgent Rich Hill and crafty Kenta Maeda. Jose Urias is one of the youngest pitchers in baseball and has electric stuff. And their ability to resign Kenley Jansen ensures that their bullpen will remain one of the top in the N.L.
Los Angeles' lineup is nothing to sneeze at, either. Corey Seager will be a perennial All-Star, and Adrian Gonzalez could end up as a Hall of Famer when all is said and done. Justin Turner is the heart of this team, and the onus will be on guys like Andre Ethier, Yasiel Puig and Joc Pederson to make sure their production matches the potential.
The Dodgers are the overwhelming favorites to win the division. But I think it is going to be close. There is a load of talent on this roster. And their farm system is stocked with young guys ready for their shot. But there are still plenty of things that could go screwy for this group, especially if the starting pitching collapses. They have a long way to go to catch the Cubs. But with the infinite checkbook don't be surprised to see this team add guys on the fly.
San Francisco Giants
2016 Record: 87-75 (-750)
2017 Wins Over/Under: 88.5
Odds To Win 2017 NL West: +220
Odds To Win 2017 NL Pennant: +750
2017 San Francisco Odds To Win World Series: +1800
Outlook: The whole is always greater than the sum of its parts with the Giants. This is a team that doesn't look imposing on paper. But they always seem to be playing their best baseball at the right time. And their 11-1 record in playoff series this decade is one of the most impressive statistics in baseball.
Madison Bumgarner is a horse, and Johnny Cueto is a proven ace in the No. 2 slot. Matt Moore is a guy that I think will benefit from an entire season in their stadium. The key for the Giants will be cobbling something together out of Jeff Samardzija and Matt Cain, two guys that can look like All Stars one game and then be piñatas for the next three. San Francisco's bullpen depth has been chipped away over the last two offseasons. But they needed an overhaul after blowing 30 saves last year. Mark Melancon was a great pickup, and his presence should stabilize things in the back end.
The Giants are a team built with defense and speed rather than power. They still have some guys that can yank one, like Hunter Pence and Brandon Belt. But the Giants do their damage with clutch hitting and by being relentless. Last year they were pretty weak with runners in scoring position and with RISP and two outs. I expect them to bounce back in those "clutch" categories, and the key for them will be keeping Buster Posey healthy and productive.
The Giants had their streak of even-numbered year titles snapped last season. But don't think for a second they couldn't break rank and win another crown his year.
Arizona Diamondbacks
2016 Record: 69-93 (-2050)
2017 Wins Over/Under: 77.5
Odds To Win 2017 NL West: +2000
Odds To Win 2017 NL Pennant: +5200
2017 Arizona Diamondbacks Odds To Win World Series: +12000
Outlook: If you are looking for a sleeper team, or at least an under-the-radar moneymaker, I think that Arizona could be your squad. Over the last two seasons Arizona has suited up 50 guys each season - including 36 rookies - and they have been smashed by injuries. But with a new front office and manager I think that Arizona will much more settled and that could translate to better luck on the field.
Arizona has a starting rotation that, if everyone stays healthy and plays up to their potential, could rival what the Dodgers and Giants trot out there. Zach Greinke is a Cy Young contender. Shelby Miller, Taijuan Walker, Archie Bradley and Patrick Corbin have each shown All-Star-caliber stuff. And Robbie Ray is just one year removed from a solid 23-start, 3.52 ERA season. Arizona beefed up its bullpen, and I am predicting a major turnaround from a staff that was the worst in baseball last year.
Paul Goldschmidt anchors a really underrated lineup in the desert. Arizona was No. 8 in the Majors in team batting last year and just outside the Top 10 in runs and OPS. Arizona also kept the pressure on opponents by stealing the third-most bases in the game. A healthy and productive return from A.J. Pollock, who played just 12 games last year after back-to-back .300 seasons, would be a huge boost.
I don't think that the Diamondbacks have enough of a veteran presence in their lineup or locker room to overtake the more experienced Giants and Dodgers. But I do think that this team is going to be better than people expect. It all starts with their starting staff. They have some real live arms. But every one of their starters has exhibited a wide range of really good and really bad. If this staff trends toward the former, watch out.
Colorado Rockies
2016 Record: 75-87 (-850)
2017 Wins Over/Under: 80.5
Odds To Win 2017 NL West: +1300
Odds To Win 2017 NL Pennant: +1650
2017Colorado Rockies Odds To Win World Series: +3000
Outlook: The Rockies appear to be a sexy sleeper pick in the West this season. With one of the best lineups in baseball - bolstered by the addition of Ian Desmond - and a starting rotation that is bordering on respectable, the Rockies appear to have their best roster this decade. Whether or not they can translate that into an above-.500 season remains to be seen.
Colorado's lineup is stacked. We're not talking, put-up-big-numbers-just-because-they-are-in-Coors-Field stacked. These guys can mash anywhere. D.J. LeMahieu won the batting title, and Nolan Arenado has rung up 83 home runs and 263 RBI the past two years. Not to mention Carlos Gonzalez and Mark Reynolds, each of who have posted 40-homer seasons. The Rockies have some nice depth, and their primary group is in the thick of their prime.
Perhaps the main reason for excitement around this team is their starting pitching staff. Tyler Chatwood, Jon Gray and Tyler Anderson are a solid 1-2-3. And if they can get absolutely anything out of the young arms at the back of the rotation - or if Chad Bettis can recover from testicular cancer - then the Rockies just may be able to compete. Further, the bullpen was upgraded by the addition of closer Greg Holland, who brings World Series pedigree to the clubhouse.
The Rockies are going to be pretty good. Anyone that can hit the way that these guys do will be a tough matchup. Their pitching staff lacks depth and experience. But they have a group of guys that seem to have adjusted to the challenges of Coors Field. And they have enough stuff to keep them in games. I don't know that I'm fully on the Rockies bandwagon - mainly because this division is so tough - but I can see clear improvement from this group.
San Diego Padres
2016 Record: 68-94 (+90)
2017 Wins Over/Under: 66.5
Odds To Win 2017 NL West: +8500
Odds To Win 2017 NL Pennant: +12500
2017San Diego Padres Odds To Win World Series: +50000
Outlook: Bleak. The outlook for the Padres is bleak.
Look, I'm not going to waste your timewith any type of breakdown of this team. The Padres are pathetic. They are not a Major League-caliber team, and the only question is if they are going to lose 100, 105 or 110 games. The Padres lost 94 games last year and they are significantly worse for this go-round. They've seen their win total drop each of the last three seasons, and I think that they could find rock bottom.
The only problem is that by May there will be zero value betting against this team. Favorites are going to be consistently between -180 and -250 against San Diego, so there will be temptation to go the other way and bet on the Dads at some juicy underdog prices. Resist that urge. These guys are a horror show.
2017National League West Picks and Predictions: Predicted Order of Finish
1. San Francisco Giants
2. Los Angeles Dodgers
3. Arizona Diamondbacks
4. Colorado Rockies
5. San Diego Padres
Doc's Sports MLB handicapping team is offering $60 worth of member's baseball picks absolutely free - no obligation, no sales people - Claim your free MLB picks here now. Also, for a limited time only get three MLB handicappers for the price of one. Click here for details . Get free MLB picks daily at Doc's Sports baseball predictions page .
Robert Ferringo is a professional sports handicapper for Doc's Sports. He is considered one of the top MLB cappers in the country and has turned a profit in three of four baseball seasons. Robert closed 2016 with an amazing $12,045 in earnings over the last four months and this summer will try for fourof five profitable years. He is looking forward to a great upcoming season against the MLB odds. Click here for more information on his MLB picks .
Read more articles by Robert Ferringo