2017-18 Ottawa Senators Predictions and Futures Odds Picks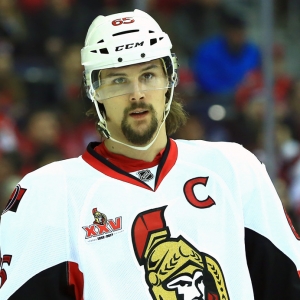 Except perhaps for the Nashville Predators, the Ottawa Senators were the biggest surprise of the playoffs last year. They beat Boston and the Rangers and then took the eventual champs from Pittsburgh to overtime in Game 7. It was a heck of a run. The biggest revelation of it all was Erik Karlsson. He'd won the Norris Trophy as the league's top defenseman twice, so I obviously knew he was very good, but in those playoffs he elevated his game to a whole new level and showed just how great he truly is. And he did it while dealing with a list of injuries a mile long. The craziest thing is that Karlsson only turned 27 during the playoff run, so his best days are still ahead of him. There is little doubt that Karlsson is one of the very best and most important players in the league. He'll have another strong season - of that there is little doubt. What remains to be seen, though, is if the rest of his team can come close to matching the magic of last year.
Free $60 in Member MLB Picks No Obligation Click Here
Ottawa Senators Offseason Moves


The biggest change was the loss of defender Marc Methot in the expansion draft. Methot has spent most of the last five years paired with Karlsson, but the team faced a numbers crunch that forced them to expose him. Karlsson unquestionably carried Methot, but the pairing worked, so now the team needs to find something new to work with. Johnny Oduya was signed to what could be a very big bargain of a contract - just $1 million for one year - and he could be given a chance, though at 36 his best spot could be further down the pairings. So will 2015 first rounder Thomas Chabot, and perhaps Fredrik Claesson, who filled in for Methot at times last year. You can be sure, though, that the team wouldn't have let Methot go if they were worried about the situation. And this is Karlsson we're talking about - I could play beside him and the team would be fine.
Aside from that the Senators largely stood pat with their team from last year. The closest thing to a splash they made was bringing in depth center Nate Thompson from Anaheim on a contract which, while bigger than I would have expected, is far from significant. What the team had last year obviously worked, so they didn't mess with it.
The team didn't even have too much to do on the payroll front. They gave a few guys new contracts, but the biggest was to backup goalie Mike Condon at $2.4 million per, so they escaped the big decisions that are inevitable in a salary cap world.

Ottawa Senators NHL Outlook

By not changing too much the team has opened themselves up to some of the same questions we have had for a while. Craig Anderson has been spectacular for the team in net, but he is 36-years-old, and nothing can last forever. He also has a bad back. He's so important to this team - on and off the ice - that you have to wonder what the future holds there.
You also have to wonder if the team is going to be okay offensively. Bobby Ryan was very good in the playoffs but had a lousy offensive regular season. The team needs more from him. They are a team that doesn't have a true, dominant No. 1 line and which relies on their trap system for success more than any other team. If the trap gets figured out by their opponents then I question if they have enough to compete. Colin White, another 2015 first-rounder who joined the team from Boston College at the end of the year, playing in two regular-season games and one playoff game, will be given every chance to shine offensively, and he will really need to. The team has not changed their top six, choosing only to shuffle the bottom two lines. They didn't score enough last year, so that's a big concern this year - especially if the goaltending does take a step back.

Ottawa Senators Schedule

The Senators have not one but two gimmicky portions of their schedule to deal with this year. First, on Nov. 10 and 11 they travel to Stockholm. The games are all but sure wins - they play lowly Colorado - and Karlsson will be treated like an absolute rock star. It should be fun, but it could definitely be a distraction both before and after for the team. And then on Dec. 16 the Senators will wrap up the celebration of Canada's 150th birthday this year with an outdoor game against Montreal. The two teams also played in the NHL's first game 100 years earlier.

Ottawa Senators NHL Futures Odds

Bovada has Ottawa at +4000 to win the Stanley Cup, which places them tied with Florida and behind 18 other teams. Clearly oddsmakers view last year's run as a fluke. BetOnline has them as the ninth choice to win the Eastern Conference at +1400 and as the fifth choice in the Atlantic Division at +800. The season win total is set at 40. Last year the team won 44 games.

2017-18 Ottawa Senators Predictions


I'm somewhat more optimistic about the team than the oddsmakers are. Karlsson is a freak, and the talent around him is decent enough. They didn't feel like they were hugely overachieving during the regular season last year. I'm a bit worried about the offense, and I sure don't see them as a serious Cup contender or anything, but I would be quite happy to take the over on the win totals.
Doc's Sports is offering free NHL picks to new clients. You can get free hockey picks by clicking the following link. No credit card is needed and there is no salesman to deal with. You try the picks, and if you like what we offer then you will be able to purchase one of our fairly-priced hockey betting packages. Click here to get your $60 in free picks . Also, for a limited time get three hockey handicappers for the price of one! Click here for our 3-for-1 NHL picks offer .
Read more articles by Trevor Whenham