2017-18 Phoenix Suns Predictions and NBA Futures Odds Picks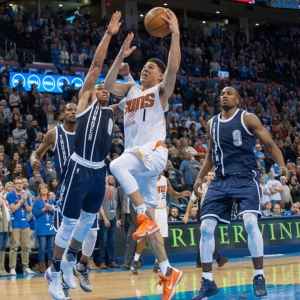 It was only a year or so ago that the narrative was that the Phoenix Suns were a very exciting team on the verge of a serious breakthrough. They had loaded up on young talent, Devin Booker served notice that he was legitimate, and the future seemed unavoidably as bright as the desert sun. But after a conference-worst 24 wins last year, and a season win total of a lowly 29 wins this year, it seems that that there is an eclipse of that bright future. It is certainly not time to panic or give up on this team entirely - there is all sorts of young talent aboard. It is just necessary to be very patient - something Suns' fans are all too practiced at having to be. What does the year hold for this squad?
2017 Phoenix Suns Betting Storylines
Here's a crazy stat - Booker joins only four guys named Irving, Durant, Shaq and James as the only guys to average more than 22 points per game for a season before turning 21. And he's only two years into his career. This is year three for Booker, and he will be old enough to drink soon after the season starts, so this is a big year for him. He has a good chance to break through offensively, and he will certainly have every opportunity to take on more responsibility on that front. And he will need to be show better defensive skills. Heck, even a little defensive awareness would be a big improvement. He's a guy who could easily take the step up into the realm of superstars this year, and a team that is already building around him - and marketing around him - could be in much better position going forward. A one-two punch of Booker and Josh Jackson, with guys like Dragan Bender, Marquese Chriss, and presumably another high pick this year thrown in along with a Top 7-protected pick from Miami, are a team that could be legitimate in a year or three. Seeing significant progress from Booker is going to be key, though. The biggest key offensively is going to be his shooting efficiency. He scores a lot despite fairly mediocre percentages. Early improvements there could be a sign of upside for the team as soon as this year - they could provide some nice betting value if Booker has done the work to take a step forward.
Earl Watson is not my favorite coach in the NBA, and his mediocre talent will be tested by the balancing act he faces this year. He needs to figure out a lot of moving parts on this roster. He has some veteran pieces - most notably Tyson Chandler and Eric Bledsoe - who are going to want their fair share of touches. But he isn't going to win anything no matter how hard he rides those guys, so he needs to balance keeping them happy with bringing the youngsters along - without putting the young guys in situations they aren't ready for. The frontcourt in particular poses all sorts of challenges. Chandler and Jared Dudley need veteran minutes. Marquese Chriss and Dragan Bender aren't polished by any means, but they need lots of reps. And Jackson and T.J. Warren need their time. Plus big men Alex Len and Alan Williams need their time. Watson needs to find a rotation that gives everyone what they need while always having enough defensively-minded players on the court to make up for Booker and to allow the young star to do what he does best. Better coaches than Watson would struggle to make it all work.
2017 Phoenix Suns Additions and Departures
The team flirted with free agency and looked like they might make a splash, but in the end they did very little, choosing to have faith in the path they are on and accepting that it isn't going to be a fast one. Aside from a bit of shuffling of deep depth players, they made only one significant change. Leandro Barbosa was not brought back as a free agent, and his roster spot was filled with wildly-promising fourth-overall pick Josh Jackson out of Kansas. It obviously wasn't a straight trade, but a de facto trade of Barbosa for Jackson is one you would make any single day. Jackson will, the team hopes, make a push for significant minutes early on. T.J. Warren was surprisingly good last year as starter at small forward, though, so playing time will have to be earned by the rookie. Jackson's jump shot is far from ready for prime time, but that's not why he was drafted. He's already a strong defender, and that is a valuable piece to have for a team built around Devin Booker, who isn't exactly a defensive wall. If I was forced to guess, I would suggest that Warren will begin the season as the starter, but Jackson will get real minutes, and soon enough he will take over as starter with Warren shifting into a sixth man role that probably suits him better. It's a storyline to watch for sure.
2017 Phoenix Suns Futures Odds and Trends
Phoenix Suns Futures Odds
NBA title odds (from BetOnline ) : +50000
Western Conference title odds : +25000
Devin Booker MVP Odds (from Bovada ) : +25000
Josh Jackson ROY Odds : +1600
Season win total (from Bovada): 29 ("under" is favored at -125)
The team won just 24 games last year, but they covered 40 spreads. They went "over" 50 times and were under the total just 32 times.
2017 Phoenix Suns Predictions and Futures Odds Picks
I like Booker and am bullish about his season. I like the other talent around for the most part, too, though I don't know how it all fits together. I suspect that this is going to be a team that is tough to play against a lot of nights but which will make a few soul-numbing mistakes each game that will be costly for them. They'll sneak up on some teams and should be able to cover more spreads than they don't, but they are at least a year or two away from respectability. There is a good reason that the under is favored on the season win total, but I don't see any betting value on either side. The best you can hope for is that they are fun to watch a good portion of the time and that the key pieces keep moving forward.
Doc's NBA handicapping team is offering $60 worth of member's predictions absolutely free - no obligation. You can use this $60 credit any way you please with any of our top NBA handicappers free here. Also, for a limited time only get three top NBA handicappers for the price of one! Click Here . Get free NBA basketball picks today at Doc's Sports basketball predictions page .
Read more articles by Trevor Whenham