2017-18 Vancouver Canucks Predictions and Futures Odds Picks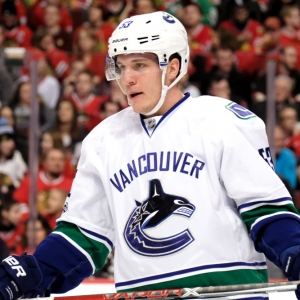 In 2015 the Vancouver Canucks had a very solid 101-point season to finish second in the tough Pacific Division. Last year they had 69 points, a hideous -61 goal differential, and were a horrible mess of a team. The team made the predictable move, blaming coach Willie Desjardins and firing him. As his replacement they hired Travis Green, the coach of their farm team in Utica and one of the hotter coaching prospects out there.
What had gone wrong was far from all Desjardins' fault. The lineup has not been built very well. The salary cap is handicapped by the $7 million contracts to Daniel and Henrik Sedin. The creepy twins have been the faces of this franchise since they were drafted and have more than earned their money along the way. Their production has fallen off a cliff, though - both guys had only 15 goals. This is the last year of the deals, so all the team can do is wait them out. They will have plenty of options after this season, but this year they have very expensive doppelgangers holding them back.
Vancouver Canucks Offseason Moves


Aside from the coaching change, it was not an overlay dramatic offseason. Ryan Miller's contract ended, and team and player were probably both happy about that. He left for Anaheim, and Jacob Markstrom is not the No. 1 guy. His numbers weren't stellar last year, and it's no guarantee that he can step up into a No. 1 role effectively. To replace Miller and act as backup they brought in Anders Nilsson, who played 26 games for Buffalo last year and hasn't really distinguished himself in stops with four other teams. The Canucks overpaid him, which was a theme of the offseason.
They probably overpaid Sam Gagner, too. He had a career-high 50 points for Columbus last year, but it is very telling that this is his fifth different team in five seasons. It's no guarantee that he can replicate last year's performance on an offensively-inept team, and even if he did it doesn't really make sense for them to spend this much - $3.15 million per year for three years - on a veteran guy when they clearly aren't playing for right now. Surely they were bidding against themselves with that deal. The same goes for defenseman Michael Del Zotto. He has been unable to stay healthy - he has played a maximum of 67 games each of the five years, and has played 52 and 51 the last two years. I don't see how he solves the team's real problems - especially during the time he is inevitably hurt.
The team took care of their most important piece of offseason business, locking down Bo Horvat for six years at a surprisingly reasonable $5.5 million per. At 22 Horvat is their best player and quite likely their next captain when the Sedins move on. The team has a bit of an issue because he projects more as a well-rounded second center than a true top center, and they don't have one of those, but having him signed long term is a very good thing.


Center Elias Petersson went to Vancouver with the fifth pick of the draft, but he will be playing in Sweden for another year before coming over to show what he can do in the NHL.

Vancouver Canucks NHL Outlook

The Canucks are going to be bad this year. There is just no way around it. They can't do much with 20 percent of their payroll going to the Sedins. And while both could be better, they won't be good enough at 36 to make a big difference. They have some nice young talent in the system, but Brock Boeser, who was impressive in limited action after joining the team last year when his NCAA season ended, is the only one ready for primetime now. Adding guys like Gagner and Del Zotto aren't going to make enough difference now. And they are taking leaps of faith with two goalies, and I'm not convinced either will look like a No. 1. Other teams are going to enjoy playing Vancouver this year. The good news for the team, if there is a bright side, is that this is a pretty good draft class, so they should add another good young prospect.

Vancouver Canucks Schedule

The Canucks could welcome the new year by putting the final nail in the coffin of their season. After one game at home at the start of the January, the team heads out on a seven-game road trip that covers a pile of miles and is against at least six playoff teams. It will be brutal, and it almost certainly won't go very well for the team.

Vancouver Canucks NHL Futures Odds


Bovada has the Canucks tied with Arizona, Detroit, Colorado, Vegas and New Jersey as the longest shots on the board to win the Stanley Cup at +10000. You could give me all of those losers in one bet, and I'd still need 200 times that price to even put a dollar on it. BetOnline has the team at +5000 to win the Western Conference - laughably, that's well ahead of Colorado and Vegas, both at +6600. They are at +2000 to win the Pacific Division. The season win total sits at 30.5. Last year they won 30 games.

2017-18 Vancouver Canucks Predictions


Terrible, terrible team. In a fight for the first overall pick. The coaching change won't make a dramatic difference, and the team just needs to view this season as an inevitable, painful step towards relevance down the road.
Doc's Sports is offering new clients a great deal for $60 in free hockey picks from any of their expert NHL handicapping experts. This offer has no hidden fees or obligations, and you will never have to deal with a salesperson or enter any credit card info. Get your free hockey betting picks here - quick and easy. Also, for a limited time get three hockey handicappers for the price of one! Click here for our 3-for-1 NHL picks offer .
Read more articles by Trevor Whenham