2017-18 Vegas Golden Knights Predictions and Futures Odds Picks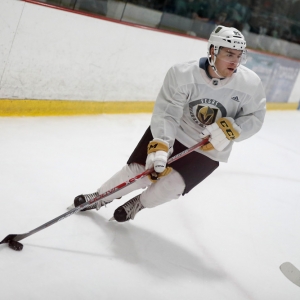 I've been writing NHL team previews like this for a lot of years now, so I have seen most everything. This is something new for me, though. The Minnesota Wild and the Columbus Blue Jackets were the last expansion teams back in 2000, and that was before my time. For the first time, then, I am looking at a team that didn't play the year before. The NHL won the race to place a team in Las Vegas - though not by nearly as much as they hoped to, I'm sure. Now we get to see if it can work. If Vegas can find the right combination of local support and out-of-town visitors in to watch their favorite team to make this whole thing work. It feels possible, but it also doesn't feel certain.
Free $60 in Member NHL Picks No Obligation Click Here
The makeup of the crowd is going to be interesting. I live in a Western Conference market, and I've seen endless advertising for packages combining a trip to the neon desert and tickets to see my Flames play. I'm certain that the same is true in every other market - or at least every market that cares about the game. There will be a loyal base of local support, but there is also going to be a bigger contingent of visitor fans than in any other arena - and those fans will have been drinking for hours since the game starts, so they won't be reserved. It will be very interesting to see how much of an advantage home ice turns out to be.
Vegas Golden Knights Offseason Moves


Well, they had only a couple of players on board when the last season ended, so the offseason moves were plentiful. The expansion draft. A dizzying number of trades. Some key free agent additions. They built a team from scratch, and they actually didn't do a bad job of it. They value draft picks and future assets over the present, so they didn't always pick the best available player in the expansion draft, and they are short in talent almost everywhere, but there are some interesting pieces to build around.
Marc-Andre Fleury was taken in the draft, and he becomes the first face of this franchise. He's a dependable goalie with a whole lot of playoff success. He's not always consistent, but he is more than capable of giving this team what it needs, and he is likeable and will shine in his ambassador role.
Fleury should have a decent defensive unit in front of him. The team had to draft nine defensemen, but they took 13 - and then traded for Shea Theodore from Anaheim as well. Theodore is only 22, and he will be the face of the defense. He's a star in the making. Nate Schmidt is another very promising guy who was a great pickup from Washington. Beyond that they have the luxury of letting things play out however they will. They can see who establishes themselves and how they can use the assets they have in the trade market as other team's defensive shortcomings become apparent. The Golden Knights should be defensive market makers.
Up front, the most interesting addition is free agent Vadim Shipachyov. The 30-year-old was never drafted and spent the last nine years in the KHL. He had 76 points in 50 games last year, and he has been just short of a-point-a-game guy through his career. It is no guarantee that he will transition to the NHL game effectively this late in his career - several others haven't - but he will be fun to watch. Guys like James Neal, David Perron and Reilly Smith can be useful as well. The team isn't likely to be able to score enough to be competitive, but the cupboards aren't completely empty, either.
A very strong addition for the team was head coach Gerard Gallant. He got a very raw deal in Florida but did a great job there before he was fired. He's a good fit for the patient approach this team needs.
The first ever draft pick for this team was center Cody Glass. They also picked center Nick Suzuki and defenseman Erik Brannstrom in the first half of the first round. All three are solid picks, but they are all a year or two away from making an impact, and there certainly is no incentive to rush them onto this team.

Vegas Golden Knights NHL Outlook

The team is going to be bad. No way around that. They should be fairly entertaining, though, and that's something. They have a decent defense, a few guys who can score, and a goalie, but so many holes that it will take at least a few years to become competitive. With Gallant in charge, though, they will be playing hard every night and should deliver some nice underdog value from time to time this year.

Vegas Golden Knights Schedule

After opening up with two road games, the team makes their home debut against Arizona - the team they also play in the second of those two road games. That will be a bad game. Vegas gets to settle in at home, though, as they play a season long seven straight at home right away. Detroit and Colorado are also among those visitors, so along with Arizona there should be at least three good chances for a win. Oddly the schedule is more streaky for this team than most. Immediately following the seven-game homestand they go on one of two season long six-game road trips, and they have another seven-game homestand in February.

Vegas Golden Knights NHL Futures Odds


Vegas is one of six teams tied as the longest shots on the board to win the Stanley Cup at Bovada at +10000. Needless to say (I hope) there is absolutely no value in that. BetOnline has Vegas tied with Colorado as the longest shots to win the Western Conference at +6600. And they are the long shots to win the Pacific Division at +2800. The season win total is set at a league-low 26.5.

2017-18 Vegas Golden Knights Predictions


In my mind 25 wins is the benchmark. More wins than that and the season is a success. Less than that is very much possible. I don't see any reason at all to bet on this team until we have a better sense of what they are.
Doc's Sports is offering free NHL picks to new clients. You can get free hockey picks by clicking the following link. No credit card is needed and there is no salesman to deal with. You try the picks, and if you like what we offer then you will be able to purchase one of our fairly-priced hockey betting packages. Click here to get your $60 in free picks . Also, for a limited time get three hockey handicappers for the price of one! Click here for our 3-for-1 NHL picks offer .
Read more articles by Trevor Whenham