2018 AL East Expert Predictions with Odds and MLB Betting Picks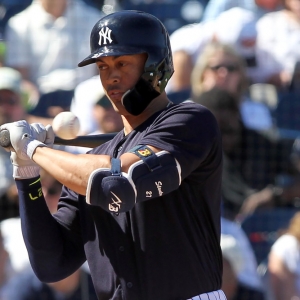 I know that if you don't live in the Northeast you probably don't give a damn about the Yankees and Red Sox and, by extension, the American League East. In fact, you're probably repulsed by the amount of attention that these two diva organizations swallow up from the national sports media.
However, if you love baseball there might not be a more fascinating division in the Majors this summer. Outside of the National League West, most divisions have an obvious front-runner, maybe one other potential playoff challenger, and then a bunch of fodder. But the A.L. East should have an honest-to-god division title race along with two other franchises with major boom-or-bust sleeper potential.
I hate the Yankees as much as anyone. But there is no denying that their lineup is going to put up some mammoth numbers and be a lot of fun to watch. The Red Sox are rock solid, and that rivalry is one of the best in sports. And both Toronto and Baltimore are straddling the fence between rebuilding and making a run, and they are both doing it while holding various versions of live grenades in their hands.
Here is Doc's Sports 2018 AL East preview ( with odds courtesy of 5Dimes ):
New York Yankees
2017 Record: 91-71 (-100)
2018 Wins Over/Under: 94.5
Odds To Win 2018 AL East: -125
Odds To Win 2018 AL Pennant: +250
2018 New York Yankees Odds To Win World Series: +500
Outlook: Hey, did you hear that the Yankees got Giancarlo Stanton?
The biggest move of the MLB offseason has certainly been discussed to death. But now that the games are set to begin, the true impact of a lineup featuring Stanton, Aaron Judge and Gary Sanchez will be felt by the rest of the A.L. East. The Yankees were No. 1 in the Majors in home runs last year and No. 2 in runs scored. And that was before acquiring perhaps the best power hitter in the game. Needless to say, the Yankees are going to bludgeon people.
But there are two problems, from a betting perspective, on the Yankees. The first is that as the most public team in the sport their odds are going to be severely divorced from reality; it's going to be nearly impossible to find value betting on this team.
The second is that the Yankees pitching staff is wanting. Luis Severino is raw and talented but is also an injury waiting to happen. Masahiro Tanaka was erratic last season, and I think that C.C. Sabathia, at age 37, is on borrowed time. New York's strength is still on its bullpen. But daily odds are calculated based on starters. And the Yankees' starting staff looks a little thin.
Regardless, this offense is going to blast its way to 90+ wins. The question will be how many of those wins can we make pay out? And can this team possibly surpass the incredible expectations that have been placed on it?
Boston Red Sox
2017 Record: 93-69 (+400)
2018 Wins Over/Under: 92.0
Odds To Win 2018 AL East: +150
Odds To Win 2018 AL Pennant: +450
2018 Boston Red Sox Odds To Win World Series: +1000
Outlook : At the turn of the century, in the heyday of the Yankees dynasty, you could feel the panic and anxiety in Boston every time their New York rivals made a major move. However, I don't get that sense from the Red Sox right now even as the Yankees have reloaded. And after winning the division last season, despite a slew of obstacles, the Sox seem content to face the rebuilt Yankees head-on this summer.
Boston did make its own big move this winter, adding J.D. Martinez to bring some much-needed pop to a lineup that dropped from No. 1 in scoring in 2016 to No. 10 in 2017. Boston is also hoping for steady improvement from its young core of Xander Bogaerts, Andrew Benintendi and Mookie Betts, as well as bounce-back seasons from Hanley Ramirez and Dustin Pedroia. The Red Sox lineup will be in the league's top tier once again.
The same can't be said for Boston's pitching staff. Chris Sale will remain one of the best in the game. But Boston desperately needs David Price to regain his frontline starter form. The problem is that Price hates Boston, and he's never pitched well in Fenway. I think if Boston is hinging its season on Price then they are ripe for a fall. The back end of the rotation is mediocre. And the relievers, outside of revitalized Craig Kimbrel, are nothing special. The Sox bullpen put up great numbers last year. But bullpen performance has proven statistically fickle from season to season.
The Red Sox are a sound, well-rounded team with a lot of upside. They have an excellent blend of superstars, young stars, grinders, and guys with potential to blow up. Boston has no clear weakness. But unlike the Yankees, Indians and Astros they also don't have a real definable strength. Pencil this group in for 90+ wins (unless their starting pitching explodes). But I don't see them as a real threat to win it all.
Toronto Blue Jays
2017 Record: 76-86 (-1770)
2018 Wins Over/Under: 81.0
Odds To Win 2018 AL East: +800
Odds To Win 2018 AL Pennant: +1300
2018 Toronto Blue Jays Odds To Win World Series: +2000
Outlook : The Yankees and Red Sox have stolen headlines all winter. The Orioles have ramped up their own palace intrigue. And no one cares about the Rays. Which means that for the first time in a couple of years the Blue Jays actually enter the season as one of the least dramatic teams in the A.L. East. And I think it is a look that suits them.
In 2015 the Blue Jays were by far the No. 1 offense in the Majors, outscoring the next closest team by over 130 runs. Just two short years later the Blue Jays offense fell off a cliff, finishing No. 26 in the Majors in runs scored last season. Toronto cut ties with aging slugger Jose Bautista, and they've reshuffled the deck a bit. The Jays desperately need a healthy year out of Josh Donaldson. And if Justin Smoak and some of the other past-their-prime vets can show some consistency then this team should have enough pop to get back over .500.
The Jays pitching staff has quietly become a strength. Marcus Stroman is an ace, and J.A. Happ and Aaron Sanchez are nice pieces. They have depth with guys like Jaime Garcia and Marco Estrada simply being asked to eat innings. The bullpen is sound and has the potential to be one of the best in the A.L.
It all comes back to Toronto's aging everyday lineup. The veteran makeup should keep the locker room more stable. But where will the production come from? Toronto is asking guys like Curtis Granderson, Russ Martin, Kendrys Morales, and Troy Tulowitzki to stay healthy and productive for one more summer. If by some Act of God that happens then this team will be in the playoff mix. But the smart money is on it not happening and the Jays going bust once again.
Baltimore Orioles
2017 Record: 75-87 (-1270)
2018 Wins Over/Under: 73.5
Odds To Win 2018 AL East: +3500
Odds To Win 2018 AL Pennant: +5000
2018 Baltimore Orioles Odds To Win World Series: +8000
Outlook: The Orioles are really one of the more intriguing stories in baseball. Of the 30 teams in MLB, the overwhelming majority are either clearly competing for rebuilding. But the Orioles are straddling that fence, with several high-profile players (including cornerstone Manny Machado) set for free agency after the season. On top of that, there's rumors that either manager Buck Showalter or GM Dan Duquette (or both) will be gone at season's end as well.
So will the Orioles be buyers or sellers? Come August will they be pushing for the playoffs or diving into a dumpster?
Baltimore has been deceptively consistent under Showalter, winning an average of 89 games per year from 2012-2016. They took a nosedive to a 75-win season last year. But on paper a core of Machado, Adam Jones, Chris Davis, Mark Trumbo and Jon Schoop seems like it should be able to compete with the Yankees and Red Sox.
However, Baltimore's Achilles heel is that they have been comically averse to signing any sort of starting pitching. Their starting staff has been a joke for most of the last six years, and they enter this season without anything resembling a No. 1 or No. 2 starter.
Again, the Orioles have the talent to compete right now. But how they start the season will determine whether or not this team starts shedding salary and heading into Tank Mode or whether they might actually make a move to add the ace they have so sorely needed in one last attempt to take over Boston and New York. This is a volatile, boom-or-bust team, and bettors should be wary.
Tampa Bay Rays
2017 Record: 80-82 (-650)
2018 Wins Over/Under: 75.5
Odds To Win 2018 AL East: +3000
Odds To Win 2018 AL Pennant: +3500
2018 Tampa Bay Rays Odds To Win World Series: +7500
Outlook : Tampa Bay apparently decided to use the Sunshine State outrage directed at the Miami Marlins, who held an open fire sale this offseason and are blatantly tanking in order to boost profit returns for their ownership, to stage a little house cleaning of their own. And, like so many things that the Rays do, no one appeared to notice.
Tampa Bay actually finished one game below .500 for the second time in three years last season. But that didn't stop them from jettisoning Steve Sousa, Evan Longoria, Corey Dickerson and Alex Cobb. What remains is disjointed amalgorithm of a roster that likely won't be able to back a promising young pitching staff.
Let's put it this way: if you like guys like Denard Span, Carlos Gomez and Wilson Ramos, then this is the team for you.
Tampa still has enough pitching to stay competitive and be a thorn in the side of the Yankees and Red Sox, two teams they always play tough. Chris Archer, Blake Snell and Jake Faria have all shown some serious upside. But the Rays management has been talking crazy about using a four-man rotation and having every fifth day be a "bullpen day". I mean, sure, why not?
The Rays look like they are just throwing stuff at the wall right now. They are four years removed from their last postseason appearance, and that four-playoff-appearances-in-six-years stretch from 2008-2013 is starting to look more and more like a bizarre anomaly from a bygone age.
2018 American League East Picks and Predictions: Predicted Order of Finish
1. New York Yankees
2. Boston Red Sox
3. Toronto Blue Jays
4. Baltimore Orioles
5. Tampa Bay Rays
Doc's Sports is offering $60 worth of member's baseball picks absolutely free - no obligation, no sales people - you don't even have to enter credit card information. You can use this $60 credit any way you please on any of our top MLB handicappers. Click here for more details and take advantage of this free $60 picks credit today .
Robert Ferringo is a professional sports handicapper for Doc's Sports. He is considered one of the top MLB cappers in the country and has turned a profit in three consecutive baseball seasons (and six of his last eight). Robert exploded for an incredible +$13,100 profit run last year from mid-April to late July and he plans on doing it again this year. Robert has posted four of five winning years on the diamond and is looking for another big season. Click here for more information on his MLB picks .
Read more articles by Robert Ferringo