Expert NHL Handicapping: Early-Season Disappointments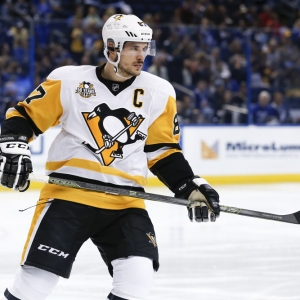 Before we get into the real task at hand - looking at the teams that have been most disappointing in the first quarter of the season - we have to address something more important. At this time in every season I write articles talking about evaluating the season at the quarter pole. THIS IS FREAKING WRONG, PEOPLE. The quarter pole is not a quarter of the way into a horse race. It is a quarter mile from the finish line. At the quarter pole you are nearing the end. You are not near the beginning. Come on! If you use the phrase quarter pole wrong then no one should ever, for the rest of your life, trust a single thing you say. We as a society are better than this. And now, on to the task at hand. Here are the five biggest NHL disappointments at this point in the season that is definitely not the quarter pole:
Pittsburgh Penguins: The Penguins have not just the top two centers in the league, but one of the best one-two punches we have ever seen in the NHL. And yet they have just one win in their last 10 games, and they are dead last in the Eastern Conference with just 18 points in 19 games. Sidney Crosby has been banged up, and Matt Murray has been a disaster in the nets. It's just ugly and proof that any team can hit a rough patch. They made one trade already - a smaller but strong one, trading Carl Hagelin straight up for Tanner Pearson. Pearson has upside and is younger, so it's a sound enough move. And there is a good chance that the team won't be done if things don't turn around in a hurry - the Pens are the most fearless team in the league when it comes to moves. A coaching change could be in the works soon, too. The one thing this team has going for them is that we have seen this before. They have struggled badly in the regular season, turned it around, and won a Cup. But they are already seven points out of a wild-card spot, and five points behind the Capitals for the last divisional spot with a game in hand, so they need to get rolling sooner rather than later.
New Jersey Devils: The Devils are tied with Pittsburgh right now. It's only a disappointment because last year was such a pleasant surprise. This was the season they were expected to have last year, so the MVP performance by Taylor Hall and all that came with it was such a pleasant boost. But now reality has set it. And it's not that fun. And it's not likely to end any time soon.
St. Louis Blues: The Blues started a trend, firing Mike Yeo as their head coach on Monday night after another dismal loss. Only the Kings have been worse than St. Louis' 17 points, so something had to change. This is worse than we have seen in St. Louis in recent years, but the story isn't that unfamiliar. The Blues are a team that has never been able to figure out how to play up to their full potential. Talent has never been a problem for the team, and it isn't on this squad, either. But the whole seems incapable of being the sum of the parts in this part of Missouri. It must have something to do with that big arch or something. This isn't a team built to be the best in the West, but they are much, much better on paper than they have been - very much a playoff-caliber team. But they have gone for an interim coach in Craig Berube while they search for a long-term solution, and that's never a good thing. I'm not particularly optimistic.
Edmonton Oilers: The Oilers have been my hated rival since the day they entered the league - that's what happens when you are from Calgary. So, I am loving what is happening right now. Somehow, they have the best player on the planet, yet they are incredibly bad. They have no defense. And they have questionable goaltending. They aren't really a disappointment because they are exactly what their roster suggests they should be. And now they have made a coaching change, bringing back twice-retired Ken Hitchcock to run the team. Hitchcock was good in his day, but hiring him is like bringing Brett Favre back to QB your team as an answer to Mahomes, Goff and the new NFL. It's a clear sign this team doesn't get what it takes to win in this league - which was totally obvious when you looked at their roster. Slow and out of touch - and no clear path out of this mess. I look forward to the inevitable day when Connor McDavid demands a trade.
Vegas Golden Knights: Like the Devils, the Knights are only a disappointment because of what happened last year. If they had had this season last year in their debut, it would have felt like a success. But last year they were so hard to play against, and so fast and relentless. And this year they are so ordinary, predictable, and regularly outmatched. It's like the clock hit midnight and the carriage turned back into a pumpkin. In the commercial breaks during the Monday Night Football epic, I was flipping back to watch Vegas play in Calgary. The Golden Knights got crushed, and just looked like a team without a clue. It's going to be a long year in the desert.
Get $60 worth of member's NHL picks absolutely free - no obligation, no sales people - you don't even have to enter credit card information. You can use this $60 credit any way you please on any of our top hockey handicappers. Get $60 worth of premium members' picks free ! Also, for a limited time get three hockey handicappers for the price of one! Click here for our 3-for-1 NHL picks offer . Also, get free NHL picks every day on Doc's Sports NHL predictions page.
Read more articles by Trevor Whenham