Handicapping the NBA Western Conference Playoff Race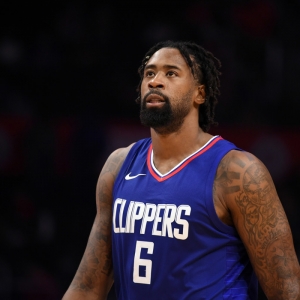 The Oklahoma City Thunder currently sit fourth in the Western Conference of the NBA as we cruise towards the postseason. The Denver Nuggets sit 10th. Yet the gap between the teams is as tiny as we have seen in the West in a long while. We are used to the top teams running away with things in the conference, yet this year the difference between hosting a first-round series and staying home on your couch as the playoffs start is just 2.5 games. Yes, Denver is a game out of the playoffs but just 2.5 games out of fourth place. With teams having played about 70 games each, that margin between teams is tiny - and it is sure to lead to total chaos down the stretch. Here is a look at how the race shapes up:
How it stands now: Right now, heading into Friday night's games, Oklahoma City is in fourth. They have just a half-game cushion on Minnesota, and they have played one more game. Hardly a comfortable cushion. The same story repeats itself next - Minnesota is half a game ahead of New Orleans and has played one more game. That means, of course, that New Orleans is only one game behind the Thunder and has played two fewer games.
The next group of teams is not only very competitive but also tough to wrap your mind around. Utah is tied with the Spurs. Seeing San Antonio touch and go to make the playoffs just doesn't compute after so many years of steady excellence. Those two teams are just a half game behind New Orleans, but they have played one more game. And then the Clippers and Nuggets are a game back of those two teams. Of those, the Clippers are the most interesting - they have played two fewer games than the Jazz, Spurs, T-Wolves and Nuggets, and three fewer than the Thunder. They have also won seven of their last 10, so they really have the potential to quietly sneak into the playoffs after gutting their team - and while Blake Griffin sits on his butt and watches the playoffs in Detroit.
Momentum: In a playoff race like this, it's all about how well teams are playing. The sample size of games remaining is so small that there is no margin for error, and any loss hurts. Three teams are behind the pack in terms of performance. Minnesota is really missing Jimmy Butler and is sitting at 5-5 in their last 10 games. Denver can't sustain success lately and has only a 5-5 record in their last 10 as well. And, again in very shocking fashion, the Spurs are the big duds on this list, with a 4-6 record as they deal with general turmoil and the uncertainty of the Kawhi Leonard situation. On the other side, the Jazz are the red-hot squad, having won nine of 10. The other teams have all gone 7-3, which is solid given the circumstances.
Strength: It's important to note that this race is actually one of strength. It's easy to be down on a lot of teams in this race and negative about where they are at right now. But the Clippers have a .552 win percentage, and the Nuggets are functionally tied at .551. Last year both of those teams would be comfortable secured in playoff spots with those records - Memphis was seventh at .524, and the Blazers were eighth at .500. And in 2015-16 the teams would be sitting in fifth and sixth right now. It's a strong year at the bottom - in large part because it's not as dominant at the top.
Nuggets: Denver is about to head out on a tough seven-game Eastern road trip, and when that ends they play six straight playoff teams to close out the season. It's tough to be too optimistic.
Clippers: Twelve of 15 remaining games are against playoff teams, which is tough. Seven of those are against Western Conference opponents they are chasing, though, and they also play Denver, so they do have a good chance to control their destiny - and they have those games in hand. I still don't love the team as it is, but it is much tougher to write them off than it was.
Jazz: Their schedule is softer than some. They play Sacramento, Atlanta and Dallas next after having already won eight straight. That should be stretched to 11. Then they play San Antonio. They have manageable ones against Memphis and the Lakers twice remaining, and they have games against Portland, Minnesota and the Clippers to help control their own fate. They play the Warriors twice, but that isn't necessarily bad, either - the last is the second last game of the year, so the chances that Golden State will care about that game at all are pretty low. This feels like a playoff team to me.
Spurs: They play their next eight against playoff teams, then they play at the Clippers. Two of their last four are against playoff teams as well. We can't really judge because we don't know how ready Leonard will be, and he is the key, but I would see them as more likely out than in at this point.
Pelicans: After being red hot, the team has lost three of four and seems to have lost their way a bit. Given their talent, their lead, and their game or two in hand, though, this feels like a playoff team.
Timberwolves: Minnesota is reeling, but five of their remaining 13 games are against the league's trash. If they win those then they will have a bit of a cushion to hold off the chasers. Their position is less secure than the Pelicans or even the Jazz in my mind, but they will really have to look hard in the mirror if they don't make it.
Thunder: They have only 12 games left, and all six remaining road games are tough, but it would truly be shocking if they didn't make it.
Read more articles by Trevor Whenham