Handicapping the 2018 Preakness Stakes Field: Early Look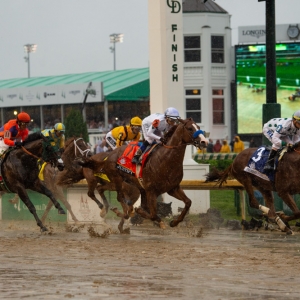 The Preakness field is almost certainly never as strong as the Derby field - and certainly not as deep. But this year it has gone to an almost ridiculous extreme. We have one super horse, a potential challenger who would be a star many other years but was born at the wrong time, a potentially intriguing new entrant likely not good enough to win, and a bunch of horses just looking to grab a small piece of the $1.5 million purse - because even the minimum payment that comes for finishing fifth is better than you get for winning most races out there.
The Preakness often feels like a stepping stone race, and that is never more true than a year like this. If, as expected, Justify wins in not much more than a competitive gallop then the race is meaningless other than that it sets the table for the Belmont and a potential Triple Crown . And if Justify somehow loses the race then even I would struggle to care about the Belmont this year - and I'd cheer for four rats racing across a picnic table if someone told me it was a Triple Crown race.
At this point not a lot is certain about the Preakness field, and there is likely to be lots of changes, but we can take an early look at the Preakness field as it stands (odds, when available, are from Bovada ):
Likely
Justify (-240): Really, what do we have to say? After a historically freakish Derby win that only gets more impressive with each viewing, he's back, and he has scared off most of his competition. If he is at his best then he simply won't be beaten by this group. But anything can, and often does, happen on the Triple Crown trail.
Bravazo (+2500): This colt was sixth in the Derby, and that was about as good as you could have reasonably expected for him. He's a decent colt who can be strong on his best day, but he's a clear step below. D. Wayne Lukas was sixth in the Derby with Oxbow in 2013, though, and won the Preakness, so I get why he is taking a shot here. 2013 Derby winner Orb was certainly no Justify, though, so this is a different game. Realistically, he's a long shot with the upside of second place if everything goes his way.
Sporting Chance (+2500): Lukas is already bringing one colt, so he might as well bring two. This horse ran in the Pat Day Mile on the Derby undercard. He was the fourth betting choice, and he finished fourth, so it was an alright day - especially since the top three were all long shots in a race that was totally haywire (a $1 trifecta bet paid more than $17,000). He looked like he could handle a bit more distance, so I guess this spot makes sense. And as a son of Tiznow he has class and stamina influences. But he just wasn't fast enough on the prep trail, and I'm certain Bob Baffert won't lose too much sleep.
Quip (+1600): Quip had the points to make the Derby but gave up his spot when he was deemed too inexperienced. It was probably the right move - though who knows what experience means anymore after Justify won the Derby in just his fourth start. A couple of interesting storylines here. Two of the partners in this horse are also partners in Justify, and a third is a partner in Justify's breeding rights. It would be the definition of bittersweet if this colt beat Justify. And the trainer of this colt also was the guy who started Justify as a young horse. We'll hear lots about those storylines. He's a nice colt who would have factored into my exotic bets at the bottom end if he had somehow been in the Derby, but he would need help to win.
Diamond King (+1600): The Federico Tesio is the local prep race for the Preakness, though it is now run at Laurel instead of Pimlico. We often see the winner in the Preakness, as we will again with Diamond King, and they are rarely relevant. It's a gigantic step up in class, and though I can't pretend to know too much about this horse yet I am okay with discounting his chances.
Possible
Good Magic: This is the only horse that could potentially concern Justify - and not to a huge extent since Justify put off his rally pretty convincingly in the stretch of the Derby. Chad Brown seemed uninterested in bringing his two-year-old champion back for another shot at Justify right after the Derby, but he has seemingly mellowed a bit on that. It's a tough decision. He would clearly be the second best here by a wide margin - as he was in the Derby - and is good enough to beat Justify if the Derby champ falters, but at even strength Brown knows he's beat. My initial reaction was that he shouldn't run here, but I can see both sides.
Lone Sailor: I was surprised when this colt showed up on the list of possible starters that Pimlico put out on Tuesday, but the more I thought about it the more it made sense. He wound up eighth in the Derby, but it was an eventful trip. He encountered some contact at the start and then ran into traffic trouble repeatedly. He was moving well in the stretch, though, and gained ground before being passed twice late as he seemed to run out of gas. So, a slightly shorter race and, hopefully, a much better ride than the mess of a job he got from James Graham could help him out. If he's healthy after the Derby then he can carry his fitness over to this race. I don't think he's nearly good enough to win, but he would be a real threat for third - and that still pays six figures.
Givemeaminit: This colt was third in the Pat Day Mile at more than 21/1, so now he's a Preakness horse? If his connections want to see Justify run so badly then it would be cheaper just to buy tickets. That third-place finish was his best in seven graded stakes starts. I'm not very excited about him.
Tenfold: He's a son of Curlin, who won this race with the same trainer, Steve Asmussen, so that's a positive, I guess. But this colt has only three starts, and his stakes debut in the Arkansas Derby was an underwhelming fifth. No thanks.
Doc's Sports has been a leader in Triple Crown handicapping for more than four decades, and we have a great offer for new clients. Get $60 worth of Preakness Stakes picks free with no obligation to buy anything. Not credit card is needed, and you won't ever have to talk to a salesperson. Get $60 worth of premium members' picks free .
Read more articles by Trevor Whenham
---
Most Recent Preakness Stakes Handicapping