Sportsbooks Posting Betting Props And Odds On Justin Bieber And Hailey Baldwin's Wedding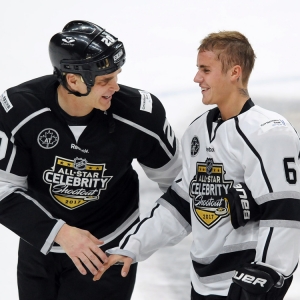 Writing about couples who just got engaged and discussing their possible misfortunes is begging for bad karma. But we are talking about Hollywood here. Who are we talking about? Hello, Justin Bieber proposed to Hailey Baldwin during the 4th of July weekend and all of Hollywood is discussing this surprising news.
History has shown us that Bieber and Baldwin first started their romance about three years ago and had been linked together on and off since then, We all know that Bieber has also been off/on with pop-singer Selena Gomez so be prepared to hear her name every time you see news on this upcoming wedding. Baldwin was romantically linked to Shawn Mendes just a few months ago so you realize why I might have some big question marks on this engagement.
Since there is nothing better than to research crazy pop-culture betting proposition and consult with head oddsmaker over at MyBookie this topic was actually fun to set up these props. So yes, you can actually put stone cold cash on what year Bieber and Baldwin will tie the knot and you can also throw some cash down on who will be the 'Best Man' and 'Maid of Honor'.
Here are the opening odds from MyBookie:
Bieber and Baldwin Married By the End of 2018
Yes -200
No +150
Free Pick: it's a no-brainer here!! No way these two get married by the end of 2018 and I'm sorry Bieber fans or people who are rooting for them. It wouldn't shock me to see these two young pups break off their engagement by the holidays. Justin Bieber is 24 and Hailey Baldwin is 21 and this is the reason why this engagement could be set up to fail. I always root for 'love' but throw in young adults in Hollywood and I'm sorry but I'm betting the 'No' here in this Bieber/Baldwin prop.
Bieber and Baldwin Married By the End of 2019
Yes +150
No -200
Justin Bieber Best Man at the Wedding
Ryan Butler +100
Scooter Braun +300
Usher +300
Lil Twist 7-1
Soulja Boy 8-1
Floyd Mayweather 20-1
50 Cent 20-1
Ellen DeGeneres 50-1
Hailey Baldwin Maid of Honor at the Wedding
Kendall Jenner-200
Bella Hadid +200
Mari McKinney +400
Ireland Baldwin +500
Isabella Peschardt 8-1
Selena Gomez 50-1
Will Selena Gomez Attend the Bieber Baldwin Wedding?
Yes +350
No -500
Raphael Esparza is one of the best handicappers in all sports and one of the best entertainment odds consultants out there. Esparza is getting ready for the semifinals of the World Cup and if history holds Esparza will have a outstanding semi's and championship plays in Russia. This week Esparza will have plays in MLB Baseball, CFL Football, World Cup Soccer, WNBA, Boxing, and UFC Fight Night in Boise, Idaho Saturday night. New clients can take advantage of Doc's no-hassle $60 free picks offer and get Esparza's weekday picks.
Read more articles by Raphael Esparza