NFL Survivor and Confidence Pool Picks and Advice: Week 4
by Matt Severance - 9/26/2018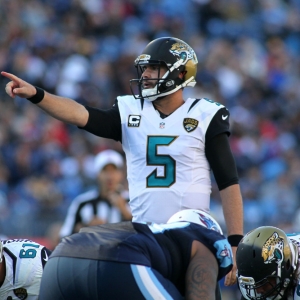 I half listened to my gut last week on the Minnesota Vikings, who were 17-point home favorites over the Buffalo Bills. I did list the Vikings as my No. 1 Survivor and Confidence choice but wrote: "sometimes when there's such an obvious choice it can be wise to avoid said team just in case a massive upset wipes everyone out. I do worry slightly about the Vikings looking ahead to next week's game vs. the Rams and probably would take the points here, but I see no earthly way where Buffalo can win this game."
Well, the Bills won 27-6, in the biggest point spread upset the NFL has seen since 1995. Off the top of my head, the nearest comparison from an early-season Survivor destruction game was in Week 2 of 2012 when the Patriots had their home opener against the Kevin Kolb-led Arizona Cardinals. Kolb, whom I believe sold me my auto insurance recently, led the 20-18 upset over Tom Brady & Co. when usually-reliable Patriots kicker Stephen Gostkowski was wide left on a 42-yard field goal in the final seconds. New England was around -14 that day.
I'm in a handful of Survivor Pools. In those with multiple entries, I didn't double up on Minnesota to at least save myself just in case. In a few of them with single entries, I went with Kansas City over San Francisco, and that one was never in doubt. However, there's no question that in some I was knocked out too. The good news: So was most everyone else, and that's why there's often an early-season Loser's Pool.
Lesson learned: Avoid the early-season mega-favorite because it's still too early to really know what teams are. At least there wasn't a stupid tie in Week 3.
Here are my Week 4 Survivor Picks in order of how I would also do my Confidence Pool selections (with occasional exceptions noted when necessary). The team listed first is my choice. As always, you should wait until the last possible minute to make your picks. Washington and Carolina are on the bye so we start at 15.
15. Jacksonville vs. NY Jets: I thought the Jags might get caught in a trap game last week vs. the Titans but would win because Marcus Mariota didn't start. Then Blaine Gabbert got hurt, Mariota came in and led the upset. OK then. Jags won't get caught napping again.
14. LA Chargers vs. San Francisco: This will be popular this week because of Jimmy Garoppolo's unfortunate season-ending ACL injury. The 49ers are going to be lousy now. My only concern here is that sorry Chargers defense without Joey Bosa, but I'm a better QB than new Niners starter CJ Beathard.
13. Green Bay vs. Buffalo: No way the Bills can do it again, right? Any shot the Packers had of looking past them ended with that Vikings upset. Still, if Aaron Rodgers were to tweak that knee early in the game …
12. New England vs. Miami: I'd love nothing more than the Patriots' dynasty to be over, but they haven't lost three straight in 16 years (think about that - my Bears in recent years would lose three games in two weeks) and won't here. Fins are doing it with mirrors and against mediocre-at-best competition.
11. Dallas vs. Detroit: The Cowboys have looked god-awful on the road but were competent in their lone home game. This is what the Lions do - get a huge win and their fans' hopes up, then totally crap the bed the following week.
10. LA Rams vs. Minnesota (Thursday): I wouldn't touch this game from a spread perspective because the Vikings are going to play angry after being embarrassed, and the Rams apparently will be without their two Pro Bowl cornerbacks. L.A. will win but close.
9. Atlanta vs. Cincinnati: I'd move this down if AJ Green (groin) does suit up for the Bengals. No word on that yet. My fantasy team hopes he plays. Like to see 2011 draft mates Green and Julio Jones on the same field.
8. Oakland vs. Cleveland: Been to Cleveland and not a big fan of the city, although it has gotten much better downtown, but I was thrilled to see that comeback win last Thursday and all the Bud Light coolers opened. This feels like a letdown game to me in Baker Mayfield's first start. The Raiders aren't going 0-16.
7. Seattle at Arizona: Supposedly Josh Rosen was the most NFL-ready of the first-round quarterbacks this year. He was unfairly thrown to the wolves against my Bears last week and gets the start here. The Seahawks stink on offense, but their defense will give Rosen major trouble.
6. Chicago vs. Tampa Bay: Can't believe I'd rather face Jameis Winston than Ryan Fitzpatrick. I'd take either of them over Mitch Trubisky right now. That Ryan Pace draft pick is starting to look like a major mistake.
5. Kansas City at Denver (Monday): Being honest, I might switch this when it gets closer to Sunday and take the Broncos in an upset. Patrick Mahomes is unbelievable, but you can't just shred teams every week as a pseudo-rookie. Von Miller may have something to say about that.
4. Pittsburgh vs. Baltimore: Steelers might have saved their season in Tampa on Monday and finally put the Le'Veon Bell drama behind them.
3. Philadelphia at Tennessee: Marcus Mariota's elbow is still an issue, although presumably he will start. The Eagles will eat him alive, and Carson Wentz will be better in his second game back from the ACL injury.
2. Houston at Indianapolis: Will Andrew Luck ever be the same? That was sad, him not able (or allowed) to throw that Hail Mary in Sunday's loss. The Texans just can't be this bad with guys like Deshaun Watson, DeAndre Hopkins and JJ Watt.
1. NY Giants vs. New Orleans: Yep, Big Blue upsets the Saints, who are defensively horrid. Check out Drew Brees' career splits in his dome compared to outdoors.