NHL Handicapping: Boston Bruins Once Again a Championship Contender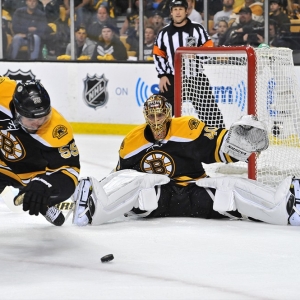 The Boston Bruins are having a remarkable season. They have just one fewer point than the NHL-leading Tampa Bay Lightning, and they have played two fewer games. On the surface it's not that surprising - the Bruins have had a lot of good years lately. But this was not supposed to be one of those good years.
Preview after preview heading into the season pointed to the lack of a playoff series win for three years, the lack of meaningful additions to the team, and the likely struggles to even make the playoffs this year as a result. It seemed to many, including me, that they were a team that wasn't willing to accept that they needed a retool - not a full rebuild, but definitely a change of direction - and their unwillingness to recognize that was going to prove costly.
Oops.
So, how are the Bruins doing what they are doing? It's a question I have thought about a lot. Here are four contributing factors:
Depth: Patrice Bergeron and Brad Marchand are as good as any duo in the NHL. They have a rotating cast on their wing, and they are ridiculously potent - the kind of duo that an opposing team has to plan for and still can't really handle. Last year in the playoff loss to Ottawa, for example, those two absolutely terrorized the Senators. The problem, though, was that when those guys were off the ice the team really struggled. They just didn't have the lines behind that to make teams worry, so all opponents had to do is weather that top line and they would be fine. A criticism of the team in the offseason was that they hadn't done nearly enough to overcome that issue. As it turns out, though, what they did worked out just fine. We'll look at the biggest reason for that next, but what stands out now is that what was a one-line team now rolls much deeper, and are much harder to play against as a result. It's hard to put a finger on what the biggest factor is in the success this year, but this is not the smallest factor for sure.
Youth movement: Last year the team had some old guys playing some serious minutes - old in NHL terms, at least. Dominic Moore, Matt Beleskey, Drew Stafford, and John-Michael Liles were all playing at least 13 minutes per game last year. That would have been fine in the NHL of even a few years ago, but as the league has gotten faster and more skilled, and as the rules have softened to make speed and skill more valuable, you can't get away with a veteran roster like you used to. The Bruins jettisoned all of those guys - a move that seemed far less significant at the time than it does now. To replace them the Bruins went young. They brought in young star prospects Charlie McAvoy, a defenseman, and winger Jake DeBrusk. And they elevated prospects like Matt Grzelcyk, Danton Heinen, Anders Bjork, and Sean Kuraly, who they had drafted earlier and had been nurturing. All six guys have been playing serious minutes this year. Tossing youngsters into the deep end can cause growing pains, but this just hasn't been the case. McAvoy and DeBrusk have been the young stars that they were drafted to be, and the others have exceeded expectations as well. They are fast and skilled, and they are soaking up knowledge like sponges. It remains to be seen how they stand up as pressure intensifies and the season gets long, but for now this has been a major key to success.
Goaltending: Last year the team had goaltending well below the standards they were used to. Lots of teams have issues in net, but not a lot of teams have a goalie as talented and accomplished as Tuukka Rask. The team maintained faith, keeping both Rask and backup Anton Khudobin around instead of chasing a new solution. And it was the right move - Task has been brilliant, and Khudobin has improved from last year in a significant way. They have allowed the fewest goals in the league - 10 fewer than second-best Nashville. Goaltending is crucial in the league, and the Bruins have it.
Coaching: Claude Julien is a good coach, and he has won a Stanley Cup coaching the Bruins, and lost in the finals another time. But his voice wasn't being heard last year when he was fired midseason and returned to Montreal where he had begun his coaching career - and where he is struggling horribly. Bruce Cassidy, who had been an assistant, took over. Cassidy had only been an NHL head coach for a year and a half back in 2004, but he has done a heck of a job so far. Julien runs a tight ship - he has systems and ideas, and he wants them adhered to strictly. Cassidy is much more casual, and it is reflected in this team. The youngsters might not have shone under the tight reins of Julien like they are under Cassidy. This isn't a fault with Julien - teams need different messages from time to time. But the change has been really effective.
The bottom line: The Bruins are 20-2-3 in their last 25 games. That is a remarkable stretch of hockey, and it has gone on long enough that it isn't a fluke. They will find a rough stretch at some point, and they may or may not have playoff success in their future this year. The team is a top five betting squad this year, though, and have been profitable both at home and on the road. This team is legit and far ahead of schedule.
$60 worth of member's NHL picks absolutely free - no obligation, no sales people - you don't even have to enter credit card information. You can use this $60 credit any way you please on any of our top hockey handicappers. Get $60 worth of premium members' picks free ! Also, for a limited time get three hockey handicappers for the price of one! Click here for our 3-for-1 NHL picks offer .
Read more articles by Trevor Whenham