NHL Trade Deadline: Major Moves and Updated Futures Odds
by Chris Vasile - 3/5/2018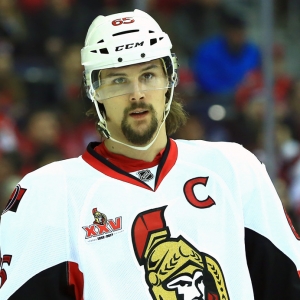 The NHL trade deadline was once the marquee event of the hockey season. Before the salary cap was instituted, teams were able to make blockbuster deals without a care in the world about going over the salary cap and running out of money/space to re-sign the core of the team. The salary cap was implemented in 2004, and that has turned the trade deadline into the trade "dudline", thus making July 1 - the start of free agency - the main time when it comes to blockbuster deals.
It has now been exactly one week since the NHL trade deadline, and there are still many more questions than answers regarding which teams will best utilize their newest acquisitions and make a deep run into the NHL postseason.
For me, the most exciting part of the trade deadline is the millions of rumors surrounding 90 percent of the league's players. Talking heads from every major sports network claim to have the inside scoop on what is going to transpire, but they are wrong more often then they are right. The majority of them said that Ottawa Senators' defensemen Erik Karlsson was going to be dealt prior to the deadline to ensure the club get assets back before he tests the market in free agency. The Sens did make a trade at the deadline, but it didn't involve Karlsson. For Senators fans, it's hard to swallow the fact that this team was one game away from reaching the Stanley Cup Finals and are trading top six forwards and disrespectfully dangling their captain as bait.
The Senators were one of several teams who become sellers at the deadline. For those new to hockey, sellers are those teams already out of the playoff picture that are focused on heading into the offseason with good flexibility on their salary cap and a good batch of picks and prospects to look forward to once training camp rolls around in September. Teams that fit into this category this season were the New York Rangers, Buffalo Sabres, Montreal Canadiens and the Ottawa Senators.
For three of those teams, this season took a nosedive rather quickly. As I mentioned, the Senators were one game away last year from reaching the Cup Finals. The New York Rangers are yearly Cup contenders, but a slow start and some sloppy goaltending put them behind the eight ball right away in a very competitive Metropolitan Division. And then there is the Montreal Canadiens. The Canadiens have one of the best goalies in the league, but they made questionable roster decisions heading into the season, which has derailed the train. I would say "there is always next year", but with one look at the Canadiens current roster all optimism goes down the drain.
As far as the buyers go, well there weren't many "superstars" to be had at this year's deadline, but a few teams really took advantage of a weak market and bolstered their lineup without mortgaging a ton of future assets.
As always, odds are courtesy of Bovada.
Tampa Bay Lightning +550 to win Stanley Cup - (Pre-Deadline Odds +600)
Current Record - 45-17-4 - 94 points.
The Lightning are the best team in the NHL. They sit first overall with 94 points, one point better than second-place Nashville and six points clear of the closest Eastern Conference foe, Boston. Tampa got off to a blistering start thanks to players like Steven Stamkos and Nikita Kucherov, both of whom are in the top 10 in points and assists. Kucherov is also seventh in goals scored with 33, while Stamkos is T-18 with 27. Between the pipes, Andrei Vasilevskiy leads the league in wins with 38 and shutouts with seven. For a team as stacked as the Lightning are to go out and make a big splash by bringing in a solid top-four defenseman in Ryan McDonagh and scoring depth in J.T Miller, I would say the Lightning clearly won the trade deadline.
McDonagh figures to slot in right behind Victor Hedman on the depth chart, which gives them two of the best defensemen in the NHL patrolling the left side of the ice. Both players average 20 minutes per game, so dealing with them and having to contain Stamkos and Kucherov is going to be a nightmare for teams heading into the postseason.
Winnipeg Jets +1100 to win Stanley Cup - (Pre-Deadline Odds +1400)
Current Record - 39-17-9 - 87 points.
The Winnipeg Jets have quickly become one of the leagues hottest teams. They have finally seemed to figure out how to play a fast-paced, north-south style game without overexposing themselves on the defense side of the puck.
The Jets made a big splash at the trade deadline by acquiring Paul Stastny from the St. Louis Blues in exchange for future picks and prospects. If there was an award handed out to the most shocking trade of the year, this would win in a landslide. Not only did the Blues trade away a reliable and talented center, the Blues traded him to a division rival, all while sitting just two (yes, two) points out of a playoff spot. That's unfathomable. I fully understand setting yourself up for the upcoming season if you believe you aren't able to win the Cup this year, but to pull off a trade of this magnitude for seemingly no reason should have Blues' fans pissed and Jets' fans excited about a potential deep postseason run.
Boston Bruins +800 to win the Stanley Cup - (Pre-Deadline Odds +900)
Current Record - 40-15-8 - 88 points.
The Boston Bruins might have landed the biggest name of those who were traded, but I'm not all that convinced it was a smart play. The Bruins landed Rick Nash, who, during his prime, was a dominant power forward. Nash is now 33 and his production has been on the decline for the last several seasons. Sure, Nash has chipped in with two goals and a helper in three games since being acquired, but it's during the playoffs that Nash typically lets his team down.
Getting Nash also required the Bruins to part way with young player in Ryan Spooner, who brings to the table exactly what Nash brings in terms of production and power play/penalty killing help. If Nash is going to be a rental, like most people think he will be, then this move was not warranted.
$60 worth of member's NHL picks absolutely free - no obligation, no sales people - you don't even have to enter credit card information. You can use this $60 credit any way you please on any of our top hockey handicappers. Get $60 worth of premium members' picks free ! Also, for a limited time get three hockey handicappers for the price of one! Click here for our 3-for-1 NHL picks offer .