2018 NL West Expert Predictions with Odds and MLB Betting Picks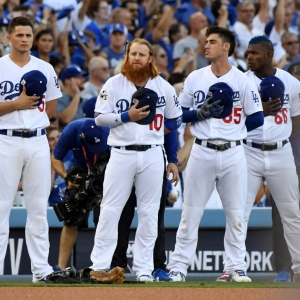 2018 NL West Preview
One of the prevalent themes in Major League Baseball heading into the 2018 season is the obvious inequality throughout the league. That's not to impugn the current MLB system; it is simply a statement of fact. For every one superpower team there are two other organizations that are in varying stages of non-competitive rebuilding. And as April dawns there is a clear line of demarcation in most divisions between the top teams and everyone else.
The exception to this rule may be the National League West.
Sure, we may have a surprise winner in one of the Central divisions. And there are some teams in both the A.L. and N.L. Easts that can test the frontrunners. But the N.L. West is the lone division that seems prepared to give baseball fans a legitimate, 162-game dog fight for the title.
Let's be clear, the Dodgers are heavy favorites entering the season. But Los Angeles isn't unbeatable. And Arizona and Colorado are two teams that tasted the postseason last year and enter the 2018 season at least as good as they were at this point last spring. Add in a San Francisco team that was active in the offseason and that is just two years removed from its own playoff run and there are four teams that could conceivable take the crown in the West.
Here is Doc's Sports 2018 National League West preview:
Los Angeles Dodgers
2017 Record: 104-58 (+700)
2018 Wins Over/Under: 94.5
Odds To Win 2018 NL West: -250
Odds To Win 2018 NL Pennant: +500
2018 Los Angeles Dodgers Odds To Win World Series: +900
Outlook: After four straight years of serving as playoff fodder the Dodgers finally broke through last season. They posted the best regular season mark in baseball and came within one game of earning Los Angeles its seventh world championship. With one of the best pitching staffs in baseball and one of the deepest, most talented crops of young talent in the sport the Dodgers are geared up to give it another go and enter April as one of the World Series favorites.
Cody Bellinger's dream rookie season was a major spark for this organization. But I felt the difference for last year's Dodgers team was that they finally seemed to harness Yasiel Puig's raw talent. Can that happen again? Consistency has always been his issue. But they will need Puig, and Corey Seager, to step up while the team waits for stud third baseman Justin Turner to recover from injury.
The position players are merely window dressing for the real strength of this team though. The Dodgers have the best pitching in baseball. They were No. 2 in ERA, No. 1 in WHIP and No. 5 in strikeouts last season and could be just as strong this year. Clayton Kershaw is a savant. And as long as the rest of the rotation stays healthy they will be a top staff yet again.
The Dodgers bullpen is the exclamation point. The L.A. bullpen finished in the Top 5 in saves, ERA, strikeouts and batting average against last year. And they might be even better now.
Bellinger is just one apple from a very fruitful tree that is the Dodgers farm system. Whether its pitching or hitting, the Dodgers have outstanding institutional depth and a seemingly never ending stream of prospects and cash to buffer their club. I do not think they will be as good as last season. But it would still be a major upset if they didn't win this division.
San Francisco Giants
2017 Record: 64-98 (-3750)
2018 Wins Over/Under: 88.5
Odds To Win 2018 NL West: +800
Odds To Win 2018 NL Pennant: +2500
2018 San Francisco Odds To Win World Series: +3500
Outlook: San Francisco has been the most polarizing team in the National League and, along with Baltimore, one of the most polarizing teams in baseball. From statistical projections to bobblehead prognostications, the Giants seem to elicit severe swings of possibility heading into the 2018 season.
Madison Bumgarner's unlucky hand break will deprive the Giants of their best and most important arm for two months. Considering the relative shakiness of the rest of their rotation – somehow they still buy into Jeff Samardzija – this could be a brutal blow. Their only hope is that Johnny Cueto regains his ace form and the bullpen, a liability last year, plays out of its mind.
The Giants are hoping that an active offseason will pay dividends for one of the worst offenses in MLB. Evan Longoria, Andrew McCutchen and Austin Jackson were all handed starting jobs. And if the former All-Stars can play to that level again this year it should help stabilize a lineup that finished last in the Majors in home runs and OPS.
The wheels absolutely came off last year as the Giants posted the worst record in baseball. There's no doubt that they are better this year. But how much? The Giants have always been a whole-is-greater-than-the-sum-of-its-parts group under Bruce Bochy. So trying to assess them heading into the season may be a fool's errand.
Arizona Diamondbacks
2017 Record: 93-69 (+1660)
2018 Wins Over/Under: 77.5
Odds To Win 2018 NL West: +600
Odds To Win 2018 NL Pennant: +1350
2018 Arizona Diamondbacks Odds To Win World Series: +2800
Outlook: Arizona sure seems to be getting overlooked for a team that won 93 games last year. The Diamondbacks were a major surprise last season, increasing their win total by 24 from the 2016 season. And by the numbers Arizona was actually better than its actual record, underperforming its Pythagorean Wins by a full three games.
J.D. Martinez obviously played a major role in Arizona's surge last year. But I don't think that his absence is going to be as big of a detriment as a lot of others believe. The D-Backs brought in Steven Souza, who hit 30 home runs in Tampa last year, and they still have thumpers at both corners with Paul Goldschmidt and Jake Lamb. Mix in a versatile, athletic case around them and Arizona should have enough to compete.
The big story of the Arizona offseason, besides the loss of Martinez, was the addition of a humidor for storing baseballs at Chase Field. The belief is that the humidor will have a tempering effect on home runs and offense in Arizona. And that a lower scoring ballpark should be a major benefit to the Arizona pitching staff.
But Arizona's pitching staff doesn't need the help! The Diamondbacks had the No. 3 team ERA in baseball last year. They were in the Top 10 in WHIP, strikeouts and quality starts. And they accomplished all that despite dealing with one of the worst defenses in baseball. Zach Greinke still fronts a well-balanced group. And with regression from last year's ace, Robbie Ray, there are still plenty of young arms capable of breaking out.
Arizona is legit. The move to get Martinez paid short-term dividends for the Diamondbacks last year. But this team is built for long-term success. Their hitting and defense both have a lot of room to grow. And their pitching staff could become dominant if the humidor has a similar statistical impact as it did in Coors Field. Throw in another potential midseason pickup and Arizona should be able to keep the pressure on the Dodgers all season long.
Colorado Rockies
2017 Record: 87-75 (+1250)
2018 Wins Over/Under: 80.5
Odds To Win 2018 NL West: +850
Odds To Win 2018 NL Pennant: +1650
2018 Colorado Rockies Odds To Win World Series: +3000
Outlook: I don't know why, but I always feel like it is fun when the Rockies are in the playoff mix. This quirky team with its odd ballpark managed to play its way into the Wild Card game last year while winning 87 games. The core of this team remains intact. And as a result this team should continue to wage its idiosyncratic assault on the rest of the West.
That thin mountain air always makes for inflated offensive numbers for the Rockies. And last year's home/road hitting splits were once again comically unbalanced. But Colorado actually finished with a winning road record (41-40) last year. And guys like Nolan Arenado, Charlie Blackmon and D.J. LeMahieu seem to hit the ball wherever they play.
The real story of the Rockies last year was that they finally found some pitching. The difference between their home and road ERA was just half a run last year. And several of their young arms finally seemed to come into their own. Colorado has several live arms in a surprisingly deep rotation this year. And they have finally found a group of guys that aren't scared of Coors Fields' unique properties.
The rest of the division has been stealing the headlines and hype this offseason. But Colorado's not going anywhere. They have improved their record four straight season. After winning 87 games last year they might not have much more upside. But I don't expect this team to completely fade from relevance altogether.
San Diego Padres
2017 Record: 71-91 (+350)
2018 Wins Over/Under: 66.5
Odds To Win 2018 NL West: +6500
Odds To Win 2018 NL Pennant: +9000
2018 San Diego Padres Odds To Win World Series: +50000
Outlook: Well, every division has one. And in the West the whipping boy is the Padres.
San Diego made a token effort to feign respectability this offseason by inking Eric Hosmer to one of the largest free agent deals in club history. But even if Hosmer can overcome cavernous PetCo Park this offense is still going to be awful.
The pitching staff, PetCo Park's beneficiaries, is still pretty pathetic. They posted a 5.63 ERA on the road last year, second worst in baseball. That was nearly two runs higher than their ERA at home (3.75). Let's put it this way: when Clayton Richard is your ace your rotation stinks, regardless of where you play.
The Padres were major, major overachievers last year. They allowed over 200 runs more than they scored but still won 71 games. Their expected record was just 59-103. They are clearly the worst team in a loaded division and I think this team will lose at least 95 games this year.
2018 National League West Picks and Predictions: Predicted Order of Finish
1. Los Angeles Dodgers
2. Arizona Diamondbacks
3. San Francisco Giants
4. Colorado Rockies
5. San Diego Padres
Doc's Sports is offering $60 worth of member's baseball picks absolutely free – no obligation, no sales people – you don't even have to enter credit card information. You can use this $60 credit any way you please on any of our top MLB handicappers. Click here for more details and take advantage of this free $60 picks credit today.
Robert Ferringo is a professional sports handicapper for Doc's Sports. He is considered one of the top MLB cappers in the country and has turned a profit in four of five baseball seasons (and six of his last eight). Robert exploded for an incredible +$13,100 profit run last year from mid-April to late July and he plans on doing it again this year. Robert has posted four of five winning years on the diamond and is looking for another big season. Click here for more information on his MLB picks.
Read more articles by Robert Ferringo