2018 Super Bowl Expert Betting Predictions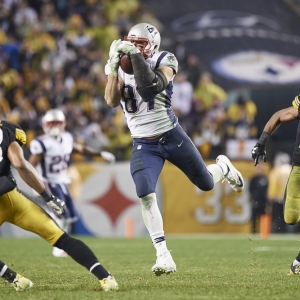 Click Here for a full game preview with analysis and expert betting picks.
Well, we have made it. Seventeen weeks of the regular season, which followed four painfully useless weeks of the preseason, and were followed by three pretty strong weeks of playoff action. And now we are down to the end. Two teams. One game. All the marbles.
We have been doing Super Bowl Predictions regularly since literally the day after the last Super Bowl. A lot has changed since then. The Patriots were strong favorites then, and I wrote that the price was justified and I certainly wasn't going to bet against them. But I wrote about eight other teams, and not surprisingly the Eagles - coming off a 7-9 season with a QB who was then a question mark - weren't one of them. Embarrassingly, the Bucs were one of them, and I picked them as a live long shot at +4000. Clearly what I meant was that they wouldn't be worth support at +40,000,000.
Each time we have revisited the Super Bowl predictions we have always used futures odds as our guide. So now, as we look at the final game of the year, not only seems fitting that we use the moneyline instead of the point spread to look at this game and make our final predictions - since the moneyline on this game is really the current price of the Super Bowl futures for the two teams.
Right now the Patriots sit at -205 on the moneyline, and the Eagles are at +175. That is obviously a sizeable disparity, and it makes a moneyline bet a challenge - especially if, as I do, you believe in the defending champions. And, right there, I just gave my final prediction away. After respecting the Patriots through much of the season, but, as now, struggling to find any value in betting on them in futures odds, I again have to pick them to win the Super Bowl - though I won't be in any hurry to bet this price and would look to the -4.5 instead. Why the Patriots? There are four good reasons:
Experience: In a way, this is really all of the reasons. Experience can easily be overstated in terms of importance, but in some key ways it really matters. The Patriots have seen everything there is to see about this game countless times between all of them, so they know what to expect and what they need to do. From the coaching staff to the team leadership to the last player on the bench, we can be sure they will be ready because they have proven that they can be. And experience, to me, is more important in this game than any other because the game is so different than any other. The pressure, the ridiculous length of the game and the number of delays, the length of halftime, the distractions leading up, and so on. The Patriots have seen it all, and above all it means that they aren't going to let anything bother them or worry about anything that doesn't need to be worried about. We saw this already against Jacksonville when they were down two touchdowns late yet everyone around - including the Jaguars - knew that is was all but a formality that they were going to win. The team is cold-blooded by nature, but the experience they can draw on is not something I have an interest in betting against.
Coaching: I like Doug Pederson, and he is obviously doing a very nice job. To develop a QB like this staff has in just a year and a half with Carson Wentz is remarkable - guys aren't supposed to go from North Dakota to MVP consideration that fast. And to keep on trucking when it would have been so easy to quit when Wentz went down was perhaps even more impressive. Aside from holding a clipboard while Brett Favre won a Super Bowl, though, Pederson has not been here before, and not many guys on his staff or in his locker room have, either. And he developed under Andy Reid, who is not bursting with big game experience, either - certainly not when Pederson was with him. The coach is the captain who steers the ship, and in this crucial situation Pederson is sailing without a map.
I would be concerned about that in the best-case scenario - Dan Quinn had been to the Super Bowl as an assistant before last year, and he still didn't have the tools to stop the bleeding in the second half. But when Pederson is up against the most ruthlessly-effective coach we have ever seen - a robot programmed for the sole purpose of winning Super Bowls - then it's a problem.
I am a big believer that coaches win championships in this league, so I really have no choice in this circumstance than to go with the coach who so massively outclasses his counterpart at this point in their careers that it is almost funny.
Hunger: This, like the two factors before, is not based on anything tangible so much as on a feeling. But it feels to me like there has been a difference in intensity leading up to this game from the two squads. The Eagles, like any team in their situation, are happy to be here and really want to keep winning. But where they are at seems a lot less driven than where the Patriots are right now.
The Patriots aren't here for fun. They aren't happy to be here. They are presenting themselves like they are fulfilling a destiny, and they will be damned if they won't finish it out. It feels like the Eagles left home promising to return with souvenirs for their families, while the Patriots vowed not to return home unless they had a trophy. The Patriots, simply, seem to want it more - and when you combine that with the better QB, the better coach, and much more experience, there is only one way to go.
Nick Foles: I respect Foles and actually think he is a solid QB. He has not at all been consistent since taking over as starter, though, and now he is in a tough spot. Not only is he facing pressure like he has never seen, but the Patriots are absolute masters at finding one vulnerability in an opponent and relentlessly attacking it. I expect them to aggressively force this game onto Foles' arm. And when given the choice to back a solid journeyman who will be weathering a storm or the greatest QB ever to play the game, it's hardly a choice.
Doc's Sports is offering $60 worth of member's picks absolutely free - no obligation, no sales people - you don't even have to enter credit card information. You can use this $60 credit any way you please for any handicapper and any sport on Doc's Sports list of expert sports handicappers. Get $60 worth of premium members' picks free .
Read more articles by Trevor Whenham