Expert NBA Handicapping: San Antonio Surging Towards Playoffs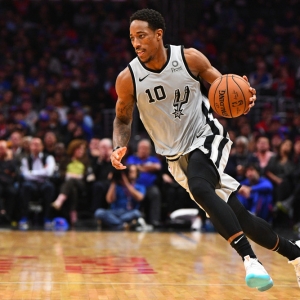 It has been, predictably, an often-rocky season for the San Antonio Spurs. Teams can't expect to stay the course when they lose their best player no matter what - never mind when that player is one of the very small handful of best players in the league. The team was under .500 as late as Dec. 9. They fell to an uninspiring 33-29 on Feb. 25. They weren't going anywhere in any hurry. But they have won 10 of their last 12 games and are now very secure in the playoffs - and a team that other squads increasingly aren't going to be very interested in playing. They are an interesting and challenging team for bettors to deal with. Here are five factors to consider when trying to figure out how to deal with this squad:
DeMar DeRozan: DeRozan was put in an almost impossible situation as the guy who comes back in the trade for the franchise cornerstone. There is a long list of carnage in situations just like this. But DeRozan has handled it about as well as can be. He was angry at the very beginning, and he wasn't happy about leaving Toronto, but he was able to turn that into positive fuel instead of a bitter distraction. DeRozan has always been a complicated guy to assess because he can score at a high rate, but he has lacked efficiency and isn't always as easy to love as the odds might suggest. But he's playing with a maturity this year that is beyond what we have seen. You always cringed when he shot from three, and he was never very good at it, but he has really dialed back that part of his game - he has taken just three three-point shots since Dec. 29. As a result, he's shooting at a higher rate than we have seen, and he is putting up career numbers in rebounds and assists. He joined a team that needed leadership, and he has grown into that in a way that he wasn't in Toronto. It's a good story in a situation that could have gone really badly.
LaMarcus Aldridge: Aldridge has played well this year - not in a profound way at a new level, but with consistency. He's the second-leading scorer and has paired with DeRozan well to lead this team. He has seen a shift of late, though. For much of the year, he was playing as the lone big guy on the court, and he was doing fine. But the team has made some changes and has made it easier to play two bigs - which San Antonio has traditionally embraced. Pau Gasol was released after a long time, and recently Donatas Motiejunas has been brought back from playing in China to fill the roster spot that Gasol vacated - a spot that was left empty for longer than one would have guessed. He's a seven-footer who can shoot threes, and he allows the team to mix things up. He hasn't played yet but is a good addition down the stretch.
Coaching: We surely don't need to spend too much time talking about Gregg Popovich at this point. He's the best coach there is, and it's tough to debate that at this point. Impossible, really. It was a concern that he would lose his edge and hunger at some point - especially as the team looked like they were entering a rebuild. And maybe it looked like that early. But the way he has dialed things in down the stretch is proof that Pop is still Pop - and for the Spurs that is a very good thing.
Playoff scenarios: The playoff situation in the West is an odd one. The Spurs have all but clinched a playoff spot - the field has run away from the Kings, who sit in ninth. And the Blazers and Rockets are probably locked into the final two spots in the top four. But everything else is totally up for grabs. The Spurs, Clippers, Jazz and Thunder are all within a game of each other from fifth to eighth. San Antonio is currently in eighth, but they could easily finish fifth - a win or two could do that. And those spots will be very significant in the end, as not playing Golden State or Houston in the first round would be much better than having to play them. But you can't even be sure of where you want to finish - the Warriors and Nuggets are only separated by a half game, and Houston and Portland are separated by a game, so their positions are as unclear as the bottom four. The stress of the run to the playoffs will be high right up to the end, which is quite unique given the fact that all the teams have essentially been secure in a playoff spot for weeks.
Betting performance: The Spurs have been kind to bettors this year - their 41-31-2 ATS record in fourth-best in the league. They have gone over the total in 40 of 73 games as well, so they are profitable on two fronts. The team is 9-2-1 ATS in their last 12 games, so their profits have come on the back end of the season rather than evenly spread throughout.
Read more articles by Trevor Whenham