Four College Football Teams That Fell Way Under Expectations Week 1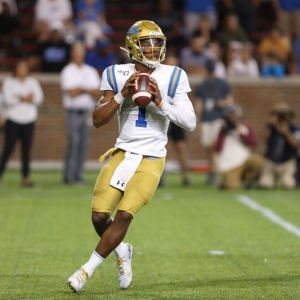 Judging college football teams before the season starts is a very inexact science. We don't have complete access to fall training camps, there is no preseason to give us clues, and between players making the huge jump up from high school and an increasing number of transfers, we have to make too many guesses about what teams will have on the field. We can usually figure out that the best teams are going to look good and the worst teams are going to look lousy. It's the teams in the middle that are the toughest to figure out, though.
And after a week of college football action, there are four teams that stand out because they really didn't live up to the expectations we had for them. And that just makes them tougher to figure out going forward:
Tennessee: Jeremy Pruitt's last three jobs were as defensive coordinator at Alabama, Georgia and Florida State. You can't work at a group of teams any better than that, so it makes complete sense that expectations were high for him at Tennessee. He went 5-7 in his first year. That was far from ideal, but he had a rebuilding job to do, so he got cut some slack. But you don't get any slack when you lose to freaking Georgia State. At home. The Panthers were just 2-10 last year and should have been sorely outmatched. And their QB went just 11 of 24 in this game. But Tennessee gave up 17 fourth-quarter points. And that's just a mess. Between now and October 19, this team plays at Florida and Alabama and at home against Georgia. That was probably going to go poorly no matter what, but now it is hard to even give them any respect at all heading into those games. They were 24.5-point favorites here and they couldn't win. Ouch.
UCLA: It seems like a lifetime ago now that Chip Kelly was viewed as one of the true geniuses in the coaching game. But Philadelphia didn't really work out. And San Francisco was embarrassing. And his first year at UCLA was rough, and his recruiting was brutal. And if anyone was still optimistic that Kelly had a special kind of magic that was going to turn things around at UCLA, that took a serious hit after the opening debacle. Losing at Cincinnati isn't entirely a disaster - the Bearcats are solid, and they were at home. But it was how the Bruins lost that is a problem. Kelly is supposedly an offensive guru, but his QB, Dorian Thompson-Robinson, finished at a truly pathetic 8 of 26 for 156 yards, and he lost 20 yards on the ground on top of it. And he lost two fumbles and threw two picks, too. The team did absolutely nothing well offensively and wasn't exactly dominant on defense, either - the Bearcats averaged a solid 9.3 yards per attempt and rushed for 175 yards. The Bruins were in tough to wind up bowl eligible anyway, but that seems like a serious pipe dream at this point. This is just a really lousy team - one with no excuse for their incompetence.
Purdue: Jeff Brohm foregoing a big raise to return to Louisville as a hero to stick in Purdue was one of the true feel-good stories of the offseason. He's a respected coach, and the Boilermakers showed some real sparks of progress last year, so expectations were there for them this year. No one expected them to contend for anything, but they were supposed to take a step forward. And they needed to get out of the gate fast. Losing at Nevada when they were favored by 11 on the road is a long way from an ideal start to things. With a fairly tough schedule ahead of them, this was a must-win game. Even worse, Purdue opened up a 17-point lead and then gave up the last 20 points. It was a very long way from the kind of start we wanted to see, and that really clouds the future we can expect from the squad.
Missouri: Fueled by the arrival of Kelly Bryant at QB, I tabbed Missouri as a team that could be a pleasant surprise this year. Oops. Bryant did his part, throwing for 423 yards with a solid average of 8.8 yards per attempt. But it wasn't enough. They were favored by 16.5 points at a very forgettable Wyoming team, but they lost by six. And that was flattering to them - they scored 14 of the last 17 points to make the score closer than the game really was. Wyoming couldn't pass at all during the game, but they ran for just short of 300 yards. If Wyoming can torch them on the ground, what are teams like Georgia or Florida going to be able to do to the Tigers? Missouri has a fairly soft schedule for the most part, but I am far less confident of their ability to capitalize on that than I was a week ago. s
Read more articles by Trevor Whenham