NBA Betting Advice: Best and Worst Teams Against the Spread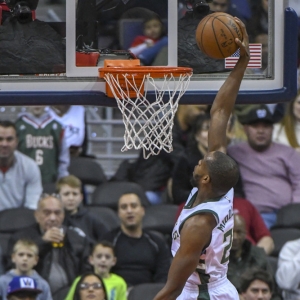 We are now more than three-quarters of the way through the NBA season. The sample size is large enough that we have a pretty good idea of what teams are from a betting perspective by now. We know which teams are studs - the ones that deliver consistent and enjoyable profits to bettors. And we know which ones are duds - those that have no respect at all for the wallets of bettors. Here's a look at the best and the worst of betting teams in the league up to this point:
Studs
Milwaukee, 37-23-3 ATS: Heading into the season, everyone expected the Bucks to be a playoff team, and probably one in contention for home-court advantage in the first round. But they have blown that out of the water. They are going to wind up with the best record in the league and are going to have an MVP leading the way. Milwaukee has fully arrived, and other teams should be scared - except, likely, Golden State. They have exceeded expectations by a wide margin and have won a pile of games. Combine those two things, and it is no wonder they are the most profitable team in the league.
Sacramento, 37-25 ATS: The Kings aren't in a playoff spot right now and aren't likely to get into one. But for the first time since Chris Webber was there, it is possible to see the road to relevance for this team. They are fun to watch and have some young talent to build around. They are way ahead of where they were expected to be, and that has helped them cover a lot of spreads.
Portland, 37-26 ATS: If the playoffs started right now, the Blazers would be hosting a playoff series. It's a bit of an illusion in some ways - they are below .500 on the road and just a game above .500 against the Western Conference. But they have done enough to produce solid profits, and their 21-11 ATS mark at home has been particularly sweet.
L.A. Clippers, 37-28 ATS: The only way to simply explain this one is that the Clippers have been slightly less mediocre than people expected. They have spent the last two seasons dismantling years of planning and reloading for another shot at glory next year if things work out for them. But in the meantime, they are winning enough to be a playoff team, and they are profitable at home and on the road.
Dallas, 35-26-1 ATS: Luka Doncic is a wizard, and his power has few limits. That is basically what's going on here. He has this team way ahead of where they were expected to be - not good, but much more relevant than they could otherwise be. He has been particularly good to bet at home, where he is at 20-11-1 ATS. Road play has been a disaster for this team, but that will come with time.
Duds
Golden State, 25-37-1 ATS: The Warriors are the most public team in the league right now, and people understandably have massive expectations for this walking hall of fame. But they have learned the hard way that the regular season means absolutely nothing, and they are showing that they could care less about anything other than getting ready for the playoffs. Bettors bet on what they could be at their best, and too often they don't care about playing at that level - at least not for a full 48 minutes.
New York, 26-36-1 ATS: The story here isn't that the Knicks are this bad at covering spreads. It's that they aren't worse. This is an incompetently run team that is lousy by every measure. And aside from the recent rise of Mitchell Robinson, and a whole lot of cap space, there isn't a whole lot to be positive about. They should be the worst team to bet on in the league by far. That they aren't is just a sign of how pathetic the team has been for so long - despite playing in the league's best city, fans and bettors have grown to expect very little from them. Sad.
Phoenix, 27-37 ATS: They have one really good player and a bunch of guys in jerseys. There is drama in the front office. They seem to have no direction and no real hope. They are in a tense battle with the Knicks for last place in the league. Of course, they are lousy to bet on.
Toronto, 27-37 ATS: Stealing a page from the Warriors' playbook, this team clearly doesn't care about the regular season. They are doing enough to secure good seeding, but Kawhi Leonard is only a part-time starter, they are messing with the rotation constantly trying to find the optimal configuration, and trades and injuries have forced them to adapt constantly. They don't have the record they probably should, and they just don't care. Bettors are struggling to accept that.
L.A. Lakers, 26-35-2 ATS: Take the best player on the planet, surround him with a coach he tunes out and talent that is either too old but acceptable to him or young but not ready for primetime, and then shatter the confidence of the youngsters by not trading them away and blaming them for everything. Hard to figure out how that recipe isn't working. The blindspot that bettors have towards LeBron is staggering, though - the team can't beat anyone, and is currently 4.5 games out of a playoff spot, yet they are still the sixth choice to win the NBA title at +1100 at Bovada . That is the dumbest number I have ever seen in my time around sports betting, but a bunch of lemmings are still likely lining up to buy it.
Read more articles by Trevor Whenham