NFL Survivor Pool Picks and Advice: Week 7
by Matt Severance - 10/16/2019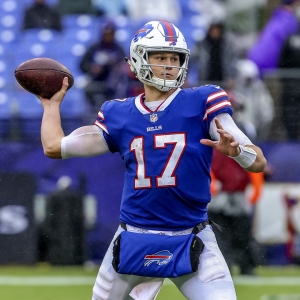 Is the 2015 NFL Draft looking like one giant bust in retrospect or what? Of course, the Tampa Bay Bucs took Heisman winner Jameis Winston at No. 1 overall out of Florida State and the Tennessee Titans grabbed Heisman winner Marcus Mariota out of Oregon at No. 2. Both those guys were simply awesome in college and mostly loved by NFL scouts. It sure looks like neither will be back with their current team next season as both play on the final year of their rookie contracts and are struggling.
I made the mistake of thinking Winston's Bucs would win in London in Week 6, but my guy Jameis had five picks and lost a fumble. That's 68 interceptions in 59 regular-season starts, and Winston has committed at least four turnovers in five games in his career. No other QB has more than two in that span.
At least we were high on Denver beating Mariota's Titans, and the Broncos did 16-0. Mariota was truly awful, completing just 7 of 18 passes before being benched for 2012 first-round bust Ryan Tannehill. Since the start of the 2015 season, the NFL has had 15 games with a quarterback completing 40% of his passes or less. Mariota has three of them.
Maybe the Titans and Bucs should just swap their starting QBs by the Oct. 29 NFL trade deadline? Perhaps a change of scenery will work for both, and they basically make the same salary.
No massive upsets in Week 6: My top four Survivor Pool recommendations all won: Baltimore over Cincinnati, New England over the NY Giants, Denver over Tennessee, and Minnesota over Philadelphia. The Dallas Cowboys losing at the Jets might have burned some people. Green Bay probably should have lost at home on Monday, but the Detroit Lions got absolutely hosed by the referees. That did make for a fun Tuesday morning, though, reading all my Michigan peeps' Facebook comments about how the fix was in. Not to mention a few not-so-family friendly comments/memes (think referee, uh, doing something from behind to an actual Lion).
Related: Trevor Offers Week 7 NFL Survivor Pool Picks
Here's a look at Week 7, with Cleveland, Pittsburgh, Tampa Bay and Carolina on the bye. No real losses there from a Survivor perspective. The team listed first is my choice.
14. Buffalo vs. Miami: I actually don't love the Bills in this spot, but it's one of those weeks where there aren't a bunch of clear-cut certainties. I'm probably NOT using Buffalo in all honesty, although the Bills do have the advantage of coming off the bye week. I'd feel better if it were snowing up there on Sunday but looks to be rather nice. I'm sure Buffalo will win just not confident it will be by a lot.
13. New England at NY Jets (Monday): Only reason the Patriots aren't at 14 is because I don't like using the Monday game as my Survivor choice. Too many things can go wrong to where you'd be locked in and can't change.
12. Green Bay vs. Oakland: Not a great setup for the Packers with them on a short week and the Raiders coming off their bye. Will feel better about the Pack if receivers Davante Adams (missed his second straight game Monday turf toe) and Geronimo Allison (left the game in third quarter, head injury) play.
11. San Francisco at Washington: This feels like a possible trap game for the 49ers, who are just 2-12 straight up in their past 14 East Coast games, but I don't see any better options for this spot.
10. NY Giants vs. Arizona: Our first rookie QB matchup of the season, and it might be the only one as Daniel Jones and Kyler Murray face off. I only like the Giants this high if both Saquon Barkley and Evan Engram return from injury.
9. Chicago vs. New Orleans: It's NBA/NHL season for me if the Bears lay an offensive egg again out of their bye week and lose to the Saints. I'll be off Matt Nagy and Mitchel Trubisky forever if that happens.
8. Dallas vs. Philadelphia: I told you all that Stephen A. Smith would be at his blowhard best if the Cowboys were upset last week at the Jets - boy was he. Philly has not looked good in two of three road games this season.
7. Detroit vs. Minnesota: Actually think the Lions might be pretty good, but why didn't Matt Patricia challenge that late no-call on possible pass interference Monday? Good defensive mind, but he sure makes a lot of coaching blunders.
6. Seattle vs. Baltimore: No place tougher to play in the NFL than Seattle, which has won 19 of its past 22 home games against an East Coast team. Russell Wilson is playing out of his mind.
5. Kansas City at Denver (Thursday): An upset here wouldn't shock me as Vic Fangio has the Broncos playing terrific defense, but I can't possibly take Joe Flacco over Patrick Mahomes - even though Mahomes clearly isn't 100 percent with his ankle.
4. Tennessee vs. LA Chargers: Coach Mike Vrabel picking between Mariota and Tannehill (apparently, he will be the choice) is like when my mother would make liver and Brussel sprouts for dinner. Which one do I gag on first and which one do I punish the dog by secretly giving to her to eat for me (unfortunately mom caught on to that remedy pretty quickly)? The Bolts have won 11 of the past 12 in this series, but something's really wrong with the 2019 Chargers.
3. LA Rams at Atlanta: Flip this if Todd Gurley doesn't return for the Rams, who have won 13 of their past 15 as road favorites. They also just got Jalen Ramsey. Could be the last game as Falcons coach for Dan Quinn with a loss. Probably should be his last if so.
2. Cincinnati vs. Jacksonville: Bengals aren't going 0-16, so we have to pick them at home at least once in 2019. The Jags have lost their past five games as a favorite.
1. Indianapolis vs. Houston: Both teams come off upset wins in Kansas City, but we like the Colts because they are home and off their bye week. Indy is 12-2 in its past 14 as a favorite.