NFL Survivor Pools Expert Advice and Predictions for Week 10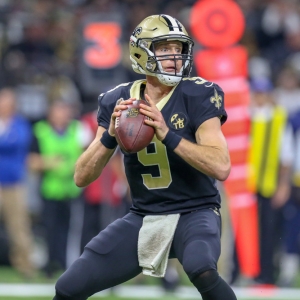 The strangest season of survivor pool play ever continues. Strange because it has been so easy. Last week again continued according to expectations. We picked out four teams that were very playable - Buffalo, San Francisco, Seattle and Dallas. The Niners and Seahawks made things a little more interesting than would be ideal, but again all four won. There has not been a season that I remember where we have been able to so easily avoid issues and find our path to the second half of the season. It's just bizarre. But can it continue this week? Or is the fun inevitably going to end at some point?
This week is going to be easy again - but only if you are lucky enough to have one of three teams left to play. We are at the point where it could be tough to have good teams left to play, and if that's the case things could get tough. We'll look at the three no-brainers first, and then look at other options if all three are off the board for you.
Stupidly Easy Picks
New Orleans vs. Atlanta: It wouldn't be too tough to make the argument that the Saints are the best team in the NFC, or at least one of a very small group. They have faced adversity this year and have just shrugged it off like nothing matters. It has been impressive. You couldn't necessarily make the argument that Atlanta is the worst team in the league, but they are in the discussion, and they are neck-and-neck with the Browns for having the most negligently mismanaged potential this year. They are a mental case, they are going to have an ugly coaching change sooner rather than later, and they are just playing out the string. If both of these teams were at full strength and playing to their potential, it would still be pretty easy to take the Saints at home . That's what happens in this rivalry. But given how things are now, this is an almost unfair matchup. Atlanta should see if they can lobby the league to institute a mercy rule before Sunday, because this one could get ugly. If you haven't used New Orleans yet, then this is a dead simple pick.
Indianapolis vs. Miami: Our formula all along has been to pick whoever is playing Miami. We wisely veered away from it last week when the horrible Jets were on the docket, and that served us well. But I am willing to happily plunge right back into the formula again here. The Colts are solid and reliable. They aren't spectacular, and they looked better early on. But they are, by a massive margin, the better team here. And they are at home where they play well. If you need me to explain more than I have, then you have picked an odd time to start watching the NFL this season. Indy would be a fine pick.
Baltimore vs. Cincinnati: Baltimore has won four in a row, has a legitimate MVP candidate under center, and just curb-stomped the Patriots in merciless fashion. Sure, they are on the road. But they are up against a team that can give Miami a run for the money for worst in the league. Actually, I would make the argument that Cincinnati deserves that crown outright. Miami is terrible, but they are consciously trying to be. Cincinnati is just this dumb and incompetent. You could argue that the Ravens could be due for a bit of a letdown game after such a big win. But they know that the Steelers have won three in a row and somehow aren't dying in the divisional race, and they also know that that coveted by is still very much in play. They are not the kind of team that will ease up until the prize is theirs. They will be at full strength here, and that's about 70 percent more than they would need to win here. It's hard to pick a best pick from these three because all three are so obviously playable, but if I had to pick just one, I think this might be it. That the Bengals fired the worst coach in the history of football and have somehow gotten worse as a result is something that our great grandchildren will be studying in school. It's an impossible feat.
If You Can't Play Those…
Kansas City vs. Tennessee: You probably don't have the Chiefs as an option. And they have not been stellar of late. But Patrick Mahomes is probably back for this one , and that is a boost against an unreliable Tennessee squad. Kansas City is playable in a pinch.
Giants at Jets: In the co-shortest road trip in sports, I guess you could take the guys in blue over the guys in green. Sure, the Giants are lousy, and Daniel Jones is a turnover factory. But they are somehow still more competent than the Jets and slightly less pathetic. Now, if your pool has gotten to the point that you are considering this pick, then you should probably just pull out the old dart board and let it do the picking for you. And that's the problem this week - past the obvious games, a lot of things are muddy and confused, and there aren't a lot of great picks. You could take Buffalo at Cleveland, but the Bills have had two very juicy games already and are almost surely gone. So, it comes down to games like this. Ugh.