NHL Betting Advice: Value Teams Better than Record
by Trevor Whenham - 12/11/2019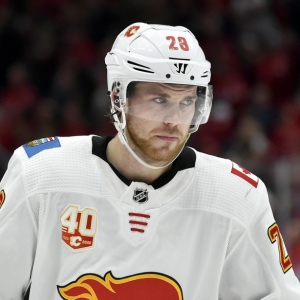 We are more than a third of the way into the NHL season. The sample size is large enough that we probably know what most teams are. When you look at the standings, though, it is striking how many teams aren't what their record suggests they are. Edmonton, Arizona and the Islanders are all teams that could easily be accused of overachieving and putting up numbers they will struggle to match in the second half of the schedule. And the teams we are interested in here are on the other extreme. These are five teams that are solidly better than their record right now. All five are a solid better to be better - in a few cases much better - than they have been to date:
Calgary Flames (16-12-4): The Flames won the Western Conference last year, but they flamed out in five games in the first round of the playoffs against a very good Colorado team. It was a disappointment, but in hindsight we could really see it coming. The team wasn't nearly as sharp down the stretch as they had been, and they coasted into the postseason. You can't do that. And the hangover from that disappointment clearly spread into this year. Even though the team was largely the same on paper and had made some small improvements in the offseason - like the addition by subtraction in dealing James Neal, most notably - they just weren't any good out of the gate. Their best players were tentative, and virtually none of their stars were playing at the level they did last year. They were coasting by on strong goaltending alone. Bill Peters got himself fired when his racist past was revealed, and that change was clearly what this team needed. They haven't lost since, and have looked like a totally different team, going 6-0-1 in their last seven games under new coach Geoff Ward. Suddenly they are scoring again. And they look like they don't collectively hate playing hockey. They are right back in the mix in the Pacific Division and seem well poised to stay there. This is a team that was under .500 two weeks ago. In a month or two it will be hard to believe they were ever that bad.
Vegas Golden Knights (15-12-5): On paper, this is the best team in the Pacific and one of the two best teams in the West in all likelihood. But games aren't played on paper, and right now things just aren't clicking like they should be. You can't point at one thing. They are just in a funk. The goaltending hasn't been good enough. They aren't scoring. They don't defend home ice well enough, even though their arena should give them a massive advantage. Their best players aren't rising up - Max Pacioretty, Mark Stone and Paul Statsny have combined for two points in December. They need to be better in so many ways. And they are clearly and obviously capable of it. The good news is that through 32 games they are just five points out of first place in the Pacific. If it isn't a Calgary and Vegas fight for that division in the end, it will be very surprising.
Tampa Bay Lightning (14-11-3): The Lightning suffered the most shocking playoff exit of the last decade last year. At least - maybe multiple decades. They weren't just the best team in the league. They looked totally unbeatable. But they crumbled when it mattered. And they look like they haven't stopped sulking since. There is just so much freaking talent here, though. They will be better than they have been because they can hardly not be. At some point they are going to quit feeling sorry for themselves, they are going to discover that hockey is fun again, and the rest of their conference is going to suffer. They are currently sixth in the Atlantic, but they are only four points out of second. There is no reason at all to panic. And maybe that's their problem right now - they know they can't catch Boston anymore, but no one else in the division scares them, so they can just take their feet off the brakes at some point and start the machine rolling. It would be a true shock - almost as big as their departure last year - if this wasn't a dramatically better team in the second half.
Quick Hits
Toronto Maple Leafs (14-13-4): They are young and entitled, and they don't have a defensive corps that is good enough for this league. But they have no excuses now after a coaching change to a guy who should suit them much more than Mike Babcock did. The team struggles with being a team of too many guys who have to try to justify big deals instead of working as a team. I am a very long way from convinced that they are a true top contender as they are built. But they are much better than a team that is flirting with .500. If they don't turn a corner soon, there will be some big changes coming - patience does not come in bulk in Toronto.
San Jose Sharks (15-15-2): They are too old in some parts, and they pay too much for the top end of their roster. And the goaltending just isn't as inspiring as it should be. But this was not built to be a .500 team, and they are better than this. Their back end alone should be doing much more than it is.
Get $60 worth of member's NHL picks absolutely free - no obligation, no sales people - you don't even have to enter credit card information. You can use this $60 credit any way you please on any of our top hockey handicappers. Get $60 worth of premium members' picks free ! Also, for a limited time get three hockey handicappers for the price of one! Click here for our 3-for-1 NHL picks offer . Also, get free NHL picks every day on Doc's Sports NHL predictions page.