NHL Division Winner Odds and Expert Betting Predictions
by Trevor Whenham - 12/19/2019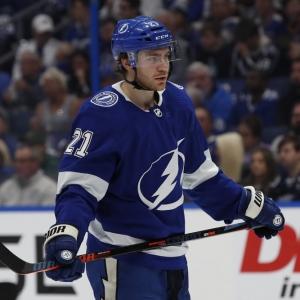 The playoff format the NHL has used these last few years has no shortage of flaws. It's dumb, really. But one positive it does have is that it makes the divisional races much more interesting than they are in the NBA. Where you finish in your division really matters. A lot. Too much. So, as we near the short Christmas break in the league, it's a good time to check in on how these races are breaking down.
Pacific
We'll start with my hometown division, as I am going to see my beloved Flames play in person tonight. Things are very tightly packed, with Arizona leading with 44 points, Vegas right behind at 43, Edmonton holding on at 42, and Calgary at 40. As tight as it is, though, it doesn't feel like there is much of a mystery right now about how things will turn out. Arizona is all in with their trade for Taylor Hall, and they have the tools to stay in the mix. Vegas is the most talented team in the division and has turned things around after a slow start. Calgary has been a whole new team since the blatant racism of Bill Peters forced a coaching change, and they are playing much closer to their potential. And while Edmonton may have two of the best three or four players in the league on their team, they have no one else. They can't score at even strength, their goaltending is fading, and their depth is laughable.
There is a lot of hockey left to play, but if the top three are not Vegas, Calgary and Arizona - in that order if I was forced to bet on it - then it will be a serious surprise. What would change things, of course, is if Edmonton got aggressive in the trade market. They likely aren't in a position to go for a rental given where they are in development, though, and their best assets are young defensemen, so the high price for longer term help might not make sense.
The odds reflect things much as I have said, with Arizona and Vegas tied at +175 as favorites to win the division. Calgary is next at +450, and Edmonton is at +700.
Central
The top of this division is outstanding. The defending champs from St. Louis, and Colorado, are both very good teams playing at a high level. They are both capable of sustaining what they are doing and are all but certain to finish in the top two spots barring a setback. Colorado is at +150 to win the division compared to +250 for the Blues, so oddsmakers have a clear preference.
Below that, it's a bunch of teams that are a little disappointing but with plenty of upside. Dallas had to deal with a surprising coaching change. Winnipeg has talent but can't seem to find their stride. And Nashville just can't get things working together at the same time.
The odds have Dallas at +400, Winnipeg at +700, and Nashville at +800. I can't argue with that order, though I don't think any of them have nearly the chance of winning the division that that price suggests. If things play out as they should, though, there is a high likelihood that we will see two wild card teams from this division, with the Oilers left on the outside looking in in the Pacific.
Atlantic
This is the strangest division in hockey. Heading into the season, it seemed like this was where all the power was going to be. Boston is doing their thing, playing great hockey and running away as heavy -275 favorites to win the division. But the rest of the group is some degree of disappointing. Brutally so in the case of the Lightning, which is the best team in the league on paper but not anywhere close to that in reality. They are tied in fifth in the division with another team, Florida, that is underwhelming after a strong summer. Tampa has at least three games in hand on the rest of the division, but the way they are playing right now that might not matter.
Montreal and Toronto are tied a point ahead of the two Florida teams. Toronto has gone through a coaching change and have been better since, but they still can't manage to get as much as they should out of their highly-paid young talent or to find a way to play defense. And Montreal just isn't very good and is lucky to be in the mix. Buffalo is in second place in the division, a point ahead of the two Original Six Canadian teams. They are probably playing closest to expectations of this group, but still should probably be better at this stage in their development.
This division is a mess. Oddsmakers have Tampa (+500) and Toronto (+700) as the two clear choices for the last two playoff spots, and if that isn't what happens, then those two franchises should be ashamed of themselves After that come Florida (+2000), Montreal (+3300) and Buffalo (+4000). If forced to choose now, I would say that none of those three will be wild card teams, though I would agree with the oddsmakers and take Florida if I had to.
Metropolitan
Washington isn't necessarily the best team in hockey on paper, but they sure are on the ice, and that's where it matters. They are -200 to win the division, and those odds sure feel accurate. Behind them, it's tightly packed - the Islanders have 46 points, Carolina and Pittsburgh have 44, and Philly has 41. New York is the second betting choice at +450. I struggle with that a little bit because they are an overachieving team. But they have overachieved for a year and a bit now, so maybe I just need to adjust my perspective.
Pittsburgh is at +600. They are so dangerous when all is well, and they are getting excellent goaltending right now. Sidney Crosby is hurt right now, though, and Evgeni Malkin has been. At this point, age and durability have to be concerns in a very tough division. By my eyes, it is Carolina at +800 that is undervalued here. They are incredibly deep defensively, they score well enough, and they play very fast hockey. I could be more in love with their goaltending, but they are heading to a second-place finish in the division in my eyes. And Philadelphia (+2500) is no real threat to break into a top three spot given the competition but is well positioned to grab the last wild card spot - and I believe they will.
Get $60 worth of member's NHL picks absolutely free - no obligation, no sales people - you don't even have to enter credit card information. You can use this $60 credit any way you please on any of our top hockey handicappers. Get $60 worth of premium members' picks free ! Also, for a limited time get three hockey handicappers for the price of one! Click here for our 3-for-1 NHL picks offer . Also, get free NHL picks every day on Doc's Sports NHL predictions page.