What's Next for Tampa Bay Lightning After Epic Playoff Collapse?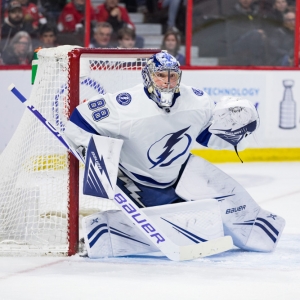 The NHL Playoffs have been absolutely bizarre so far, and the first round isn't even over yet. For the first time ever, both regular-season conference winners failed to survive the first round - and they played only nine games between them. Calgary's demise was shocking enough - and very hard to take as a Calgarian, let me tell you. It has been almost a week since the Flames lost, and the city is still in a bad mood. But that was nothing compared to what happened to Tampa Bay. After a historically-successful regular season, they understandably entered the playoffs as very strong favorites to win the Stanley Cup. And they lasted for only four games. The first round of the NHL playoffs is a best-of-seven, so four games is what you get no matter how bad you are - and Tampa Bay was really quite bad.
There are opportunities to bet on what is next for the Lightning, and we will get to those. Before we look at what the future could hold, though, we should try to figure out what the heck happened. The regular season this team had was really amazing. Their 128 points are tied for the best ever. So are the 62 wins. My favorite stat - the one that really puts it into context - has to do with the standings. Boston and Calgary were tied for second place in the standings with 107 points, so Tampa had a 21-point cushion for first overall. Calgary played Colorado, the playoff team with the fewest points. The Avs had 90 points. So, the gap between the Lightning and second place was four points bigger than the gap between second and 16th. This was a remarkably-dominant regular-season team. And an intense reminder that the regular season really doesn't mean much - especially in the NHL.
The team won due to their balance in the regular season. They were good at everything. Their 325 goals scored were 36 better than second best - again, Calgary. And their 222 goals allowed were fifth best in the league, with a goaltender who is a finalist for the Vezina award and a defensive corps that is ridiculously deep. Their goal differential was +103, which means that they scored well over a goal more per game than their opponents. It's not hard to win a lot of games when you do that.
But wow, did things every go off the rails in the playoffs. It started off very strong. They got off to a fast 3-0 start against Columbus, and it seemed like the series was going to be a total joke - that Columbus was going to ask the league to just end the series after two games. But then the Blue Jackets scored four straight to win that game, and then the Lightning were outscored 15-5 in the next three games. And none of those three games were particularly close at any point. They dealt with key injuries and a suspension to their best offensive threat, and by the time the last game rolled around they were clearly just going through the motions. They had quit on themselves. And it was the strangest thing I remember seeing in sports. Columbus was a solid team, but they had issues, and had only earned their playoff spot at the last moment. But against the best team in modern memory, the Blue Jackets looked like, well, the 2018-19 regular season Lightning.
The easiest explanation would be that the team let their foot off the gas late in the season after they clinched and couldn't get it back into gear when it mattered. We have certainly seen that before. But the problem is that it just isn't true. They won 11 or their final 14 games even though they had nothing to prove and were much the same team they had been all along. But it didn't feel like that Golden State NBA team that pushed too hard to set the regular season mark and was out of gas - emotionally, especially - when it really mattered. The records, frankly, didn't mean enough to the fans of the sport to be worth that. It is just a total mystery.
Now we are left to figure out what to expect next year. BetOnline has two props posted that are relevant and interesting here:
Will Tampa Bay be eliminated in round one of 2019-20 playoffs?: The "yes" is at +150, with the "no" at -200. Despite what happened now, the no is the clear choice here - though not one I have any interest in locking in long term given the price. Tampa has some salary issues to deal with - they have a couple of big raises to deal with, Brayden Point needs a deal that won't be small, and they have to sign some defensemen. They will likely have to get a little younger and less experienced to make it all work. But they are ridiculously talented, and that isn't going to change. They will still be the better team in their series, and it's not like they haven't had playoff success before. And they should be hungry.
Will Tampa Bay have the most points in 2019-20 regular season?: The yes is at +400, with the no heavily favored at -700. I actually like the yes at this price. They had a huge edge this year, and they did it without overachieving in any real way. They are going to bring back much of talent they had, and they are young enough in a lot of spots that there is still upside to be achieved. And there are not a lot of places on the roster where you worry about age. The coaching failed in the playoffs, but it is very strong as well. And while the division should be strong, it was this year as well and that wasn't a concern. And Montreal, the first team out of the playoffs in the East, set the record for the highest points total by a non-playoff team, so the Lightning already did well in a tough conference. Tampa would become the third team in the last decade to repeat as President's Trophy winner, so they are not trying to do something impossible. It's still probably more likely that they won't, but the value is on the yes.
Read more articles by Trevor Whenham