Can Medina Spirit Win the Triple Crown? Odds and Expert Betting Predictions
by Chris Vasile - 5/10/2021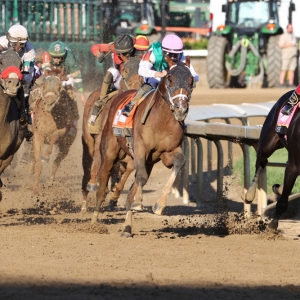 We are less than a week away from the second jewel of the Triple Crown – the Preakness Stakes – and for the most part, it's gone relatively under the radar since the Derby ended. That was until Sunday when news broke that the Kentucky Derby winner, Medina Spirit, had tested positive for a banned substance and may get disqualified and forfeit his Derby win.
I spent nearly two weeks providing content for the Derby's two-minute running time and I didn't once mention Medina Spirit. However, I did write about Midnight Bourbon, Hot Rod Charlie, Essentially Quality and O Besos in detailed fashion and so I feel like I did have some sort of handle on how the race might play out. Now that the Derby is over and Medina Spirit put his name on the map, for perhaps all the wrong reasons, let's take a quick look at if he has what it takes to become the third Triple Crown winner since 2015 and the first since American Pharaoh in 2018. That is, mind you if his Derby win isn't forfeited by the time this article goes live.
Breeding: In order to understand the breeding and pedigree of Medina Spirit, we must first look at the family tree (if you will). Medina Spirit is a Dark Bay/Brown colt bred in Kentucky by way of Protonico and Mongolia Changa. Protonico was a respectable horse in his own right, winning seven races in 16 starts, but four of those races came in Stakes races against quality opponents. Protonico was trained to run extended distances so that trait was definitely passed down to Medina Spirit as we saw in the 1 ¼ mile Derby on May 1. His mom, Mongolia Changa raced sparingly in her career but did hit the board three times in six starts including one win.
Connections: Bob Baffert is the only active trainer who knows what it takes to win the Triple Crown. He also knows what it's like to reach the Belmont Stakes with a chance at history only to fall short. If there is a trainer I'd want to train my horse after winning the Derby it's Baffert. Not to mention, the connection of him and John Velasquez aboard the horse might be the best jockey-trainer combination we've seen in quite some time. Johnny V has yet to win the Preakness, but he does have a ton of big race wins under his belt including four Kentucky Derby's and two Belmont Stakes.
Class: As I mentioned above, Medina Spirit was an afterthought when it came to the Derby and I'm not sure why. Maybe it was because other horses like Essential Quality and Known Agenda came into the race unbeaten, or maybe it was just an oversight on the part of many handicappers. Medina Spirit showed signs of life in every single race leading up to the Derby as he had a win and three seconds in four stakes races after breaking his maiden. This horse – who cost Zedan Racing Stables very little compared to other Baffert-trained horses has an engine that keeps on going and has a will to bring out his very best each and every race. That's impressive for a horse as small in stature as he is, but to win the big races, that kind of mentality is what a horse needs.
Running style: I've watched the Kentucky Derby at least 10 times since the race ended and it amazes me how easily Medina Spirit got to the lead and remained there. He is a front-running horse that loves setting the pace. Thank god the track was listed as fast because on any other day I don't think Medina Spirit holds off the oncoming charges of Midnight Bourbon, Hot Rod Charlie or Essential Quality. Medina Spirit led every step of the way and was able to carve out the fractions that he wanted to race at. Kudos goes to Velazquez for letting the horse dictate the pace and, in the Preakness, I expect more of the same game plan out of the jockey and horse.
Top horses have fallen short: The Preakness might be the hardest jewel of the triple crown to win if you exclude the Kentucky Derby. Why do I say that? Well because there is fresh blood entered into this race and with fresh blood comes fresher horses. Medina Spirit will be up against just two Kentucky Derby foes – Concert Tour and Keepmeinmind – and the rest of the field will be comprised of fresher horses who have last run in other stakes races throughout April.
If we take a look back at the history of the Kentucky Derby winner in the Preakness, it's not all that pretty. Over the last 30 years, the Kentucky Derby winner has gone on to win the Preakness Stakes just 11 times. In those 11 times, we saw just two horses – American Pharoah in 2015 and Justify in 2018 go on to win the Belmont and complete the pursuit of the Triple Crown.
---
Most Recent Preakness Stakes Handicapping