Los Angeles Lakers vs Phoenix Suns NBA Playoff Series Predictions and Odds
by Chris Vasile - 5/22/2021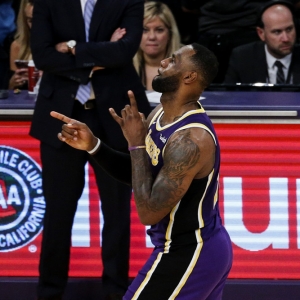 Out of all the Western Conference matchups, this series gets my vote for being one of the most-watched and entertaining series of the first round. In one corner, you have the No. 2 seed Suns, who finished with the second-best record in the NBA and who have improved by a whopping 17 games from last year's 34-39 record. In the other corner, you have the infamous Los Angeles Lakers, who simply need no introduction. The Lakers are the defending champions, but they had a below-average season for their lofty standards despite finishing 12 games over .500.
Get free NBA picks for every game on Doc's Sports NBA picks page.
As of this very moment, the Lakers are the favorites to win the Western Conference with odds of +200, just slightly better than the Clippers at +250. The Lakers are also second-favorite to defend their title, checking in at +400. Their opponent, Phoenix, check in at +800 to win the West and +2000 to reign supreme. As far as this series goes, despite the Suns having the better record and having home-court advantage, the oddsmakers have them at +145 underdogs compared to -165 for the Lakers.
With the exception of last year's title-winning season, these two teams have been beyond bad for the most part of the 2010s. The Lakers had missed the postseason in six straight years from 2013 to 2019. The Suns have been just as bad, missing the postseason in every year since 2010 before finally cracking the top eight this season. Both teams have a star-studded roster, and this series should be extremely fun to watch.
Tale of the Tape
The Los Angeles Lakers struggled through most of the year due to injuries and games missed by key players. They rank 16th in pace of play (98.7), 12th in field goal percentage (47.2), 25th in three-point field goals (11.1), 21st in three-point field goal percentage (35.4), 28th in free-throw percentage (73.9) and they don't crash the boards particularly well (T16 total rebounds, T15 in offensive boards). So, what the hell do the Lakers do so well? Well, they have LeBron James and Anthony Davis, who are two extremely talented individuals that make everyone around them better. Individually, the Lakers boast five players that average double digits in points. They are led by LeBron James, who is averaging 25 points per game on a .513 percent shooting average and .365 percent from beyond the arc. James also contributes 7.8 assists per game, which leads the team, and 7.7 rebounds per game. Behind him is Anthony Davis. Davis averages 21.8 points per game, 3.1 assists per game and 7.9 rebounds per game while shooting around .491 from the floor and .260 from beyond the arc. And finally, behind those two guys, you have Dennis Schroder averaging 15.4 points per game, Kyle Kuzma chipping in with 12.9 and Montrezl Harrell pitching in with 13.5.
The Suns' offense has benefitted from the addition of Chris Paul, and the point guard has turned an afterthought Suns team into one of the best teams in the league. As a team, the Suns averaged 115.3 points per game, which has them ranked seventh overall. They rank highly in field goal percentage (49), three-point field goal percentage (37.8) and free-throw percentage (2nd). They do rank out near the bottom of the league in pace (26th at 97.2) and rebounding (23rd in total boards and 28th in offensive boards). Individually, we already know that Paul runs the offense, but it's Devin Booker who leads the team in scoring. Booker is averaging 25.6 points per game, 4.3 assists and 4.2 rebounds on .484 percent from the floor and .340 from beyond the arc. Behind him, four other players average double figures. Paul leads the way with 16.4, while Deandre Ayton averages 14.5, Mikal Bridges chips in with 13.5 and Jae Crowder helps with 10.1
Defensively, the Lakers are first overall in terms of defensive rating at 106.8, and the Suns check in at sixth with a defensive rating of 110.4. This series has a ton of offensively gifted stars that I find it hard to believe the defenses will win out in this series. LeBron and Anthony Davis are going to be a matchup nightmare for the Suns, while Chris Paul and Devin Booker should be able to cook up some magic against a Lakers side that has some questionable defenders.
Prediction
For the first time in the last 30 years, a No. 7 seed is favored over the No. 2 seed in the first round. That's all you need to know about the love that the public and Vegas have for the Lakers. Unfortunately, I don't think the Lakers are all that good. I think the Suns' depth will aid them in their efforts, and I don't believe James and Davis are fully healthy and ready to go the distance with this Suns team. This line is based on name recognition, and I'll gladly take plus money with the better and deeper squad.
Pick: Suns in six.
Get NBA picks on every single game, or if you want our very best bet premium picks by the experts, sign up for your free $60 account with a guarantee.