NCAA Football Mid-Major Free Betting Picks: Florida Atlantic Owls Week 5
by Chris Vasile - 9/30/2021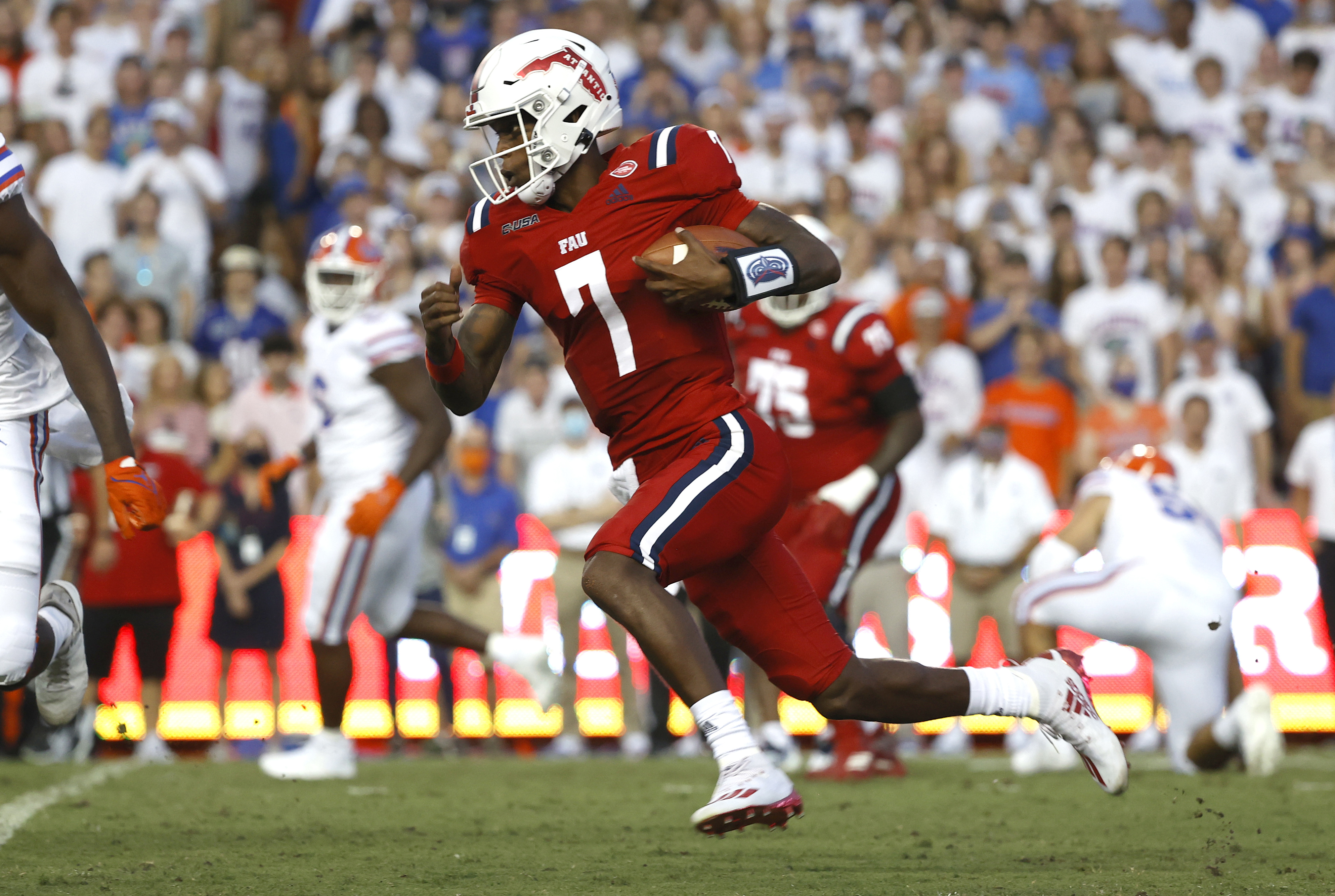 Have you ever bet on a game and saw the first few minutes of action and thought that your bet was toast after a few plays or minutes of action? That was me last weekend when I decided to bet on Florida Atlantic to not only cover the spread but beat Air Force outright. The Owls got the ball first and took a delay of game penalty before they even snapped the ball and then proceeded to lose seven yards on that drive. Three plays in, and I knew my bet was toast. Air Force went down and scored on the next two possession, and just like that it was 14-0 and I was able to find something else to do with my time. I will be the first to tell you it was a dud of a pick, and we are going to do better this week.
Doc's Sports offers college football picks for every game on our college football predictions page.
Week 4 vs Florida International.
As of writing this, the Owls have been tabbed as a 10.5-point favorite with the total set at 51.5. This line opened at Owls -10 and has since been bet up half a point, which is crazy to think given how they no-showed last week against Air Force. Perhaps it's the Panthers' 1-3 record and the fact that they've beaten them in four straight contests, but this is a lot of points to lay with a team that cannot stop the run.
Speaking of stopping the run; just when we thought the Owls had the ability to contain (not even fully stop) the Air Force triple-option, they made us look like fools. The defense gave up a grand total of 516 yards, in which 446 of those yards came on the ground. They couldn't get a stop to save their lives and now they must regroup and try and stop a Panthers offense that just accumulated 437 yards on a solid Central Michigan team.
The Owls will need N'Kosi Perry to play like he's played in the two wins where he was efficient with the football and didn't turn over the ball or take sacks for negative plays. He should have time to make the right read against this Panthers' defense that isn't known to get after the quarterback very well and that has just a handful of sacks over the first four games.
Defensively, it's imperative to the Owls that they don't fall behind two or more scores again as the offense is simply not built to play from behind and try and put up a ton of points to stay in the games. The total is relatively low given what we've seen from both teams through the first eight combined games, so I'll be expecting a very good showing against a beatable team.
As for the Panthers as a whole, they have three receivers that have topped the 100-yard receiving mark, and two of them have more than 345 yards in just the four games. Rushing-wise, they have a 377-yard rusher in D'Vonte Price, so they won't be a pushover in this contest. The Panthers like to spread the offense out and sling the ball with Max Bortenschlager, who has 1,105 passing yards through four games with eight touchdowns.
Series History: This will be the 20th all-time meeting between these two programs, and it's the Owls that have the decided edge, having won 14 of the first 19 contests. The Owls come into this game on a four-game winning streak, outscoring the Panthers 176 to 64.
Florida Atlantic at Air Force College Football Picks
It's tough to trust this Owls team with such a big spread. They have shown the ability to play some really good football (wins over Georgia Southern and Fordham). However, against two teams like Florida (always going to be a loss) and Air Force, the defense was gashed for a ton of yards and points. The Owls need to show they can stop teams frequently before I can lay these kinds of points with them. FIU is a team that likes to spread the offense out and throw the ball all over the field, and they have a bunch of talented receivers and a really good running back. While I'm not calling for the outright win for the FIU Panthers, I'm saying they are going to give the Owls all they can handle and at the end of the day, the Panthers will cover this big number.
Selection: 1-Unit Play. Take Florida International +10.5 (-110) over Florida Atlantic (Saturday at 3:30pm)
Get college football picks on every single game, or if you want our very best bet premium picks by the experts, sign up for your free $60 account with a guarantee.