NFL Survivor Pool Picks Week 1: Advice and Predictions
by Sean Barnard - 9/2/2022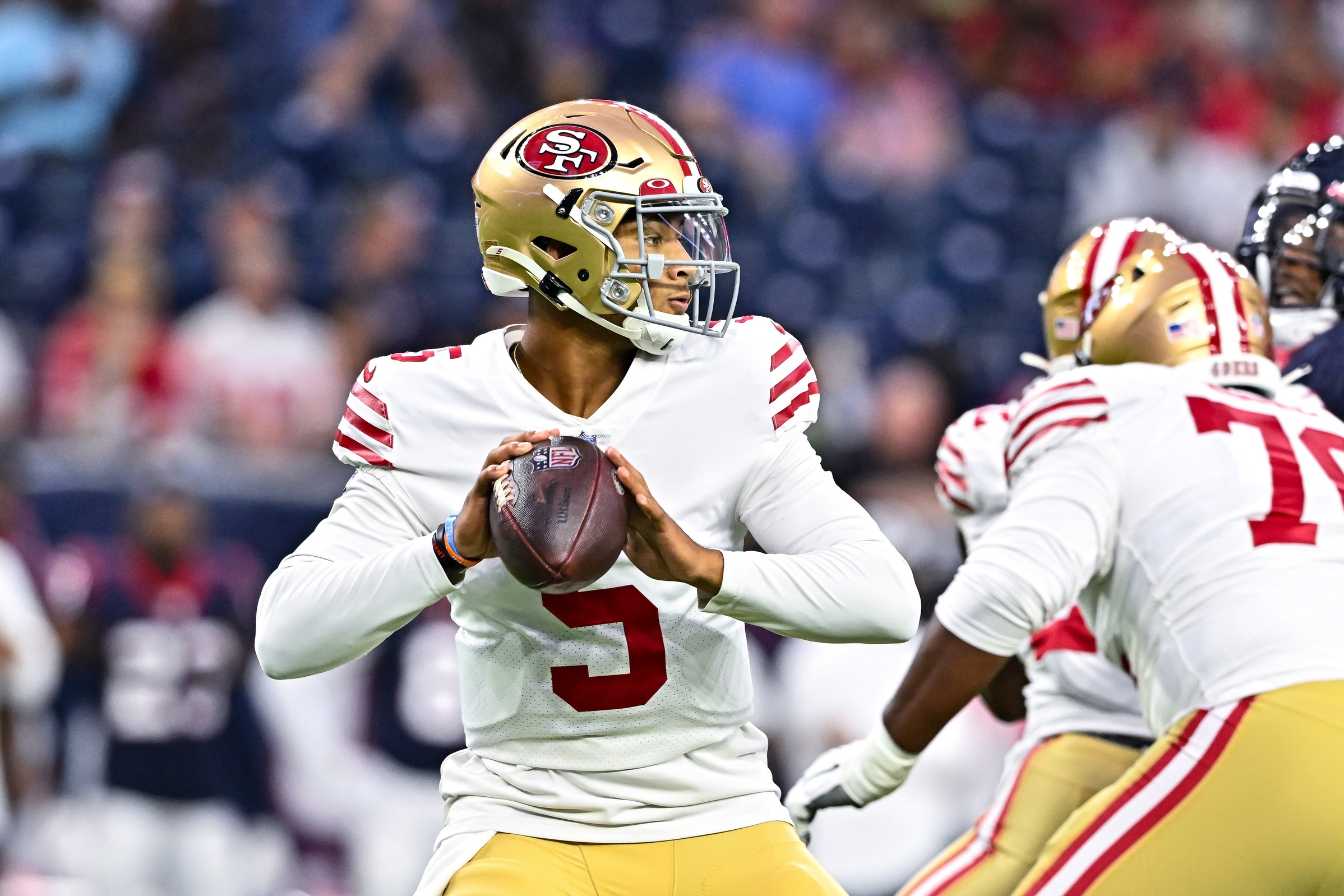 The NFL season is finally here as we all now have our Sundays booked up for the next few months. With the return of play coming, this also brings on a multitude of ways to wager on the games. One that has grown in popularity in recent years is an NFL Survivor Pool where you pick a team to win each week and cannot repeat this selection throughout the season. We will be here every week of the NFL season through Week 18, so be sure to come back for the best advice. Here are my expert Survivor Pool picks for Week 1 with the selections ranked from strongest to weakest:
Doc's Sports offers NFL expert picks for every game on our NFL predictions page.
Week 1 NFL Survivor Pool Picks (ranked from strongest to weakest):
Point Spread included to see how much each team is favored by
San Francisco 49ers (-7) over vs Chicago Bears
The Trey Lance era is set to begin with the red carpet laid for success. The Bears have low expectations for the season and have a legitimate chance of landing the top pick next season. The 49ers are a complete team on both sides of the ball and will have no problem cruising to a victory to start 2022.
Monday Night Football: Denver Broncos (-6) over Seattle Seahawks
The Monday night matchup is sure to have all eyes on it with Russell Wilson having to wait no time before making his return to Seattle. The Broncos have done an excellent job building up a contending roster during their QB struggles, and are hopeful Wilson is their missing piece. Expect the Broncos to come out ready to play in the opening week and put forth a strong performance to secure a convincing win.
Philadelphia Eagles (-4) over Detroit Lions
The Detroit Lions may be America's favorite new team following their time on Hard Knocks, but they went 3-13-1 last season and are matching up against the team that may have had the best offseason in all of football. The Eagles have addressed all of their needs from last season, and this is Jalen Hurts' prove-it year. Take the Eagles and expect them to be prepared to make a statement right away.
Indianapolis Colts (-8) over Houston Texans
The Indianapolis Colts were in search of a game-managing quarterback and found one in Matt Ryan. The Colts have an impressive defense and one of the best running backs across the NFL in Jonathan Taylor. Expect the Colts to cruise past the Texans in week one as the team also prepares for limited wins this season.
Baltimore Ravens (-7) over New York Jets
It was a disappointing 2021 season for the Ravens after going 8-9 in 2021. With Lamar Jackson fueled by doubt surrounding the lack of contract commitment and seeming lack of optimism on the season, expect him to make a statement. Take the Ravens to cruise past the Zach Wilson-less Jets in Week 1.
New Orleans Saints (-5.5) over Atlanta Falcons
This is a pick less about the Saints being good and more about the Falcons being bad. Atlanta has been undersold as a true bottom-tier team this season following the trade of Matt Ryan. Expect the Saints to get off on the right foot to start the Dennis Allen era behind Jameis Winston, who has developed into a decent option at QB.
Thursday Night Football: Buffalo Bills (-2.5) over Los Angeles Rams
The Bills are set to make a statement and prove that the Super Bowl hype they bring into the season is legitimate. Look for them to prove this right away and for them to take down the defending champs as they navigate through their Super Bowl hangover. Expectations are incredibly high for Buffalo, but the roster will be ready to deliver.
Carolina Panthers (-2.5) over Cleveland Browns
The Baker Mayfield revenge game is here, and he can be counted on to come out ready. While Jacoby Brissett is a solid fill-in at starting quarterback for the Browns, the Panthers are the pick here. Expect this one to be close but for Baker to get the revenge he seeks and start out his chapter with the Panthers the right way.
Jacksonville Jaguars (+3) over Washington Commanders
This will likely be a tight matchup, but the Jaguars could be a surprise team this season. With Doug Pederson taking the head coaching reigns and Trevor Lawrence with another year of experience under his belt, the circumstances have gotten much better in Jacksonville. Look for the Jaguars to open some eyes in Week 1 and squeeze a victory over the Commanders.
Tennessee Titans (-5.5) over New York Giants
There are reasons for optimism and pessimism for both teams here. The Titans are coming off an impressive 12-5 record in 2021 but had a meltdown at the hands of the Bengals in the postseason. With Malik Willis looking over Ryan Tannehill's shoulders, expect a strong performance from the veteran QB. Daniel Jones has a similar amount of pressure on him, and this should be considered a make-or-break year for him. However, his struggles and the overall concern surrounding the Giants will be too much to overcome.
Sunday Night Football: Tampa Bay Buccaneers (-1.5) over Dallas Cowboys
Despite a brief offseason retirement, as well as a change in Head Coach, Tom Brady will be returning to captain the Buccaneers once again. Both the Bucs and Cowboys have impressive offenses that should be counted on to produce some points. Dallas has become slightly stagnant in their roster construction and lost Amari Cooper this offseason. Expect the Bucs to produce in Week 1 and for Tom Brady to continue showing that he may be immortal.
Kansas City Chiefs (-4) over Arizona Cardinals
The Kansas City Chiefs will see some notable changes in the offense following the loss of Tyreek Hill but still should be considered major threats this year. The Cardinals also have a talented roster and a positive outlook on this season. Ultimately, I expect Patrick Mahomes to prove why he is such a special talent and lead the Chiefs past Arizona in a strong Week 1 performance.
Cincinnati Bengals (-6.5) over Pittsburgh Steelers
In theory, this seems like a great opportunity for the Bengals to pick up a win on opening weekend. Cincinnati exceeded all expectations last season by making it to the Super Bowl, and the Steelers are still somewhat restless at quarterback as the post-Ben Roethlisberger era begins. However, there is something about the Steelers in this matchup that makes me nervous. I lean toward the Bengals but would stay away from this one.
Los Angeles Chargers (-3.5) over Las Vegas Raiders
This is a tough opening week matchup for each of these AFC West foes. The division is likely the toughest across the entire NFL, and there is an argument for all four teams being capable of winning the division. Both the Chargers and Raiders made some notable upgrades to their rosters this offseason. I expect the additions the Chargers made on the defensive side of the ball to make a bigger difference and for the Chargers to come out on top in Week 1.
New England Patriots (+3) over Miami Dolphins
Both teams have a lot to prove this year for different reasons. Tua Tagovailoa is entering his "prove-it" year following the addition of Tyreek Hill. There have been glowing reports of Mac Jones coming out of camp, and the Patriots impressed last season by sneaking into the playoffs. I lean toward the Patriots getting the win in Week 1, but this one will likely come down to the wire.
Minnesota Vikings (+1.5) over Green Bay Packers
This is a matchup I would rather stay away from. The loss of Davante Adams is more notable than it seems to be given credit, and the Vikings also stole two impact defensive players from Green Bay this offseason. It is difficult to count out Aaron Rodgers, but this will almost certainly be a close game. I lean toward the Vikings coming out ready to play as Rodgers begins to build his chemistry with the new wide receivers corps but could certainly see this going otherwise.
Get NFL picks on every single game, or if you want our very best bet premium picks by the experts, sign up for your free $60 account with a guarantee.