College Football Free Picks: Weekly Mid-Major Report and Predictions for James Madison Week 3
by Joey House - 9/13/2023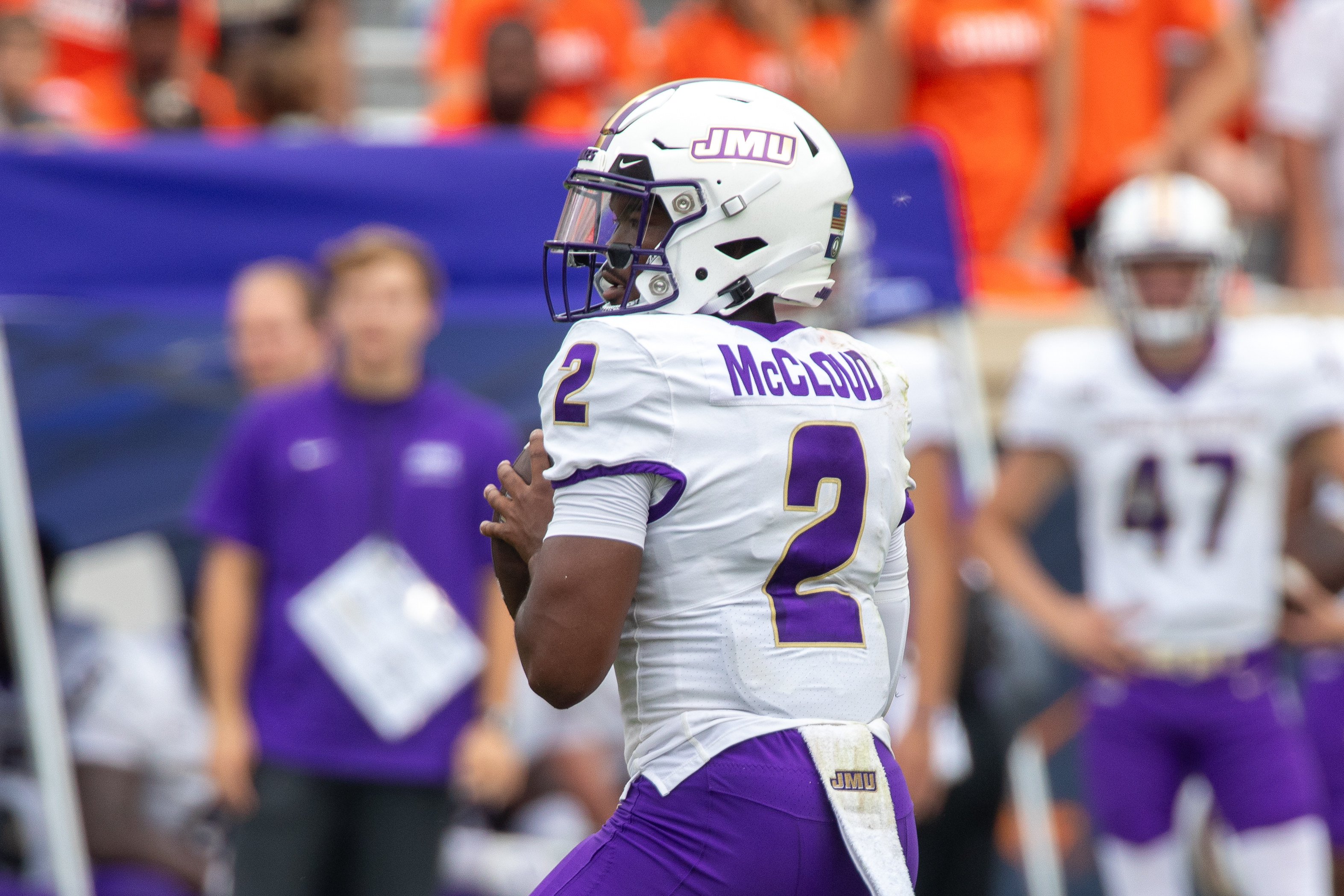 Each week, I will use my thorough knowledge of James Madison to bring you insightful, but, more importantly, profitable, information and analyze the Dukes' current game. To maximize our return on investment, I will be utilizing Doc's trust "Unit Betting System".
I said in last week's JMU Preview that teams playing under emotional circumstances, as Virginia was, either have their energy spent or use those emotions as additional energy. It looked the opposite at first for the Cavaliers, going down 17-7 in the first quarter. They cut that lead to 17-14 at the end of the first half. The locker room motivational speech worked for UVA because they scored with a 75-yard bomb on the first play from scrimmage in the 2nd half. Going into the 4th, UVA held a 35-24 lead, before James Madison scored two 4th quarter TDs, escaping with a 36-35 win (JMU went for two twice and missed on both).
Both teams had 395 yards of total offense, although they arrived at the destination in a different fashion. JMU had a relatively balanced attack with 228 yards and 2 TDs through the air to 167 rushing on 34 attempts. Virginia's aerial attack was impressive, going 20-26 for 377 yards, 2 TDs, and one pick. However, the Dukes were dominant on the offensive line, holding UVA to 18 yards on 35 carries.
Saturday sees the Dukes continue their early season road trip by starting out Sun Belt Conference play at Troy. These former FCS foes met twice in their lower division, but this is the first time meeting as FCS foes. The game is scheduled for a 7 P.M. start in Veterans Memorial Stadium in Troy, Alabama. The NFL Network will carry the coverage.
Doc's Sports offers college football expert picks for every game on our college football predictions page.
Troy Offense
Like the Cavaliers before them, Troy is also coming off of a prior beatdown last week, losing to Kansas State 42-13. Their offensive attack through two games (they played FCS Stephen F. Austin Week 1) has been remarkably balanced with 207 ypg through the air and 206 ypg on the ground. Their Senior QB, Gunnar Watson, is prone to interceptions, throwing 12 last season and one in each game so far. They have some height in the wide receiver department, with two starters 6'1" or better. Given the Dukes' trouble in defending the pass against Virginia, I look for the Trojans to try and exploit that weakness. Those tall receivers (JMU secondary starts one corner that is 6'1") could come in quite handy in the red zone.
Troy Defense
While the Trojans returned six starters from a unit that only allowed 327 ypg and 17.1 PPG, they lost their top 3 tacklers. It's difficult to get an accurate read on them, as they went from playing an FCS school and dominating to playing a Power 5 Kansas State, who went to the Sugar Bowl last year. Kansas State accumulated 397 yards last game, which isn't a terribly gaudy number. They have a solid special teams unit, where their place kicker is 4-4 in field goals and their punter is averaging 41 yards on 6 kicks.
James Madison Offense
So much for a quarterback controversy. Dukes QB Jordan McCloud picked up right where he left off against Bucknell, going 20-31 (64.5%), 224 yards and one TD. Just as important, he didn't turn the ball over. The star of the running game against the Wahoos was Ty Son Lawton, who went for 79 yards and 2 TDs on just eight carries. They maintained a balanced attack, which I think is important as they advance in the season. James Madison's offense may have a tough time on Saturday but can comfortably turn to a passing attack with confidence. I look for McCloud to have 250 yards passing and a couple of TDs. Hopefully, early success through the air will loosen up one of the SBC's best run-defense units.
James Madison Defense
After being virtually impenetrable against FCS Bucknell (208 total yards), UVA ripped them apart through the air. That disappointing showing masked a very impressive run defense. Virginia could only muster 18 yards on 35 attempts. That's an eye-popping 0.47 yards per carry. Bad Pop Warner teams could do better. They're going to need a similar effort on Saturday and be very opportunistic with their turnovers, as Troy has committed three a game.
Analysis and Prediction
The line opened with Troy being favored by 1.5 and steadily moved up, eventually reaching 3 before coming back down to 2.5. The total opened at 49.5 and has dropped a whole field goal to 46.5
The Sun Belt is often called the "Fun Belt" because of the propensity to be high-scoring. I believe that is exactly what is going to happen here. Both teams are likely to struggle early on as they try to establish the run. Not being able to do so, they'll turn to the air and then it's off to the races. I think Troy commits a couple of costly turnovers and JMU capitalizes.
While it's only been in the Sun Belt for one season, James Madison has shown scoring on the road isn't an issue, averaging 37.3 ppg and having the total over three out of four times. Their offense is firing on all cylinders. And while Troy is a quality squad, I don't believe the Trojans defense is tougher than Virginia's was.
We started out getting the winning team right, but UVA fought valiantly and covered the 6-point spread. I don't expect this game to be easy, but I think James Madison wins in a game that will see both sides reach or exceed the high 20s.
The Wager
James Madison ML +120 2 units
Over 46.5 -110 4 units
Season Total:
0-1 0%
-3 units (-$330)
Get college football picks on every single game, or if you want our very best bet premium picks by the experts, sign up for your free $60 account with a guarantee.