College Football Free Picks: Weekly Mid-Major Report and Predictions for James Madison Week 5
by Joey House - 9/27/2023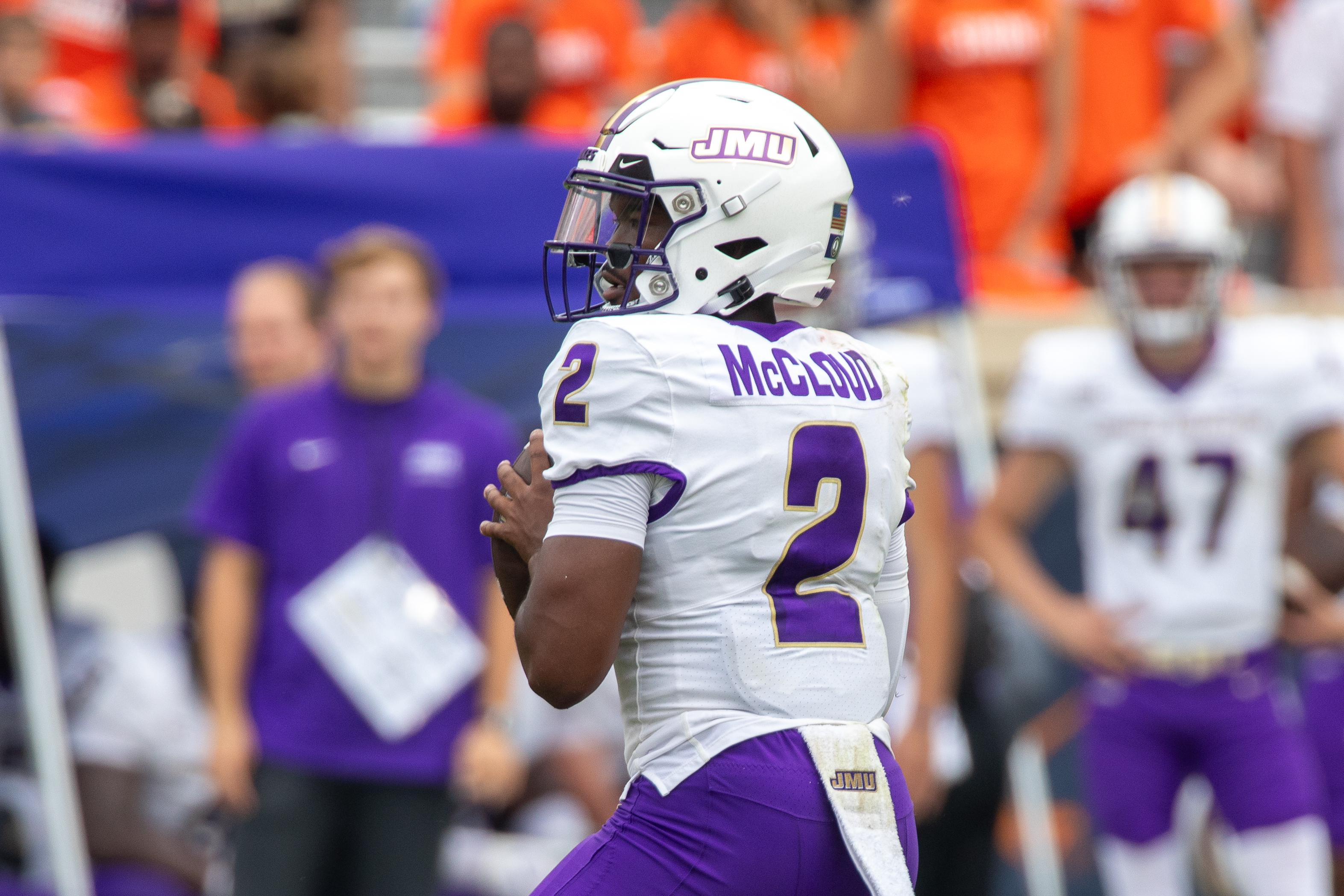 Each week, I will use my thorough knowledge of the James Madison Dukes football program to bring you insightful, but more importantly, profitable, information and analyze the Dukes' current game. To maximize our return on investment, I will be utilizing Doc's trusted "Unit Betting System".
James Madison continued winning in every fashion possible, this time winning a wild 45-38 shootout at Utah State. The Dukes QB Jordan McCloud accounted for all six of the James Madison touchdowns, going 23-34 yards for 364 yards, 4 TDs, and 2 INTs, while chipping in 2 rushing TDs on 9 carries.
The Dukes jumped out to a 17-0 lead in the first quarter, eventually increasing that to 38-14 late in the first half. The Aggies then proceeded to rattle off 24 unanswered points to tie the game 38-38 early in the 4th. With 5:52 remaining, McCloud connected with WR Reggie Brown for a 74-yard TD strike, and the Dukes' defense held the final 5 minutes.
Saturday, James Madison resumes its conference play when it hosts the Jaguars of South Alabama. Gametime is set for Saturday, Sept. 30th at noon on ESPNU.
Doc's Sports offers college football expert picks for every game on our college football predictions page.
South Alabama Offense
In my preseason preview of the Sun Belt conference, I picked South Alabama (USA) to finish in first place in the Western Division. Their offense was a big reason, as they returned nine starters, including the QB, from an offensive unit that averaged 424 yards and 31.2 ppg in 2022. While the first four games have seen some good opponents (they opened the season at No. 24 Tulane), the scoring has decreased slightly. So far this year, they're averaging 28.8 ppg. They do have a win against a Power 5 team in Oklahoma State, but overall the offense has been slightly weaker.
One area of concern for Jaguar fans should be the fairly significant splits between road and home statistics. Their total offense in two home games is 457 yards per game, whereas the road total offense is only 330 ypg, a difference of 127 yards. Their road scoring is 26 ppg, almost a full touchdown and PAT less than their 32.5 ppg at home. Part of this issue is due to the significantly tougher road competition versus the weaker home opponents, but JMU most definitely falls into the former category.
Jaguar Defense
Like the offense, USA's defense also returned nine starters from the stout 2022 squad. Their finest effort so far in the season would be the 7 points they held Big 12 Oklahoma State to, a feat even more impressive after seeing the Cowboys score 27 points in each of their 3 other games.
In fact, in the two toughest games for the Jaguars, the visits to Tulane and Stillwater, Oklahoma, South Alabama's defense gave up an average of 61 yards less than its 2 home affairs. As a whole unit, they are surrendering 105.8 ypg on the ground and 247 ypg through the air.
James Madison Outlook
Dukes' QB Jordan McCloud continues to play excellent football. I called for him to have a big day against a porous Aggie secondary, and he responded with his best day as a Duke and his second-best day in his career in yards and matched his career best of 4 TDs thrown. JMU's head coach Curt Cignetti may not have made the right choice before the season started. However, unlike many head coaches, he yanked his ineffective starter after the first half against Bucknell and hasn't looked back since.
JMU's rushing attack has been effective, but not explosive. Their leading rusher, Kaelon Black has 304 yards on 54 carries (5.6 ypc), but he might start feeling like running back Wendell Brown from "Varsity Blues" as he has zero touchdowns rushing (he does have one receiving). The Dukes' O-Line, expected to be one of the best in the Sun Belt, has lived up to expectations, having only allowed 6 sacks through four games. They did commit 5 turnovers against Utah State but hadn't had a turnover in the previous 2 games, so hopefully that was just an aberration.
In my preseason analysis of JMU's defense, I was a little short in my predictions for the front seven. I expected them to be good, but I'll admit leading the nation in rushing yards allowed was not a consideration. Yet that is exactly where we are currently, giving up a paltry 41.5 rushing yards per game and a minuscule 1.4 yards per carry. They are also tied for the most sacks with 18. This is a ferocious unit and looks to administer more pain this Saturday.
Analysis and Prediction
We have a little bit of reverse line movement in this game so far. The spread initially opened JMU -5 and even though the majority of the wagers and money bet has come in on the Dukes, the spread has shrunk down to JMU -3. The total opened at 51.5 and has also gone down to 49.5.
Since the Sun Belt is populated with 14 schools, and JMU joined the FBS ranks last season, these two teams have not faced each other yet. Sitting at 2-2, South Alabama is both pleased and disappointed with their record. After emerging from Stillwater victorious (and they dominated Oklahoma State 37-7 on the road), losing at home the next week to Central Michigan was a major letdown. This is the Jaguars 2023 conference debut.
James Madison continues to find ways to win. With the exception of their season-opening blowout against FCS Bucknell, the Dukes have won three single-possession games. While the passing defense may seem a bit on the shaky side, the only reason so many passes are attempted against them is that their offense usually takes them a nice comfortable lead.
I don't think that is going to change much on Saturday against the Jaguars. I think the JMU's offense will continue to exert its will against the opposing defense. However, unlike the Dukes' previous opponents, I don't believe that South Alabama will be able to hang with them through the air. The reverse line movement gives me some slight pause, but I'm still taking a small play on JMU minus the 3 and a larger position of under 49.5
The Wager
James Madison -3 2 units
UNDER 49.5 4 units
Season Total:
2-3 40%
-5.6 units (-$560)
Get college football picks on every single game, or if you want our very best bet premium picks by the experts, sign up for your free $60 account with a guarantee.