College Football Free Picks: Weekly Mid-Major Report and Predictions for James Madison Week 9
by Joey House - 10/25/2023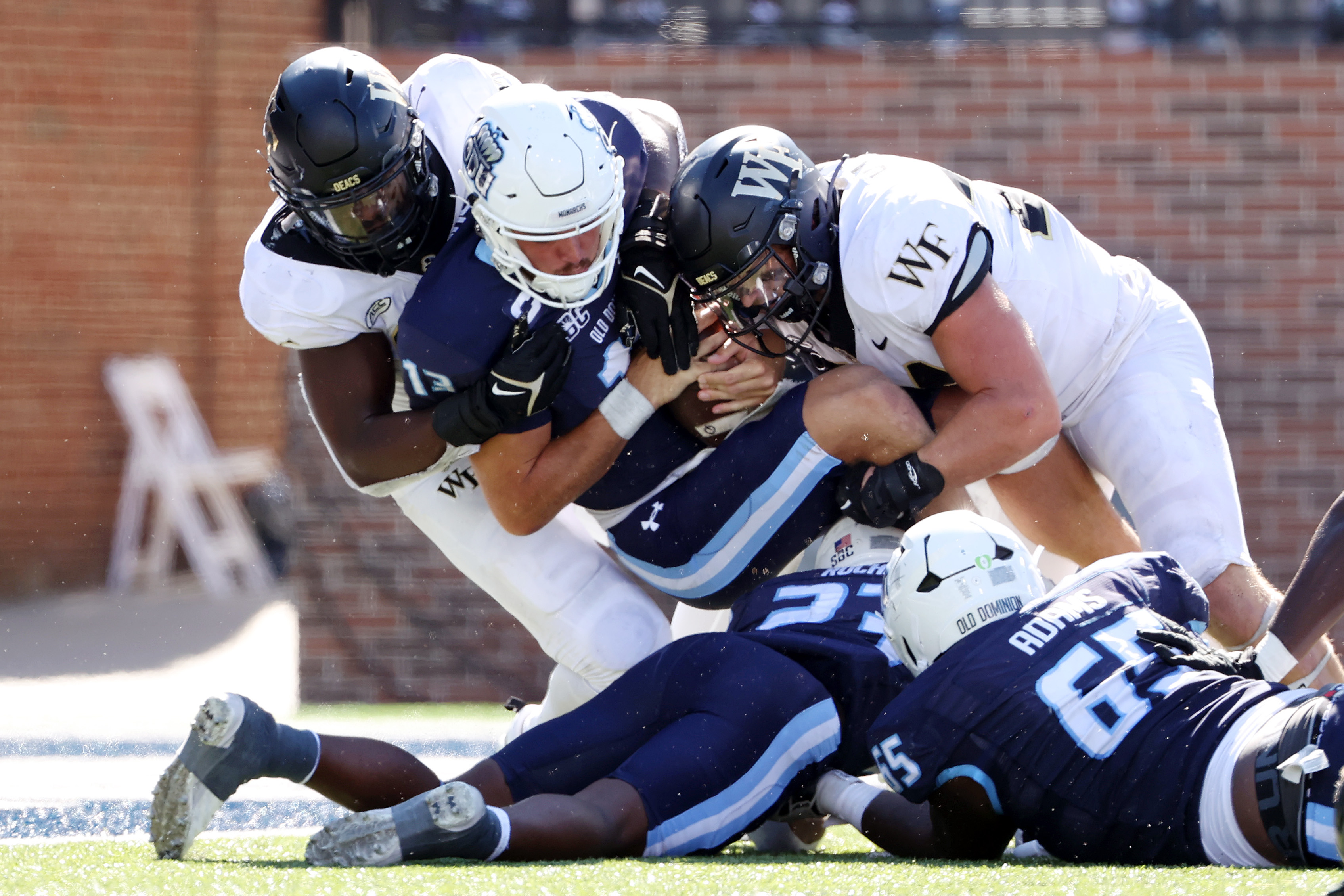 Welcome to Doc's Sports Mid-Major report covering the James Madison University Dukes as they roll through the Sunbelt Conference in only their second year at the FBS level. We will thoroughly analyze the Dukes' upcoming opponent each week and explore how we see the game playing out. Using local newspapers and inside sources for the analysis and Doc's trusted "Unit Betting System," we give you the tools to maximize your investment in this exciting Mid-Major program.
Let me assume my position on the proverbial soapbox to rail against the NCAA. Not only are new schools like James Madison (7-0) and Jacksonville State (6-2) not allowed to participate in postseason play, but their stats are not listed in the NCAA's National Rankings. For example, JMU's defense leads the nation in fewest rushing yards per game and sacks. The Dukes' defensive lineman Jalen Green is the individual leader in the country for sacks with 13. Yet, if you go to the NCAA website, it shows a player from Colorado State with 10 sacks as the nation's leader.
Doc's Sports offers college football expert picks for every game on our college football predictions page.
The NCAA's reasoning behind this 5-year ban is to allow the schools moving up a chance to acclimate themselves to the rigors of the FBS environment and prove that they can handle the enhanced academic standards. Never mind that many FCS schools have much more rigorous academic standards. What could the NCAA's reason be to deny the players of these new schools their hard-earned accolades?
The answer is there isn't a logical explanation for these ridiculous rules. In no way, shape, or form does failing to honor these student-athletes' success on the field protect the integrity of college football. It doesn't serve these athletes in any way. If anything, it impedes their ability to earn income from the NIL by unjustly masking these players' accomplishments.
The Dukes' march towards perfection continues this Saturday as they host the Old Dominion Monarchs, with a record of 4-3. Kickoff is slated for 8:00 PM and will be televised on ESPNU. The line opened with JMU being a 17.5-point favorite and a total of 49.5.
Old Dominion Offense
The Monarchs have been non-descript on offense, averaging just 358.3 yards per game and 24.1 ppg, which puts them 92nd out of the 133 FBS teams for points per game. Grant Wilson, their starting QB, transferred in from FCS Fordham University and has been average at best, completing 68-124 (54.8%), 1026 yards, 8 TDs, and 5 INTs. His backup has been worse, so there's little help from the bullpen. They do possess an enigmatic running back in Kadirus Calloway. In just 41 attempts, he's rushed for 458 yards (11.2 ypc) and 3 TDs. In ODU's 6-point loss to Marshall, Calloway exploded for three different TD runs that were 69 yards or more, as he rumbled for 236 yards on 11 carries. His next two games saw him return to the land of merely great running backs, rushing for 197 yards on 25 carries in victories over Southern Mississippi and Appalachian State. ODU's star wide receiver, Kelby Williams, who has hauled in 14 catches for 338 yards (24.1 ypc) and one TD, is listed as questionable for the game.
Old Dominion Defense
The Monarchs are slightly below average on the defensive side of the ball. Discounting their 10-9 victory over an FCS school, they have been allowing an average of 258.7 yards per game through the air, which doesn't bode well against a Dukes' squad that is very efficient in the aerial department. Their rush defense is decent, giving up 131.4 yards per game and an average rush of 3.1 yards per carry. In last year's contest, which saw JMU win 37-3, ODU allowed 304 yards through the air on 18-22 passing and 188 yards on the ground with three TDs.
James Madison Outlook
The Dukes continue to kick ass and take names. They completed their "Retribution Tour" last week by dispatching Marshall, 20-9. Their tenacious defense again shined bright as they held the Thundering Herd to negative four yards rushing on 32 attempts. That statistic, already impressive, becomes even more so when you factor in Marshall averaging 156 yards per game on the ground. Understandably, most of the negative runs came from the eight sacks the Dukes registered, five from defensive lineman extraordinaire Jalen Green. There is an advanced analytic stat known as "Havoc," which measures the number of passes defended, tackles for losses, and turnovers. The James Madison defense "Havoc" percentage is 28.4%, leading the nation. The only touchdown that Marshall could manage came from a 94-yard kickoff return.
Offensively, the Dukes continue to be proficient with the ball. QB Jordan McCloud has yet to throw for less than 200 yards as a starter. He threw his fourth interception of the year to go along with 15 TDs. The run game continues to pound out 4.1 yards per carry.
Analysis and Prediction
These two teams have played one common opponent so far, Marshall. ODU lost a shoot-out 41-35, while JMU held Marshall's offense scoreless in a 20-9 victory (they allowed the KO return and a safety). Old Dominion ran roughshod through Marshall's rush defense for 339 yards and 4 TDs. The Monarchs are a big-play team, with 11 of their 20 TDs covering 30+ yards. James Madison has allowed 17 TDs through seven games. Of those 17, six of them were 30+ yard scores.
With 81% of the wagers and 60% of the money coming in on James Madison, the line has naturally moved in the Monarchs's favor, going from JMU -17.5 to -20. The total has stayed relatively put, fluctuating between 48.5 and 49.5.
I believe 100% that the Dukes win this game outright, but laying the 20.5 points worries me a bit. JMU's defense will wreak havoc and create a short field or two for the Dukes to punch it in quickly. However, while that defense can be stifling, it is also prone to yield explosive touchdowns.
I will be taking the total OVER the 49 points.
The Wager
OVER 49: 4 units
Season Total:
5-6 45.5%
-6.3 units (-$630)
Get college football picks on every single game, or if you want our very best bet premium picks by the experts, sign up for your free $60 account with a guarantee.