Biggest Comebacks in NBA History
by Mike Pruitt - 10/25/2021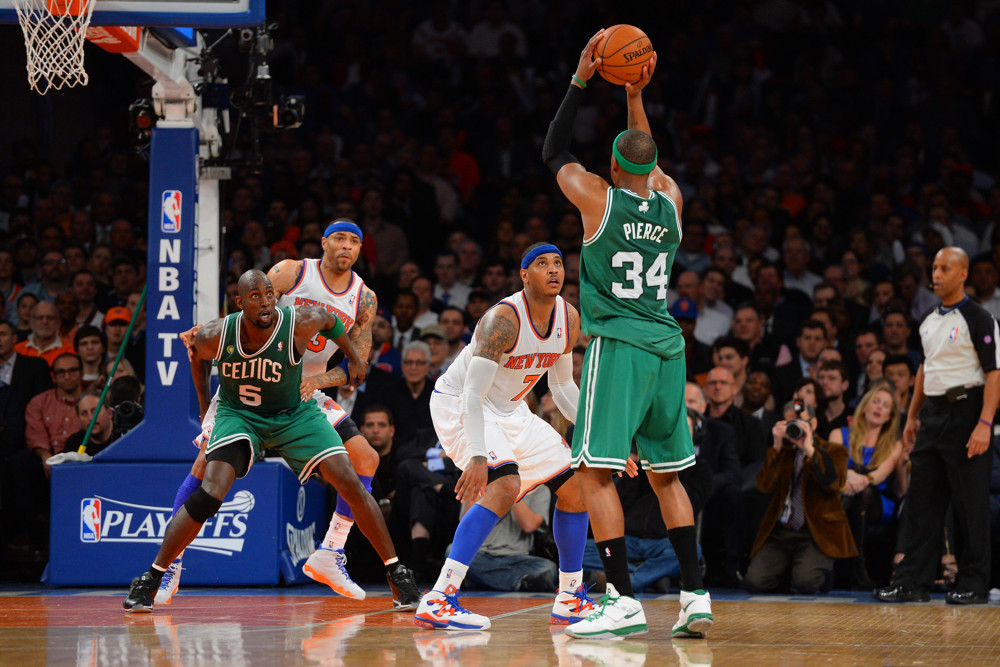 Basketball is a game of runs. Anyone who has watched more than 10 NBA games in their lifetime knows this. Uncle Mo' is always present in life and in sports, but he has a stronger influence in basketball than any other sport I can think of.
In my opinion, that is because of how quickly one team can score points. The crowd gets louder, and some players, not all of them, but some, begin to mentally crumble. And, remember, you are only as strong as your weakest link.
Maybe he is a high flyer or perhaps can drain nearly 50% of his open 3-point shots. That's why the coach has him out there. But little Billy's brain, particularly his mental strength, never caught up to his body.
One weak link can screw up so badly that it changes the mood and the momentum for sometimes the remainder of the basketball game. Today I wanted to share with you guys some of the best performances and comebacks in NBA history, including the performances by Reggie Miller, Shaq, and the late great Kobe Bryant.
Doc's Sports offers NBA expert picks for every game on our NBA predictions page.
2008 NBA Finals Boston Celtics vs Los Angeles Lakers
Let's flashback to 2008. I want to say around mid to late June. That is usually when they play the NBA Finals. You can look up the date, or I could tell you, but it doesn't matter.
What matters is if we can remember back more than 10 years. I don't know about you, but I am older than I was yesterday, and my memory is not exactly improving. In 2008, I was finishing up community college and fighting Muay Thai fights.
I was still a fan of the NBA at the time, and I remember quite fondly the NBA Finals that year, featuring the two most storied franchises in league history, the Boston Celtics and the Los Angeles Lakers.
In Game 4 of the 2008 Finals, Kobe Bryant and the LA Lakers jumped out to a commanding 48-21 lead in the first half that left Boston Celtics fans in shock. Not the players, though. Not Paul Pierce. Not KG. Not Jesus Shuttlesworth.
This comeback wasn't your typical basketball comeback where it starts with your team down 10 points with a minute to go. The Celtics' comeback that year was inch by inch. And from someone who can be very streaky, I respect that quite a bit.
The final score was 97-91 for the Celts over the Lakers.
2013 NBA Playoffs Boston Celtics vs New York Knicks
Staying with those same Celtics! I do love that Big 3 of Pierce, KG, and Ray Allen, but I am a Knicks fan, so the Celtics have never been my squad. What the team in green was able to do in 2013 against New York was pretty special.
And it could have not come at a more special moment as this was the final game for both Kevin Garnett and Paul Pierce in a Boston Celtics uniform. They scored 20 consecutive points and even though it wasn't enough for them to get the win as they fell short 88-80, the game will be remembered forever because of that 20-0 run.
2004 Houston Rockets vs San Antonio Spurs
The Houston Rockets and San Antonio Spurs have battled it out for state bragging rights as well as the right to represent the Western Conference in the NBA Finals for decades. I don't know if the rivalry was ever hotter, though, than it was in 2004.
The Rockets trailed the Spurs by 11 with 33 seconds remaining on the game clock. This is when one man went on what is possibly the best run to end an NBA game of all time.
Tracy McGrady scored 13 points in 33 seconds, including a buzzer-beating three-pointer that will live forever. Tracy McGrady still doesn't get the respect he deserves.
81-80 was the final for Tracy McGrady and the Houston Rockets.
2000 NBA Finals Los Angeles Lakers vs Portland Trailblazers
I know you remember…
Scottie Pippen, in a Portland Trailblazers uniform, was guarding Kobe Bryant out on the wing, when the late legend drove hard to his right as if he was going all the way to the hoop but in a moment of flow and/or preparation, he threw a lob to Shaq that resembled a floater, but The Diesel threw it down emphatically with one hand.
If you didn't remember before, I hope I jogged your memory. This was one of the biggest moments in NBA Playoff history. It was symbolic of a simpatico relationship between Kobe and Shaq, but we all knew sometimes symbolism stops there.
The Lakers trailed the whole game, and the lob and dunk came with 40 seconds left. And even though it only brought them within two points, the moment seemed big enough that we knew it would carry them to a win.
And an NBA Finals Game 7 win at that.
Diesel, Kobe, and the rest of the Lake Show walked off the floor that night as world champions with the scoreboard reading 89-84.
1995 NBA Playoffs Indiana Pacers vs New York Knicks
I mentioned I am a Knicks fan, so why would I be torturing myself like this?
Good question. I guess I need to put myself through more pain in my workouts, and maybe I wouldn't be doing it with my writing.
As a Knick fan growing up in the '90s, you hated Reggie Miller. What a hateable guy he was, too! Miller scored 8 points in 9 seconds to beat the New York Knicks in a playoff game. He was truly in the zone.
They won the battle but not the war as New York won the series, and Reggie had to go back to Indiana and cry on his sister's shoulder. It's okay, Reg. We all know Cheryl is better.
It was a high-scoring game for that era. 107-105.
Get NBA picks on every single game, or if you want our very best bet premium picks by the experts, sign up for your free $60 account with a guarantee.