2023 Boston Bruins Predictions with Futures Odds and Expert NHL Picks
by Ryan Cobbett - 9/20/2023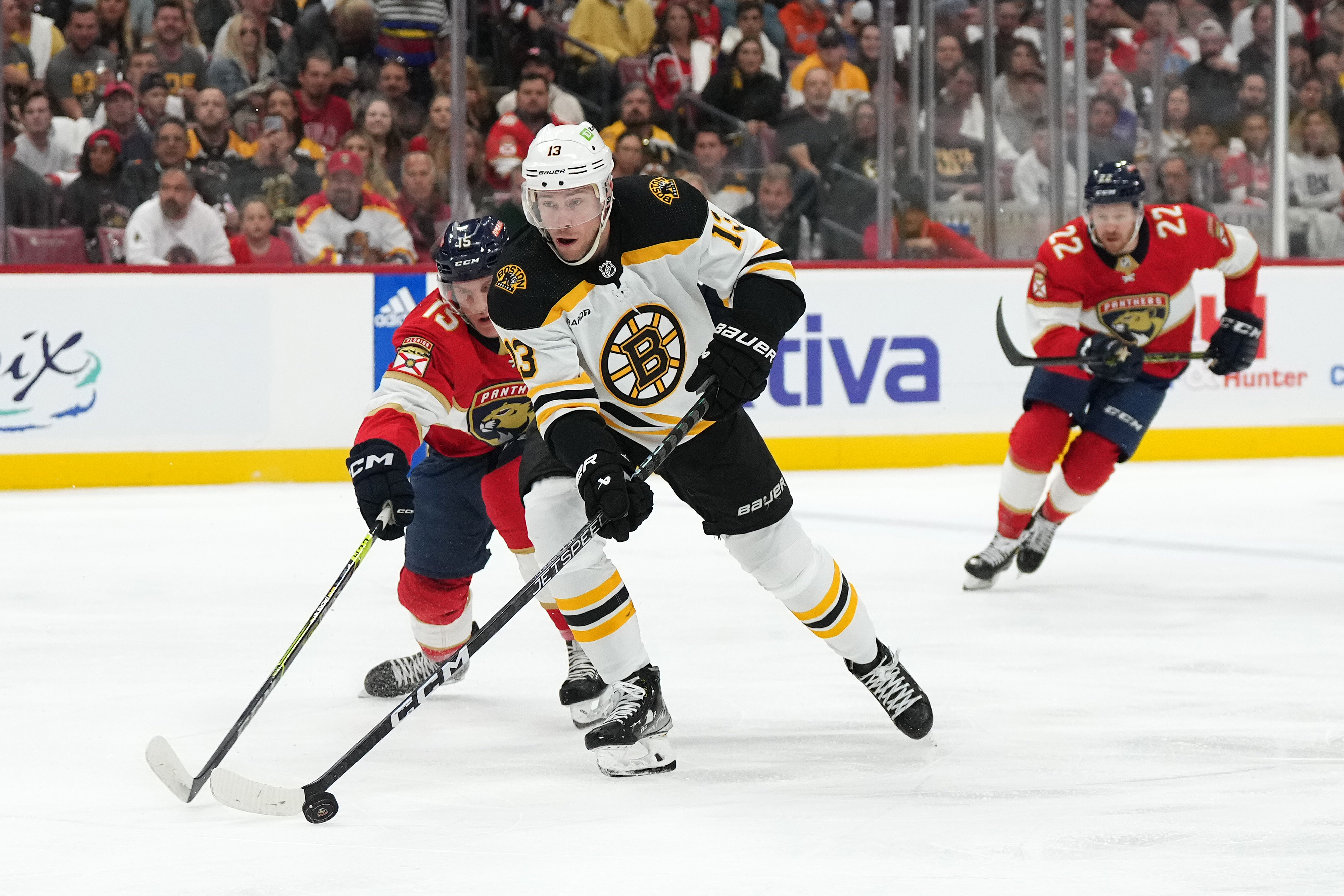 Summary of last season
It won't be hard to remember the record setting regular season the Bruins turned in last year. Finishing with 135 points, this team was unstoppable. Between the best goalie tandem in the league and a roster littered with elite skaters, Boston put together the best team on paper, maybe ever. Perhaps as memorable as their regular season was, their first-round exit stunned the world. A surging Florida Panthers team would erase a 3-1 deficit and eliminate the Bruins on a Carte Verhaege OT winner.
"Pasta" was lights out for Boston, leading the team with 113 points and 61 goals. This was a very balanced Bruins roster, as the team would have eight players finish with 50 or more points. Jeremy Swayman and Linus Ullmark turned in memorable seasons, as the goalie pair would combine to allow just 2.08 GA/G.
Doc's Sports offers NHL expert picks for every game on our hockey predictions page.
Seasons come and go, so now its time to take a look at what we can expect from the Boston Bruins in 2023-24:
Key Additions/Losses
The Bruins will look a lot different as we head into the new season. Long time captain Partrice Bergeron and David Krejci both retired, while Tyler Bertuzzi, Dmitry Orlov, Taylor Hall, Nick Foligno, Connor Clifton, and Tomas Nosek will all be in different uniforms this season.
Boston added veterans LW Milan Lucic, D Kevin Shattenkirk, and LW James van Riemsdyk.
X-Factors
Charlie Coyle- With Bergeron and Krejci retiring, Pavel Zacha and Coyle will be asked to fill the holes. Zacha did a fine job last year as he was sandwiched between Bergeron and Krejci in points as he finished with 21 goals and 36 assists. Coyle went on to finish with 16 goals and 29 assists. The 31-year-old will headline Boston's 2nd line with Van Riemsdyk and Jake DeBrusk. Depth has quickly become one of Boston's best friends to their worst enemy, and Coyle's performance will go far in determining if the Bruins can withhold another playoff run.
Goalie Outlook
Ullmark and Swayman are both back for more goalie hugs this season, though it will likely be less than their embraces last year. Ullmark has been incredible since coming over from Buffalo as the netminder is 66-16 in his two years in Boston. Swayman has been a near perfect backup plan for the Bruins as he has gone 47-20 over the last two years of his career. Though it may not be a 135-point season for Boston, their goaltending is the best unit in the league.
Grade: A+
Expectations
This is still a force to be reckoned with. Though Toronto may be the new titan within the division, Boston will be on their heels. This is still a 100 + point total team and a team that will be ready to get back to their dominating ways after blowing their first round series against the Panthers last season. Ullmark and Swayman will dominate, Pasta and Marchand will highlight the box score every night, but the real question will be depth. With a lot of departures, Boston may struggle in back to backs, OT games, and in the event of an injury to a top liner. They may spend some capital to add some more pieces like last season, but this is still a competitive playoff team as it stands now.
I expect Boston to finish 2nd in the Atlantic and maybe get revenge against Florida in the first round of the playoffs.
Key Schedule Stretches
October 28th – November 25th – This will be a telling month for the Bruins early on this season. They will be playing 13 games in this stretch with seven home games and six road games. The stretch begins with three straight home games, but against a solid line of opponents like a much-improved Detroit team, Florida, and Toronto. This stretch also includes trips to Dallas, Detroit, Buffalo, Tampa Bay, Florida, Montreal, and New York (Rangers). The only two games that look to be clear winners are the home and away matchups against the Canadiens, other than those games sandwiched in this stretch, we should learn a lot about the Bruins.
Notable Odds
*Draft Kings
Stanley Cup Champions - +1600
Conference Winner - +850
Division Winner - +380
Hart Award – David Pastrnak +2000
Vezina – Linus Ullmark +1800
Prediction
I expect Boston to finish 2nd in the Atlantic and maybe get revenge against Florida in the first round of the playoffs. They may not be as deep, but this Boston team will still compete for the top spot in the division. Boston will likely run into a wall in Toronto in the playoffs.
Team Point Total - Over 101.5
Get NHL picks on every single game, or if you want our very best bet premium picks by the experts, sign up for your free $60 account with a guarantee.