2022 BYU Cougars Football Predictions and Betting Odds
by Cameron McQuade - 7/27/2022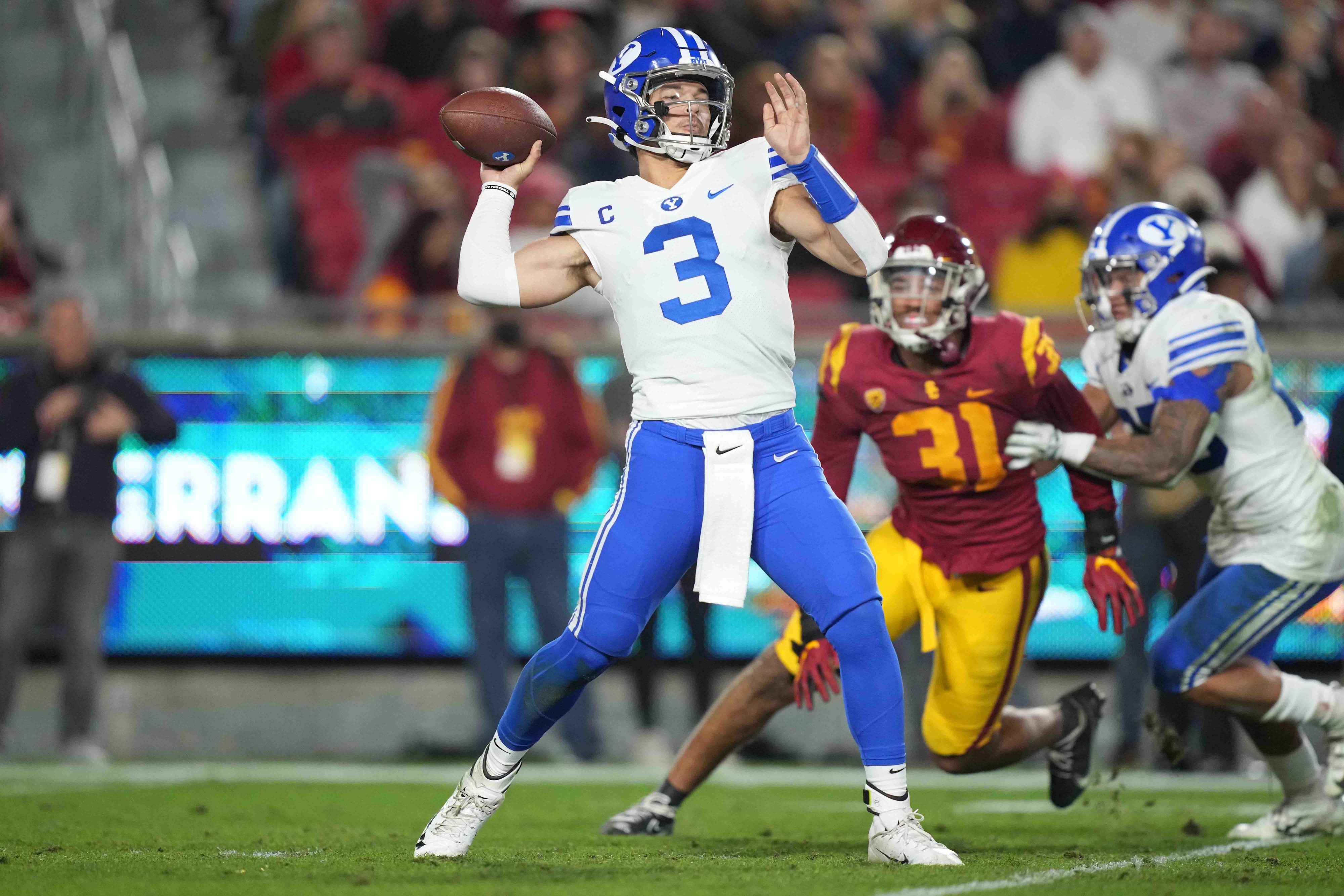 This will be BYU's last season as an FBS independent before joining the Big 12. This year still comes with challenging matchups, highlighted by four Power 5 opponents plus a battle vs Notre Dame. Midseason injuries in 2021 really derailed BYU, leading to losses vs Boise State and Baylor. This year they come in healthier, with more depth, more weapons/options and just overall more talent to make a big statement before the big move. With 21 wins over the last two seasons, the Cougars have enjoyed true success even without a conference championship to play for. Eighteen out of 22 starters are returning this year, and expectations are high. It's time for greatness.
Doc's Sports offers college football expert picks for every game on our college football predictions page.
Offense / Defense
Keeping mistakes to a minimum was BYU's priority last season. They were highly efficient and kept the chains moving all game. They finished 2021 17th in the nation overall and 29th in scoring. Now, they are even more potent. The "Blake" combo at tackle and guard could lead to record offensive numbers. Blake Freeland and Blake Barrington will be top tier. BYU was already one of the best teams in pass protection. And now with Oregon transfer Kingsley Suamataia on the squad, they're looking better than ever. QB Jaren Hall returns after a stellar 2021 breakout season. Hall threw for 2,583 yards and 20 touchdowns in 10 games. Not bad after losing Zach Wilson to the New York Jets. This offense will be more than fine.
The Cougars defense is talented and experienced, but they need to be better. After giving up 25 points per game last season, they need to have a more aggressive pass rush and be more disciplined against the run. Being fully healthy in 2022 immensely helps BYU. Defensive coordinator Ilaisa Tuiaki is quoted saying ""If we can stay healthy, and the ball bounces the right way, we have a chance to have a pretty special year." The best addition on defense is Vanderbilt transfer corner Gabe Jeudy-Lally, who brings SEC experience.
Keys to the 2022 Season
This year's key goes off what they did well with last year, and that's get off to hot starts. The Cougars outscored teams 114-50 in the first quarter during the 2021 season. Like most, if BYU came out hot, they ended up winning the game and playing with momentum throughout the match. Even with an improved defense, the Cougars can make life easier getting a big early lead and forcing opposing teams to "bomb away", allowing turnovers and easy game planning on the other end. BYU wasn't clutch last year either by any means, so the less stress, the better the outcome.
Key 2021 Stats
– Interceptions Thrown: Opponents 15 – BYU 5
– 1st Quarter Scoring: BYU 114 – Opponents 50
– 3rd Quarter Scoring: Opponents 84 – BYU 70
2022 Betting Odds and Trends
The BYU Cougars Over/Under this season is at 8.5 wins. Their odds to win the 2023 College Football Championship are at +25000. The Cougars are 12-point favourites vs the South Florida Bulls on September 3, 2022. The Over/Under total is 57.5 Points.
Predictions
BYU's final season of freedom could be magical. The offense is going to put up big points. And if the defense can hold it down, watch out. The Cougars will still have to earn their third straight 10-win season, with tough tests vs Boise State, Stanford and Liberty on the road, and matchups vs Oregon, Baylor, Notre Dame and Arkansas as well. Based on their schedule, I believe the cougars will win 8 games, and just miss the 8.5 over/under win total.
Get college football picks on every single game, or if you want our very best bet premium picks by the experts, sign up for your free $60 account with a guarantee.