2011-12 Calgary Flames Predictions with NHL Futures Odds
by Trevor Whenham - 9/27/2011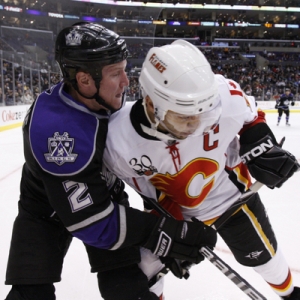 The Calgary Flames are a tough team to understand. For more than the first half of last season they were a lousy team. Really lousy. For the final third of the season they played very strong hockey -- almost enough to play them back into playoff contention.
They fell just short, but you couldn't help but notice that their turnaround coincided almost exactly with the firing of GM Darryl Sutter. Sutter was the guy who led them on their unlikely run to the Stanley Cup Finals, but since then his secretive, angry, moody ways were less and less effective. How messed up was the guy? He hired his own brother as coach and then spent most of the time they worked for the same team not speaking to him.
The team is unquestionably better off without Sutter. The problem, though, is that he left the team in rough shape. They were in terrible salary cap shape, their minor league cupboards were bare, the talent at the pro level was spotty, and it has been a long time since they were remotely relevant in the postseason.
New GM Jay Feaster -- ironically he was the GM of Tampa Bay when the Lightning beat the Flames to win the Cup -- has worked on correcting the issues he inherited, but he was handcuffed by the issues, and success could take a while to arrive. The trick for hockey handicappers, then, will be to determine what, if any, progress the team will make in the short term.
Calgary Flames Offseason Moves
The biggest move the Flames made was shipping defenseman Robyn Regehr to Buffalo in what was clearly a salary dump. Regehr was an extremely reliable stay-at-home defenseman, and aside from the cap relief the team got little value for him. He'll be a loss.
The positive side effect of the deal was that they managed to rid themselves of the useless Ales Kotalik and his burdensome contract. Because of the tight cap, they were limited in the rest of their dealings to taking risks on cheap players with potential upsides.
Daymond Langkow was sent to Phoenix for the cheaper, younger Lee Stempniak. Scott Hannan is an older defenseman who was very good once, and could theoretically be pretty good again.
The biggest positive move of the offseason was the signing of Alex Tanguay to a new five-year deal, though you could easily argue that they overpaid him for what he offers.
2011-12 Calgary Flames NHL Outlook
The problem with the Flames has been the same for years now. They have a star goaltender in Miika Kiprusoff and elite forward in Jarome Iginla, but that's about it. They have struggled to find anyone to play consistently with Iginla, and with the exception of some very solid defensemen the roster features far more journeymen than impact players.
Looking at what this team added this offseason it's very hard to find an impact player. There just isn't one. While the team showed that they could play well if they were all on the same page, as they were down the stretch last year, there is very little margin for error here, and it's hard to see how they can measure up to the better teams in the West.
The health of Jarome Iginla has to be a concern. He was reportedly dealing with a minor back spasm issue at the start of training camp. It wasn't so minor, though -- as I write this he hasn't skated in the first two weeks of camp, and there is no timeline for his return. If Iginla isn't healthy then this team is in trouble. There is no team in the league more dependent on one forward than Calgary is.
The cupboards are fairly bare, but there are a couple of young players to keep an eye on. Mikael Backlund showed flashes of brilliance last year as a rookie. However, more often he looked confused and a step slow. He was toiling on the third and fourth lines, though, and that's clearly not where he belongs. With Langkow shipped out of town he should get a chance to try to be the playmaker Iginla needs. If he fits that role then obviously his production will skyrocket compared to the 25 points he had last year.
Sven Baertschi, the first round draft pick this year, is clearly the top prospect the team has, though that's not saying much. He has real talent, and though he isn't likely to make the team right away he could get a look at some point.
2011-12 Calgary Flames Schedule
Calgary is, it seems, where everyone from Winnipeg moves to find work. That means that Winnipeg's March 9 visit to Calgary will feature as many Winnipeg jerseys in the stands as Flames ones. It should be a spectacle with an electric atmosphere.
Calgary Flames NHL Futures Odds (from Bodog)
The Flames are 40/1 to win the Stanley Cup and 20/1 to win the Western Conference. Both prices put them in about the middle of the pack. I see no value in any price at all.
Canadian teams are at risk of being bet down below where they should be because f the popularity of the sport in the country, and that clearly seems to be the case here.
2011-12 Calgary Flames Predictions
As you can probably sense I am not optimistic. This team lacks depth, and outside of the Big 2 players -- and the very good defenseman Mark Giordano -- this is an underwhelming roster.
I do not believe that they are good enough to make the playoffs, though they will be in the fight for the eighth spot. Even if they do make it they will be able to do little in the playoffs.
This team needs an overhaul, and it is unlikely they will get it during this season. This is not a particularly relevant team.
Doc's Sports is geared up for another profitable NHL picks season. Picks will be available starting Oct. 7. We have one of the premier NHL handicappers in the business and he knows the sport inside and out after betting the sport for years. Early Bird specials will be posted soon, so check our homepage regularly.. Also, check our home page daily updated NHL lines, hockey betting articles and daily matchup reports.