2009-10 Charlotte Bobcats Predictions
by Robert Ferringo and Nolan Sinclair - 10/16/2009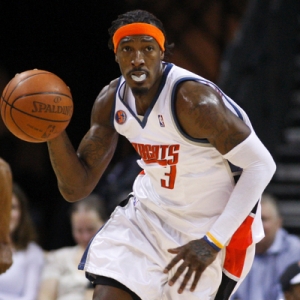 The Charlotte Bobcats are a xenophobe's nightmare.
Boasting a roster packed with foreign imports, the Bobcats have the look of a European club team. And that Euro style of basketball almost got Larry Brown and his merry men into the playoffs last year. But a late-season collapse, which also allowed them to finish under their projected win total for the season, sent them home for the summer. This season should be eerily similar to the last in that they will win roughly 35 games but be a solid ATS bet for much of the season. This is a team that will be on the down side of many large numbers at the books, but they will also be able to play plenty of games at their pace and cover some of the large lines.
Last season the Bobcats were active on the trade front, bringing in the likes of Boris Diaw, Raja Bell, and Vladimir Radmanovic. Diaw, the 2005-06 NBA Most Improved Player, is undersized at just 6-feet-8 but can create mismatches with his all-around skill. Bell, similar to Diaw, was a great fit for the Larry Brown style of play. He is a terrific three-point shooter and impressive defensive player as he was on the all-defensive first team in 2006-07 and second team in 2008-09. And Radmanovic, well, does nothing to really help the team. So we will just leave it at that.
Gerald Wallace is a legit scorer and the Bobcats' go-to guy. Wallace reminds me of a young Vince Carter with the way he attacks the rim in the half court.
The Bobcats bring both a physical and mental defensive toughness to the court each and every night. They slowly but surely have bought in to Brown's philosophy and it should be even more evident this season. So if that is the case, why don't I think that they will win significantly more games this season? The downside of the 'Cats is the fact that they are not deep at all and despite an offseason trade to try to bolster their frontcourt the Bobcats may have actually made a move that will further reduce their rotation.
Charlotte added Tyson Chandler this offseason in order to give the Bobcat fans a reason to cheer but in the half-court Chandler is or will be non-existent. It will be up to point guard Raymond Felton to get him involved with a litany of oops and setups for easy dunks. But Felton is no Chris Paul. And then again, Chandler will likely be hurt after 25 games again anyway. (He is already missing preseason time with a sprained ankle.)
What I can't understand is why Charlotte traded Emeka Okafor, the first draft pick in franchise history, for the oft-injured and overrated Chandler. Chandler does bring some athleticism to the Charlotte roster but Okafor brought much more in his defensive ability, rebounding awareness, and basketball intelligence. This will prove to be a costly mistake by the Bobcats front office. Chandler was made to look much better than he was because he had the pleasure of playing with Paul in New Orleans. Many people will tell you that Chandler is a solid defensive player that can block shots and hit the defensive glass. I, on the other hand will tell you that Chandler has poor body control on the defensive end and gets himself into foul trouble far too much, averaging more than three per game.
Flying under the radar is DeSagana Diop. Diop is an active defensive post player that will make Charlotte even grittier on that side of the court. D.J. Augustin has been exactly what the Charlotte brass wanted in a back-up point guard and they locked him up to a contract extension just in case Felton leaves next year. Augustin is a solid role player but really isn't much of a difference maker. Outside of the aforementioned players the bench gets pretty thin. In fact, I am sure you could head out to your local YMCA and find some guys that might be able to play for the Bobcats.
This Cats team is similar to the rest of the bottom feeders in the Eastern Conference: not much depth, few go-to players, and a need for a playmaking point guard. Charlotte will "D" up most teams but they will struggle to put points on the board yet again. Look for Charlotte to battle the Knicks and Pacers as the third-worst team in the East.
2009-10 Charlotte Bobcats Predictions:
Odds to win the NBA Championship: 100/1
2008-09 Figures:
2008-09 ATS: 46-36
2008-09 O/U: 37-43-2
2008-09 Rankings:
Offensive:
| | | |
| --- | --- | --- |
| Points per game | 93.6 | (30th overall) |
| Field Goal % | 45.5 | (18th overall) |
| 3-Point % | 36.6 | (15th overall) |
| Free Throw % | 74.0 | (27th overall) |
| Rebounds per game | 39.7 | (27th overall) |
Defensive:
| | | |
| --- | --- | --- |
| Points per game | 94.9 | (9th overall) |
| Field Goal % | 45.4 | (10th overall) |
| 3-Point % | 36.6 | (14th overall) |
| Free Throw % | 75.6 | (4th overall) |
| Rebounds per game | 38.9 | (3rd overall) |
Key Stat: Charlotte was 24-17 ATS in their 41 home games.