2011-12 Colorado Avalanche Predictions with NHL Futures Odds
by Trevor Whenham - 10/2/2011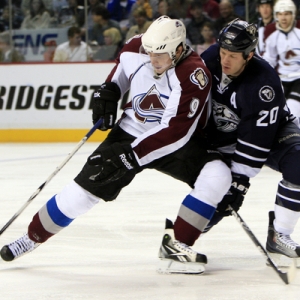 The Edmonton Oilers have the most impressive group of up-and-coming talent in the NHL right now. The Colorado Avalanche are a close second on that count. Some very good drafting and some better luck have meant that they have more youngsters than they know what to do with. It's a good kind of problem to have.
Now all they need to do is find consistency. Twice in the last four seasons they have won at least 40 games and have looked very solid. The years in between, though, they have been lousy and wound up high in the lottery.
Last year they came into the season with high expectations after 43 wins and a lot more promise the year before. Things couldn't have gone worse. They won just 30 games and were 29th out of the 30 teams in the league. The zigzag pattern would indicate that they are due for another strong year. We'll see whether that materializes.
Colorado Avalanche Offseason Moves
It was an active offseason for the team with several long-term fixtures departing and many new faces coming in. The additions were more of the journeyman variety than star types. One possible exception is goalie Semyon Varlamov. The Avs seem to have overpaid, sending a first round pick and a conditional second rounder to the Capitals for the 23-year-old netminder. The Avs didn't mind giving up that much because of their wealth of young talent, and though Varlamov never quite seized the top job in Washington he still has lots of upside.
Three guys who seem like they have always played for the Avs do so no more. Adam Foote, the 40-year-old lockdown defenseman and gold medal winner, has chosen to retire. John-Michael Liles started his defensive career with tremendous promise, but the 30 year old had plateaued in recent years, and was traded to the Leafs for a second-round pick. Peter Budaj was a key part of the goaltending situation in Colorado the last six years, but with Varlamov on board he was expendable and signed with the Canadiens as a free agent.
The departure of core players like that signals that the team is serious about moving on and passing the keys to the next generation.
2011-12 Colorado Avalanche NHL Outlook
There is a whole lot of young talent on this team, or soon to be. Matt Duchene is the headliner. Drafted third overall in 2009, he has quickly bloomed in to a very good player, and the progress he made from his rookie to sophomore years is a very good sign of a bright future.
Ryan O'Reilly was the second-round pick that same year, and has developed into a nice depth player if not a star. Gabriel Landeskog was the second overall pick in the last draft, and has already impressed in training camp. If he makes the team - and he should - he has real potential to be a star. Add in still young veterans like 25 year old Paul Statsny, and developing prospects like Joey Hishon, Duncan Siemens, and Calvin Pickard and you have a very strong core to build around.
The most interesting player to watch this year is going to be is 23-year-old defenseman Erik Johnson. The Blues drafted him first overall in 2006, and he was expected to be the feature player on that team for years. It didn't quite work out that way, and the Blues were ready to move on for the right price.
That price was steep -- Chris Stewart and Kevin Shattenkirk are both very promising players -- but if Johnson can take a step forward in his new surroundings then it will be a very good deal. A two-way, legitimate No. 1 defenseman is incredibly rare and even more valuable.
He was only okay in 22 games with the Avs after the trade last year, but he reportedly came into camp in better shape than ever before, and should be motivated to perform better. If nothing else, you have to applaud the willingness of Colorado management to take high profile gambles.
2011-12 Colorado Avalanche Schedule
On Dec. 2 the Avs and Blues play for the first time in Denver since the big deal. All of the featured players will be looking to show off in that one.
Colorado Avalanche NHL Futures Odds (from Bodog)
The oddsmakers are not optimistic that this will be one of those strong years for the Avs -- they are just 65/1 for Stanley Cup odds. Just five teams have higher NHL odds assigned to them, and all of those squads are lousy. They are tied with Columbus and Minnesota as the least likely winners of the Western Conference at 35/1.
2011-12 Colorado Avalanche Predictions
I like this team. They are moving in the right direction, they are loaded with young talent, they have made strong moves, and they have strong coaching and a solid front office. I struggle, though, to decide how optimistic to be about them this year.
If all of the pieces were to work out and perform well then this team would be in the heart of the playoff battle, and I think I would like their chances. When you are dealing with a lot of young players, though -- including young guys like Johnson and Varlamov who are already sporting a lot of baggage -- it's dangerous to expect everything to work out perfectly.
Ultimately I expect this team to play with intensity, and I expect them to go through some periods when they are almost impossible to beat, but overall I think they are at least a year away from being ready to be a serious playoff threat. If they were somehow to make the playoffs this year they would be backing into them, and they wouldn't do anything once they got there.
Get on board with Doc's Sports NHL selections. For just $595, you can receive every daily selection that we make from October through the Stanley Cup Finals in June of 2012. Click here to sign up for Doc's NHL picks.