2009-10 Detroit Pistons Predictions
by Robert Ferringo and Nolan Sinclair - 10/24/2009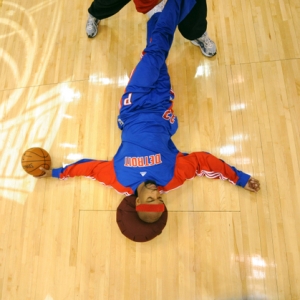 What in the world has happened to the Detroit Pistons?
For years the Pistons were considered the class of the Eastern Conference. Even with the emergence of the Cleveland Cavaliers and the re-emergence of the Boston Celtics the Pistons were still a team that no one wanted to play against due to their chemistry and tough-minded approach on both ends of the floor, with their primary focus coming from the defensive end. Night in and night out you knew that the Pistons were going to bring it and you knew that the opposing team was going to leave with bruises all over their bodies.
Jump forward to 2009-10 and it is like Halloween has come early in Detroit. This team is not what you would normally see in the Palace. Who are these costumed men? What are these characters? The offseason was a busy one in that Detroit signed Ben Gordon and Charlie Villanueva and brought back one of the most overrated player in NBA history in Ben Wallace. Will that be enough to get the Pistons back to the playoffs? I don't think so. When June arrives the people of Detroit will be watching their Tigers and not the Pistons.
When looking at the depth chart you don't see the star that used to shine in the Pistons lineup. The Detroit starting five features three players that are somewhat new to the system. Rodney Stuckey is a young point guard that needs to learn to distribute the ball a bit more. His assist-to-turnover ratio is just over 2-to-1, but at just under five assists per game Stuckey needs to realize that he needs to be a point guard first and scorer second. Richard Hamilton is the Pistons aging star, 32 in February, who saw his shooting percentages and games played drop to five-year lows. Hamilton still averaged more than 18 points and four assists a game, however. The addition of Gordon should allow Hamilton to stay fresh for the entire season and we could see Rip hit the 20 points per game mark for just the third time in his career.
Tayshaun Prince, a do-it-all stud player, is cut from the mold of the Pistons glory days. The Prince averaged more than 14 points, three assists, and five rebounds a game while playing every game for the sixth straight year. Kwame Brown will start at the center spot in 2009-10 and that in itself is impressive. Brown has been a bust since the Washington Wizards took him first in 2001. Brown has only averaged more than 10 points and seven rebounds a game once and hasn't played more than 40 games in a year since 2005-06. At the power forward spot the Pistons will start newcomer Charlie Villanueva, whom has never met a jump shot he didn't like. Villanueva is an offensively blessed, defensively deficient basketball player that doesn't seem to fit the Pistons gritty style of play. But like I said, this team might be trying to change its image.
The Pistons don't have that bad of a bench. The aforementioned Gordon is the type of player that can drop 30 on any team in the league whether he starts or comes off the bench. Gordon will back up both Hamilton and Stuckey and he will look to do a better job than Allen Iverson, who left for Memphis this offseason, at igniting the Pistons offense when he works as the sixth man. Chucky Atkins, Jason Maxiell, and Chris Wilcox all seem like solid fits for the Pistons, as they will do a solid job backing up their respective positions. Wilcox averaged 13 points and seven rebounds just two seasons ago and Jason Maxiell averaged five points and four rebounds in just 18 minutes a game.
Detroit felt that it needed to address the problem with its big men in the NBA Draft. With many of the big dogs in the Eastern Conference featuring impressive power forwards and centers the Pistons wanted to improve their depth at both positions. Detroit drafted Austin Daye (6'11") from Gonzaga, DaJuan Summers (6'8") from Georgetown, and Jonas Jerebko (6'7") out of Sweden. Let me be the first to say that Daye is absolutely, completely, utterly worthless and that he will be out of the NBA within four years and scoring 14 points per game in some Icelandic hoops league within five years. Daye is a completely waste and was a bum draft pick - another shoddy personnel move by the Detroit front office.
In the end Detroit just doesn't have enough to make the playoffs. They upgraded their offense but at the expense of their defense. This team should finish right around .500 and miss out on the playoffs by a few games. Sorry Detroit, but this group just doesn't have the goods.
Detroit Pistons 2009-10 Predictions
Odds to win the NBA Championship: 50/1
2008-09 Results:
2008-09 ATS:
| | | |
| --- | --- | --- |
| Overall | Home | Away |
| 34-48 | 13-28 | 21-20 |
2008-09 O/U:
| | | |
| --- | --- | --- |
| Overall | Home | Away |
| 39-41-2 | 20-20-1 | 19-21-1 |