2011-12 Edmonton Oilers Predictions with NHL Futures Odds
by Trevor Whenham - 9/28/2011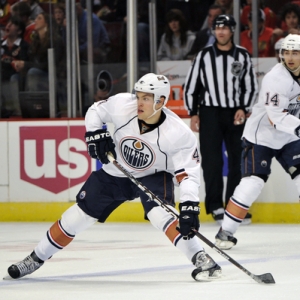 Is this the future? That might sound like a cheesy line from some bad science fiction movie. But really, it's the defining question of the Oilers this season. There is absolutely no doubt that the future is bright for this team.
Thanks to years of frustration they have been in a position to draft well, and they have more than capitalized on the opportunity. They have the deepest and most impressive collection of young talent in the league -- Hall, Eberle, Paajarvi, Omark, Nugent-Hopkins, and even Klefbom.
The thing is, though, that the key word there is "young". None of that core of players has more than a year of experience, and several are 20 or younger.
If the Oilers were a stock then now would be the time to buy before these assets mature, but things could be bumpy on the way to the promised land. This time is very reminiscent of the Blackhawks a few years ago, the Penguins before that, and the Avalanche right after they moved from Quebec City to Colorado -- bubbling potential that is certain to break out. Eventually.
Edmonton Oilers Offseason Moves
It wasn't the busiest offseason in the league, but it was a good one. The biggest move was a brilliant one. Ryan Smyth was a very popular player when he was previously with the Oilers, but financial realities saw him get traded out of town. Now the 35 year old is back where he belongs to finish his career. He's an older player who has been banged up a lot, but he played a full season last year and had 47 points for the Kings so he is still useful. More significantly, he's a gritty, incredibly tough player who is a strong leader, so he should be exactly what the youngsters need to guide their development and keep them on track.
The team bought out Sheldon Souray's contract this summer as well. While you never like paying a guy not to play, he had become such a distraction that they are far better off being without him at any cost.
They also took an intriguing risk on defenseman Cam Barker. The third overall pick in the 2004 draft has been a bust so far, but he's only 25 and he's dirt cheap, so the risk compared to the potential reward is a very nice ratio.
2011-12 Edmonton Oilers NHL Outlook
The most exciting aspect of this team right now is Taylor Hall. Last year's first overall pick saw his rookie season end 17 games early with an ankle injury. He had some issues while he was playing, but he still managed 42 points in 65 games.
I can't think of another player in the league -- with the possible exception of teammate Jordan Eberle -- who is more poised for a breakout campaign this season. Hall showed stunning offensive talent in junior at Windsor, and his skills are very transferable here to the next level. If he finds the chemistry he needs to grow his confidence then he could really be something to watch.
We can't talk about first overall picks without talking Ryan Nugent-Hopkins. He's just 18 years old, but he's such a stunning playmaker that the team would be hard pressed to resist giving him a try in the pros. He has had a good camp and could see himself at center on the second line. I think it's going to be a rough transition at times because he's not that big, but the upside is tremendous.
Goaltender is an interesting position to watch with this team. Nikolai Khabibulin is 38 and coming off a terrible year. His summer was far from good, either -- he spent time in jail after a drunk driving conviction. However, he's much better than he showed last year, he should be motivated to show that, and the defense in front of him should be improved.
Devan Dubnyk has been impressive this fall so far, and should be an improved second option as well. The team was held back by their goaltending last year. That simply must be much better this year if the team wants to be even remotely relevant.
2011-12 Edmonton Oilers Schedule
A trip to Colorado on Oct. 28 stands out as an intriguing early-season battle for this team. Both teams are very young and building around excellent new talent. They have the top two picks in the last draft. They play in the same division. It will be a good measuring stick of the progress of both squads.
Edmonton Oilers NHL Futures Odds (from Bodog)
Given how bad the team has been for years, oddsmakers are notably optimistic about the team. At 50/1 to win the Stanley Cup they are given a better chance than seven teams in the league. That's a relative vote of confidence for the young team. They are 25/1 to win the Western Conference, which is better than three teams.
2011-12 Edmonton Oilers Predictions
I am more optimistic about this team than some. I don't think that they are going to win the Cup or anything -- heck, making the playoffs is a long shot -- but I do think that they are going to take a massive step forward this year. I expect big leaps in effectiveness from Eberle, Hall, and Paajarvi, and better goaltending and defensive play. Smyth was an excellent addition as well.
The advantage this team will have over others fighting for the scraps in the Western Conference -- Calgary, Minnesota, Dallas, Columbus and others -- is that they are young, they are hungry, and they have a lot more hope than other teams. That is going to lead to a solid season, and a much more solid future.
Doc's Sports is geared up for another profitable NHL picks season. Picks will be available starting Oct. 7. We have one of the premier NHL handicappers in the business and he knows the sport inside and out after betting the sport for years. Early Bird specials will be posted soon, so check our homepage regularly.. Also, check our home page daily updated NHL lines, hockey betting articles and daily matchup reports.