Horses that Can Win the Preakness Stakes in 2018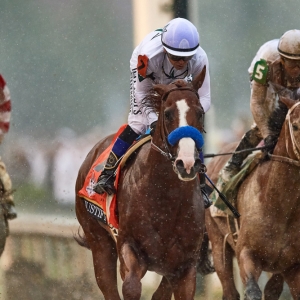 The assignment here is to talk about horses that can win the Preakness Stakes in 2018. And it's only fair that I warn you in advance that this is not going to be the most useful article that I have ever written. The reason is simple - the answer to the question of which horses can win the Preakness is either obvious or impossible. This is either the most straightforward race possible or a total mess. If everything goes as it should then this could be the shortest article I have ever written. Horses that can win the Preakness? Justify . Period. Unless Justify beats himself, or fate beats him. And if not him? Well, one horse would have the edge over the rest if he runs, but it would be wide open. Clear as mud, isn't it?
Free $60 in Member Preakness Picks No Obligation Click Here
Justify: Let's start with the facts. Justify's win of the Kentucky Derby was as impressive as any you will see. He ran a ridiculously fast first half mile over a ridiculously bad track and still had more than enough left to slap down the attack that he faced in the stretch - from the two-year-old champion, no less. The horse was a freak in his first three races, and he exceeded those efforts in the Derby. The Preakness is by far the least challenging of the three Triple Crown races to win, and there is no reason to question that he can't do it again. If Justify is at his best then there isn't a horse that is potentially heading to Baltimore that can beat him. Heck, if he is near his best there isn't a three-year-old in the country who can beat him.
So, we know he is capable of winning. But what could cause him not to win? That is the biggest question for bettors because we are forced to decide if we could find value betting against him or if we just have to make the best of betting on a prohibitive favorite. So, here are six things that could get in his way:
1) The biggest threat is that he just isn't up to it physically. The last horse truly freakish like this that we saw was Justify's former stablemate Arrogate. That horse was incredible and unbeatable - until he no longer was. Something changed, and he could no longer do it anymore. Justify could face the same thing. He has burned so bright in a short time that he could be all burned out at any time. I don't think it's likely right now, but it is possible.
2) He could find trouble. Justify had a virtually perfect trip in the Derby. He got out of the gate clean, avoided contact, got to the front relatively easily, and never had anyone impeding him from doing exactly what he wanted to do. That is the same story for all four of his races. The story could be different, though, if he doesn't have such good luck. He could be a step or three slow out of the gate. He could run into serious contact right out of the gate - like Mendelssohn and others encountered in the Derby. He could be blocked on his way to the lead. Jockey Mike Smith could try to find a gap that isn't there to be found, or he could encounter trouble along the way. The greatest talent can't always overcome bad luck.
3) Inexperience. The colt has been incredible in four races, but he has run only four races. And he has never really encountered adversity. There is so much he has to learn, and this would be a bad time for him to learn a lesson the hard way. He could struggle to change leads when needed. He could be bothered by the crowd or something he sees or hears. He could be truly challenged or passed and not know how to deal with it. He could be bumped and not handle it well. His inexperience is what I fear most. We just don't see horses in the Preakness making their fifth career starts very often - never mind prohibitive favorites.
4) Injury. Thoroughbreds are incredibly fragile animals, and anything can happen to them at any time.
5) Pace. This horse is going to be near the lead early - we know that. He weathered a diabolical early pace in the Derby - the third-fastest first half mile ever - and still had plenty to give. But if he was forced into an even more grueling early pace by a horse with no hope trying to make something happen then he might not have enough left just two weeks after that last effort to do it all again. Opposing trainers know that if Justify sets the pace then they are doomed, so someone may try to take back control.
6) It's horse racing. One of the things I have been most sure about in recent years in this sport was that Big Brown would win the Belmont in 2008. He was an absolute freak - reminiscent of this colt. He had done nothing wrong, and there wasn't a horse of his caliber - or near it - in the race. It felt like a lock, and the odds reflected that. But he finished dead last, was eased in the stretch, and to this day I have never heard a satisfactory explanation of what happened. It was just horse racing being horse racing. That's why people who most love this sport have to have an element of self-loathing to their personalities.
The rest of the field: Good Magic, if he runs, is a very talented horse. He likely can't beat Justify at his best, but if any of the above things go wrong then he is more than capable of taking advantage, and he is by far the second best of the prospective runners. And beyond that it's wide open. A total mess. Quip is a nice enough colt, but he is inexperienced and has yet to show top-level talent. Bravazo has had a decent day or two in his career, but he's a very circumstantial horse. And everyone else probably has no hope at all unless everything falls apart. When Big Brown lost that Belmont, the winner was at 38/1, and there was a dead heat for third between horses at 29/1 and 34/1. Things blew up with the favorite, and fate proved that anything is possible. And that is true here, too.
Doc's Sports has been a leader in Triple Crown handicapping for more than four decades, and we have a great offer for new clients. Get $60 worth of Preakness Stakes picks free with no obligation to buy anything. Not credit card is needed, and you won't ever have to talk to a salesperson. Get $60 worth of premium members' picks free .
Read more articles by Trevor Whenham