2009-10 Michigan Wolverines Football Predictions
by Doc - 8/26/2009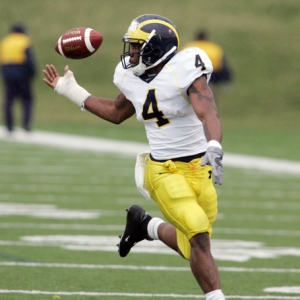 2009-10 Michigan Wolverines Football Predictions: 8-4 (4-4 in Big Ten)
This is probably the hardest team in the Big Ten to handicap. There's no question Michigan has the talent. However, the situation that adversely affected this team in 2008 does not appear to be resolved during fall camp. Coach Rich Rodriguez needs a talented option quarterback to run his offense efficiently and it appears that there are three quarterbacks vying for that position. As of now, none of them appear to have separated themselves and they may all see action in the first game of the season against Western Michigan.
I look for Michigan to pull a few upsets along the way because of their talent. The defense should be much better with a group of outstanding linebackers. The offensive line returns all starters and should be able to adjust to Coach Rodriquez's system now that they have a year under their belt. That being said, the quarterback needs to be productive for this team to go bowling.
Strengths: The offensive line could be one the better units in the country. Expect them to create holes for RB Brandon Minor, who when healthy averaged more than five yards per carry in 2008 despite limited action. Michigan will be much better than in 2008 and Coach Rodriguez has already proven he can win when he has talent.
Weakness: Michigan has the luxury of a home heavy schedule to open the season and will either be 4-0 or 3-1 depending on the Notre Dame outcome. After that it gets really difficult with road games against Michigan State, Iowa, Illinois, and Wisconsin. They will likely not be favored in any of these four games and will be lucky to win one of them.
Not to sound like a broken record, but if one quarterback does not emerge, this team could see 2008 repeated all over again. Anymore, without a quarterback that can make plays, opposing defenses will shut you down.
Favorable line to play: Western Michigan at Michigan (Sept. 5). I believe this is an important game for Michigan to make a major statement in the opener to get the alumni behind this program. The Wolverines lost their opener in 2007 and 2008 and cannot afford to have history repeat itself in 2009. Throw in the fact that the Broncos lost eight starters on defense. Western Michigan has been blown out in three straight openers, losing to Nebraska in 2008, 47-24, to West Virginia in 2007, 62-24, and Indiana in 2006, 39-20. Laying 12 points here seems respectable.
Favorable line to play against: Michigan at Iowa (Oct. 10). Michigan will be coming off a big game with Michigan State while the Hawks will be coming off a tune-up game with Arkansas State. Iowa has not had much success with Michigan, going 2-10 since 1991 and because of that they will be sure to take this game seriously. This is still not a typical Michigan team and Iowa is much more fine-tuned. If the line is low, the Hawks are certainly worth a peek.
---
Most Recent Fall Football Preview