2009-10 Minnesota Timberwolves Predictions
by Justin Johnson - 10/24/2009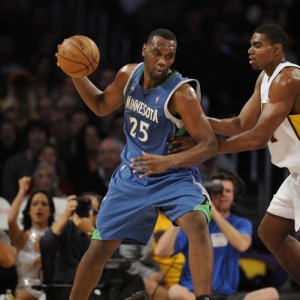 2008-09 Record: 24-58
ATS: 37-43-2
Home: 11-29-1 Away: 26-14-1
O/U: 38-42-2
Home: 20-20-1 Away: 18-22-1
Projected Starting Five: PG, Jonny Flynn. SG, Chucky Atkins. SF, Ryan Gomes. PF, Kevin Love. C, Al Jefferson.
Breakdown: The Timberwolves drafted then lost Ricky Rubio this year, leaving them with major holes at their guard positions.
With plenty of players with limited experience, trying to piece in a guard rotation could consist of rookies Jonny Flynn and Wayne Ellington with fill-in situations for veterans Chucky Atkins, Damien Wilkins and possibly Corey Brewer - who may also start at shooting guard. However, any combination of those five does not sound like a winner.
The strength of the team is the forwards but that is not a recipe for success if you don't have a playmaking guard. Kevin Love looks like he can develop into a solid NBA power forward to go with Al Jefferson.
Ryan Gomes has made a smooth transition from undersized power forward to above-average small forward. He still has plenty to learn and room to grow into this role, but becoming a legitimate player is not out of the question.
Jefferson is the best offensive player on the roster, averaging 23 points per game and pulling 11 boards, but he is not stout on the defensive side. At only 24-years old he could develop into one of the game's best but unless he wants to improve we may be seeing him at his best right now.
One nice thing for Wolves fans is that there is some good young talent on the roster and some old expiring contracts to play with so there could be a reshuffle and some new faces to join the young guys.
Minnesota Timberwolves Predictions: The Timberwolves are pretty safely penned in for a last-place finish in the Division and another lottery pick. Unless a major move is made in the early going replicating last season's 24 wins may be a stretch from a roster devoid of a legit guard combination and 20 wins may be a topping out point in 09-10. New coach Kurt Rambis is not in a good spot and should not expect a long career with Minnesota as the front office and roster are in a constant state of flux.
Futures consideration - BetUS
If you are looking to make a play on Minnesota to win the West then I have this bridge in New York you may be interested in as well. The T-Wolves will be bad. The only interesting question may be, how bad? At +15,000 it may be tempting but that is not a value play.
Rookie Johnny Flynn will see long minutes at point guard and will have every chance to pile up numbers. Entering the season Flynn is sitting at +650 to win the Rookie of the Year. Flynn will be either the No. 2 or No. 3 scoring option as well as handle the ball on most possessions so he will be able to put together a nice stat line. But if Minnesota is so far out of contention will his contributions be noticed by the voters?