2011-12 Montreal Canadiens Predictions with NHL Futures Odds
by Trevor Whenham - 10/4/2011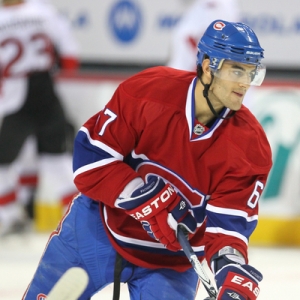 Two years ago the Habs made a truly shocking run in the playoffs, making it to the Eastern Conference Final and nearly all the way to the Cup. It was as impressive as it was unexpected. A deep run that comes out of the blue like that can have two different potential effects on a team. Some teams use it as a rallying point and build on it the next year and beyond. Others play the next year with a hangover they can't shake that drags them down like an anchor around their necks. Montreal definitely fit into the latter group last year.
It didn't help, of course, that the injury fairy was relentless and brutal to this team. They lost three key defensemen — Markov, Gorges, and Spacek — for long periods of time. That forced them to cobble together a defensive unit, and it was a liability throughout the year.
The only thing that saved it from really getting ugly was Carey Price in the net. His brilliance was enough to carry the team to sixth in the conference, and they gave the Bruins pretty much all they could handle in the first round before losing in Game 7 in a classic, hate-filled series.
Montreal Canadiens Offseason Moves
The team clearly made overhauling the defense a priority. Five defensemen from last year's roster were sent packing, with Roman Hamrlik — a free agent signing with the Capitals — the most notable departure. They didn't bring in flashy replacements, though Jeff Woywitka is showing some maturity in his play and is an intriguing, low-risk gamble.
Despite the offensive overhaul, the most intriguing acquisition overall is a forward. Erik Cole had 52 points in 82 games last year and has consistently been a useful offensive player in Carolina and Edmonton. He's not a superstar player, but he is responsible and reliable and makes the team better.
2011-12 Montreal Canadiens NHL Outlook
Everything went wrong for this team last year, and they didn't look very good a lot of times. However, they finished sixth in the conference.
This is one of those deceptively solid teams -- the kind that is hard to play against and useful to bet on in a lot of cases. They have fixed some of their problems, mostly stayed pat on offense, and will be healthier this year — at least to start the season. On paper that means that this team should be better than they were last year.
Given that they seemingly overachieved last year, though, it's really hard to figure out where they end up this season. Thinking about this team and how things will turn out gives me more of a headache than almost any team in the league. Their potential range is anywhere between fourth and 12th in the conference.
With the focus on defensive overhaul, one player that will be very interesting to watch is Alexei Yemelin. He was a third-round draft pick way back in 2004, and at 25 has finally decided to leave Russia and join the NHL. He has been playing in the KHL — the second best league in the world — the last two years, and he has proven himself to be a very capable, responsible stay-at-home defenseman. He took a major step forward in production and effectiveness last season, and could be a huge, somewhat unexpected boost for the team.
Another interesting player to watch will be Max Pacioretty. The impossibly cocky 22-year-old forward is entering his fourth season with the Habs, though he has put in solid time in the AHL all three years. Last season was by far his best showing in the NHL, yet his season was cut short by an incredibly brutal hit by Zdeno Chara that led to a fractured vertebrae in his neck and put him on the injured reserve for 15 games and the playoffs. Pacioretty is healthy now, he's experienced enough to be ready to take a big step forward, and he is a guy who has shown point-a-game potential in the AHL and in college at Michigan.
2011-12 Montreal Canadiens Schedule
The Habs and the Bruins have been playing great games since their Original Six days. Last year things got ugly — and that leads to excitement for blood-thirsty hockey fans like me.
In February they played a brawl-filled mess of a game that featured more than three hours of penalties. A month later Pacioretty was injured. Needless to say, tensions were very high the rest of the way and in the playoffs. On Oct. 27 and 29 the two bitter rivals play a home-and-home to kick off their season series, and it is sure to be great.
Montreal Canadiens NHL Futures Odds (from Bodog)
The Canadiens are 25/1 to hoist the cup, according to Stanley Cup odds. That puts them behind just 11 teams in the league. My first reaction is that that is generous. They are 14/1 to win the Eastern Conference.
2011-12 Montreal Canadiens Predictions
I really like Carey Price and have faith in him. The way he rebounded last year from a rough season the year before showed a remarkable toughness — especially since there is no more intense place to play than Montreal when things don't go right.
I like the changes the team made, for the most part, and I like that they mostly stood pat on offense. I think that they are a decent team.
The problem, though, is that they just aren't anything special in my eyes. They could easily make the playoffs, and are probably more likely to do so than not, but given the depth of the East it wouldn't be a major upset if they didn't, either.
No matter what, I just don't see this team as nearly good enough to scare the very good teams at the top of the Conference. There will be some highlights along the way, but this season will ultimately end in frustration.
Get on board with Doc's Sports NHL selections. For just $595, you can receive every daily selection that we make from October through the Stanley Cup Finals in June of 2012. Click here to sign up for Doc's NHL picks.