2011-12 New Jersey Devils Predictions with NHL Futures Odds
by Trevor Whenham - 9/28/2011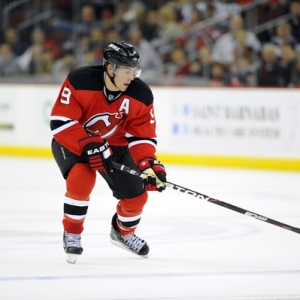 It doesn't take a rocket scientist to figure out what was wrong with this team last year -- they couldn't score. They scored more than one goal per game fewer than the best teams in the league, and nearly a quarter of a goal per game worse than the second worst team. There are reasons to believe that they will be more productive this year, but they need to be a lot better to fully put last year behind them.
There are other issues with this team, but none are even remotely as significant, and most would be resolved by offensive improvement.
New Jersey Devils Offseason Moves
The team did little to change in the offseason -- surprisingly little, perhaps, for a team that struggled like they did last year. They lost Brian Rolston to the Islanders, but at 38 his best years are in the rearview mirror.
They have essentially decided to stand pat. That would be a far bigger concern than it is if the team wasn't so competently managed, or if last year hadn't fallen so far below expectations.
2011-12 New Jersey Devils NHL Outlook
The obvious story here is Zach Parise. After proving himself to be among the elite players in the league, most of last season was lost to a knee injury. Despite the presence of Ilya Kovalchuk and Patrik Elias, the team was simply unable to function offensively without Parise.
The good news, then, is that Parise is back and showing no ill effects after his surgery. If he can knock off the rust and find some chemistry then the team should be in much better shape offensively.
The team also needs Ilya Kovalchuk to show up and remember how good he is. Last year -- his first in New Jersey -- was a disaster. He scored just 60 points, he was a disgusting minus-26, and he looked disinterested and lethargic much of the time. You would think that a guy who finally escaped Atlanta would be happy about it, but the opposite seemed to be true for some reason.
Kovalchuk simply had no excuse to struggle, and he'll have to be dramatically better this year as well. He is truly an elite talent in the league, and he gets paid like one, so it is again time for him to perform like one.
Underperforming was a recurring theme for the Devils last year. Heading into last season they invested in their defense by adding Henrik Tallinder and Anton Volchenkov. The early returns were far from positive -- this team was only slightly more effective and inspiring on defense than on offense.
It really appears like the team is willing to pretend that last year never existed, though, because they are sticking with essentially the same blueline unit as last year.
One potential change is the addition of Adam Larsson. The 18-year-old Swede was the fourth overall pick in the draft last year. While defensemen often take longer to make the league Larsson has been playing effectively against men in Sweden and will likely be given a chance to shine in New Jersey. He'll be exciting to follow.
With all due respect to Patrick Roy or Dominik Hasek, Martin Brodeur is the best goalie of at least the last quarter century. He's also 39, and he wasn't at his best last year while dealing with elbow and knee injuries. Like everyone else on this team, Brodeur needs to be better this year. While sooner or later time is going to catch up with him, there is no reason to believe that he doesn't have at least a couple more years in him. I expect another Brodeur-esque season from the legend.
2011-12 New Jersey Devils Schedule
The most important game of the season for the Devils is their opener on Oct. 8 against the Flyers. They need to totally and utterly start from scratch this year, and they can start by setting a new tone in the opener. This is like one big mulligan for the Devils.
New Jersey Devils NHL Futures Odds (from Bodog)
The Devils are 30/1 to win the Stanley Cup — higher odds than 13 teams. That puts them in the heart of the playoff hunt, and that seems reasonable. They are 15/1 to win the Eastern Conference.
2011-12 New Jersey Devils Predictions
Last year the Devils wound up with just 81 points, missed the playoffs by 12 points, and were never really a factor in the playoff hunt. It was ugly.
Heading into last season the expectations were for them to be among the strong contenders in the East. This year the expectations are more modest because of what happened last year, but I am very bullish on this team. I don't think they are a serious Stanley Cup threat, but they are easily going to be a playoff team, and they have the potential to win a playoff series. this will be a useful team to bet on this year — especially early in the season before the public warms up to them.
Doc's Sports is geared up for another profitable NHL picks season. Picks will be available starting Oct. 7. We have one of the premier NHL handicappers in the business and he knows the sport inside and out after betting the sport for years. Early Bird specials will be posted soon, so check our homepage regularly.. Also, check our home page daily updated NHL lines, hockey betting articles and daily matchup reports.